NOTE: For prior parts in the Hizballah Cavalcade series you can view an archive of it all here.
—
Quwat Sahl Nīnawā: Iraq's Shia Shabak Get Their Own Militia
By Phillip Smyth


Figure 1: Quwat Sahl Nīnawā's logo. The Iraqi (left) and Shabak (right) flags emerge out of a map of the Hamdaniya region of the Nineveh Plain. The symbol also features an AK-102 rifle.
Quwat Sahl Nīnawā (A.K.A. Liwa Sahl Nineveh or QSN) purports to be a Shia Shabak militia associated with the Democratic Assembly of Shabaks (Tajema' al-Shabak al-Dimokrati or DAS).1 QSN announced itself via a November 23, 2014 official statement posted on the website and social media apparatus belonging to the DAS. The group has also already claimed to take casualties in the fight against the Sunni jihadist "Islamic State" (A.K.A. IS, ISIS, or ISIL).2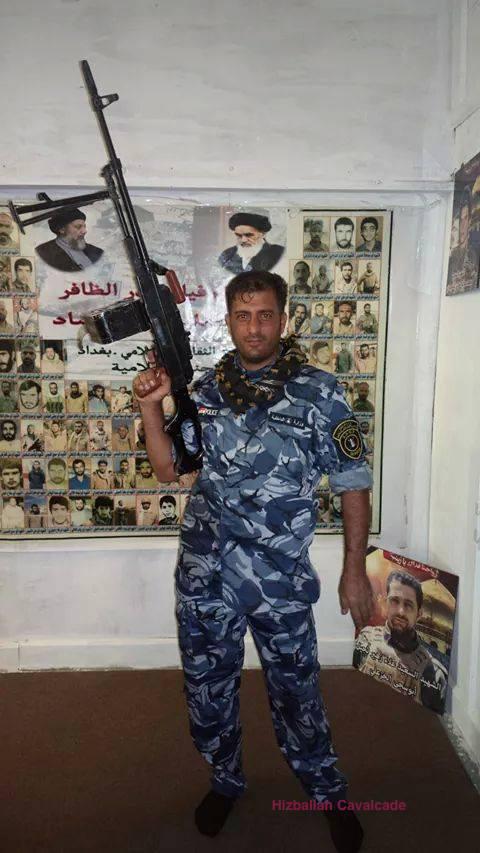 Figure 2: A QSN fighter poses with martyrdom posters (one featuring the dome of Sayyida Zaynab in Syria – bottom right) and other posters featuring Badr Organization founder Ayatollah Muhammad Baqir Sadr and the first Iranian Supreme Leader Ayatollah Khomeini.
Present in the symbols and photos, QSN mixes a limited quantity of Shabak particularism and an added emphasis on Shia identity. On some pages the group has simultaneously promoted links to Iran's proxy forces. While the group may have relations with Iran's proxies, its official statements have announced a commitment to "gladly serve the supreme religious authority in Najaf [Grand Ayatollah Sistani]."3 This would likely indicate the group is not an equivalent (in terms of ideology and/or levels of control) to newer Iraqi Shia Iran-proxy militias such as Hizballah al-Abrar.
Photos claiming to show the group training also indicate that they may be assembled along the lines of a "Popular Assembly/Mobilization" or "al-Hashd al-Sha'abi" type group. Photographs of claimed QSN fighters holding flags promoting al-Hashd al-Sha'abi add further credence to this likelihood. Organization along those lines would mean many of the fighters are possibly newer recruits trained and likely led by more experienced personnel and advisors.
In photos of QSN, around 100 fighters were shown posing in ranks. This suggests the numbers for the group are likely in the range of 100-500 combatants.
The creation and promotion of the group may exemplify another method Iran and its proxies are using to place pressure on Kurdish organizations. QSN, as organized along lines of the more dominant Iraqi Arab Shia militias in the south of the country, also demonstrates the direction in which other new militias may be organized. QSN further exemplifies how some of Iraq's minority groups are mobilizing against ISIS.
The Name & Symbols
QSN's name directly refers to an area of heavy Shabak habitation, Iraq's Ninewa (or Nineveh) Plain. Their logo and a post by the Shabak Democratic Assembly describes the group as "Quwat Sahl Nīnawā" or the "Nineveh Plain's Forces."4 Albeit, via social media, one page purporting to belong to the group claimed it also went by the name of "Liwa Sahl Nīnawā" or the "Nineveh Plains Brigade". However, such minor alterations in name are common during the early stages of many new militias.5
The group's logo also demonstrates a rather rudimentary approach to create symbolism for the new group. Readily available images (including the pictures of an AK-102 rifle, the Shabak and Iraqi flags, and a map of the Hamdaniya area of the Nineveh Plains) were likely pasted together following a simple image search online.6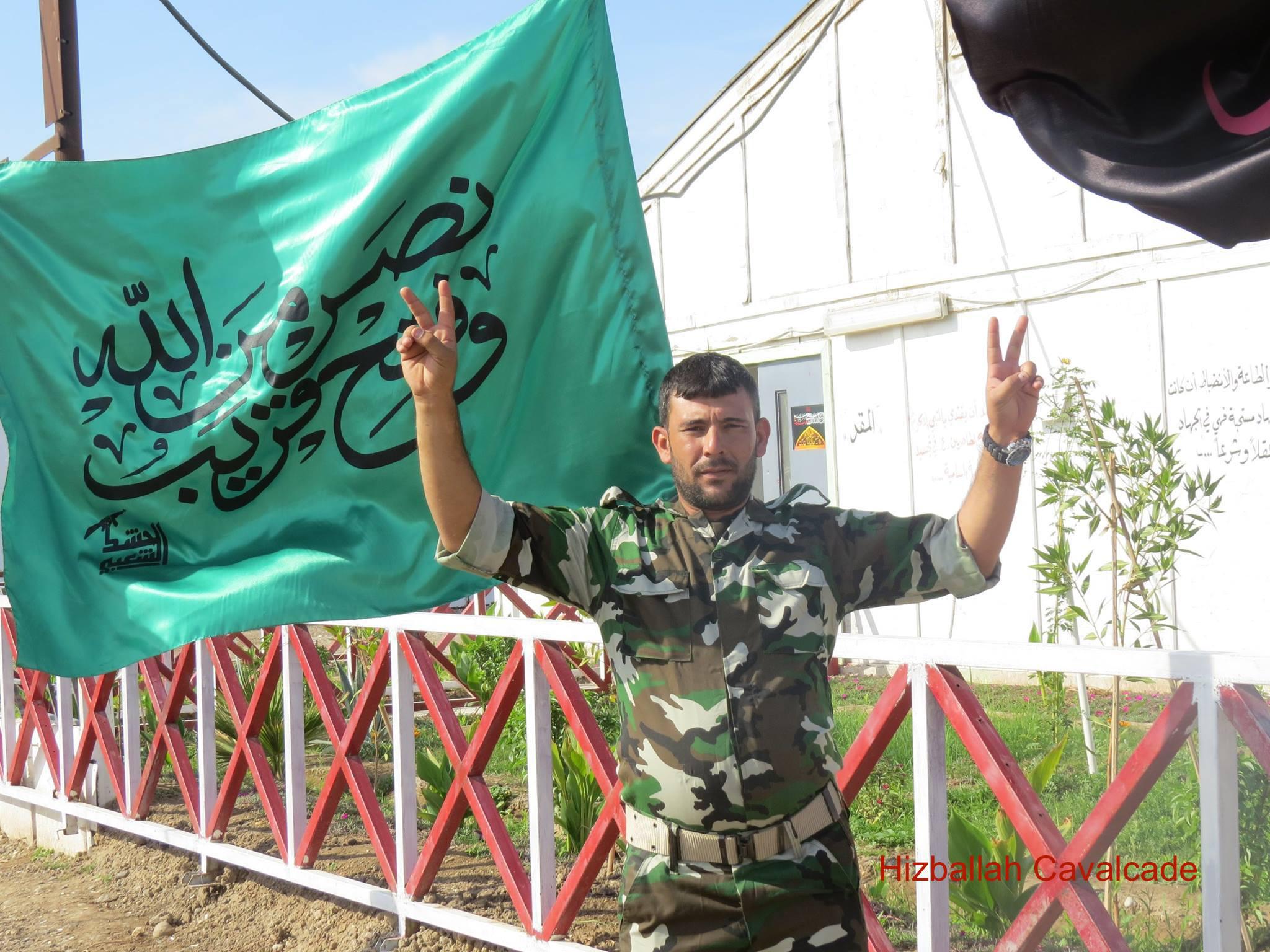 Figure 3: A QSN fighter poses with a flag associated with the Popular Mobilization type militias.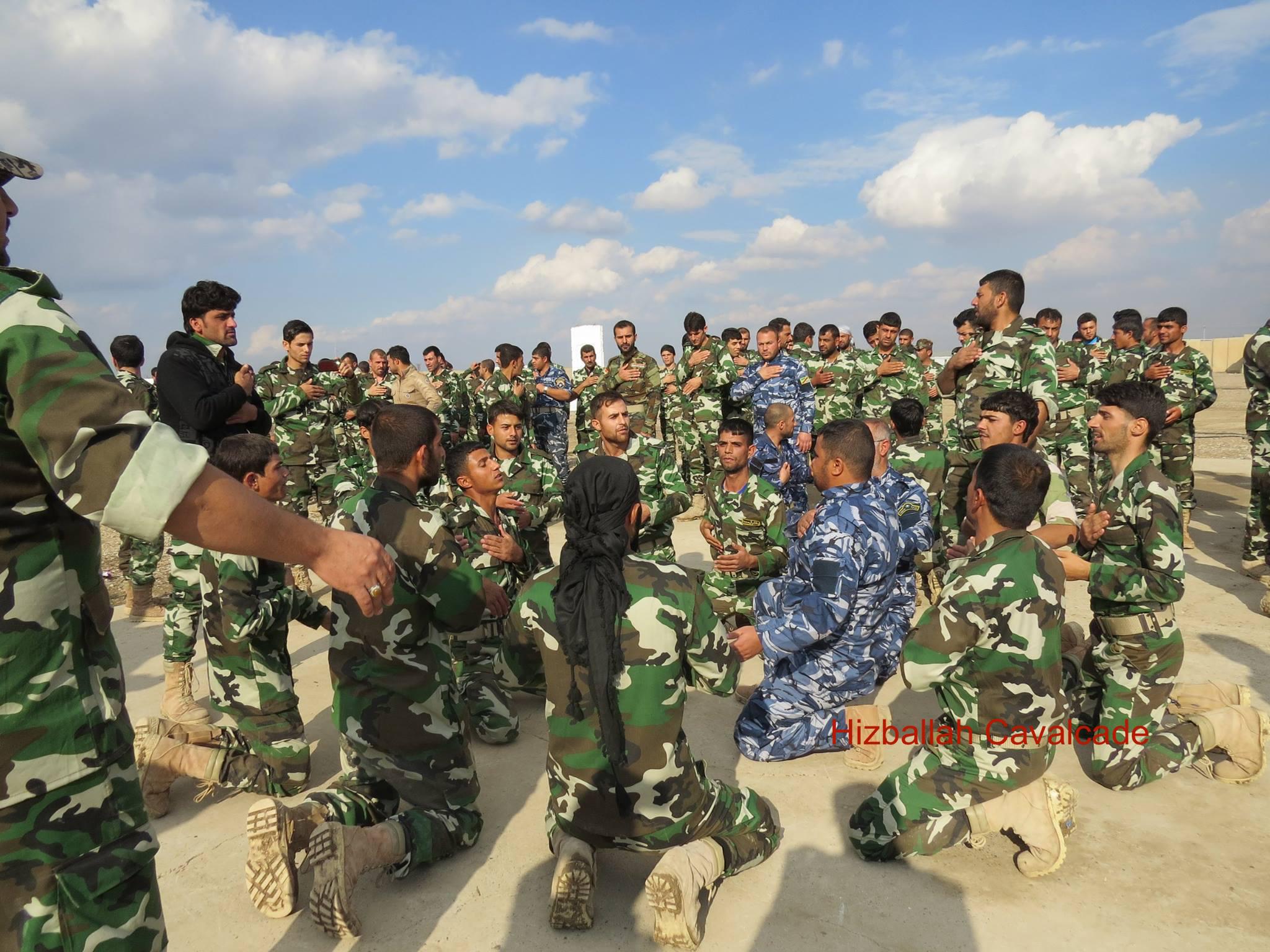 Figure 4: QSN fighters congregate.
Who Are the Shabak & What is the Nineveh Plain?
The Nineveh Plain is a minority rich area; home to the Shabak, numerous Christian sects (including the Assyrians, Chaldeans, and Syriac Orthodox and Syriac Catholics), Turkmen, Yezidis, and Kurds.7 Considered a heartland for Iraq's Christians, Assyrian Christian and other Syriac (Aramean, Syriac, and Chaldean) Christian nationalist organizations and political parties have pushed for autonomy in the area.8 There has also been a campaign to make the Nineveh Plain its own province (under primarily Christian leadership) within the Iraqi federal framework.9 Nevertheless, the Plain has not been granted a truly autonomous standing.
Many Shabak insist they have a unique ethnic identity, which is neither Arab nor Kurd (albeit, primarily non-Kurdish).10 The group also speaks its own language, Shabaki.11 Most Shabak are also religiously (Twelver) Shia.12
Within the Nineveh Plain, the Shabak primarily live in villages to the east of the city of Mosul, in the Hamdaniya area, and a few thousand also lived in the city of Mosul (before the invasion). Due to ISIS advances, many Shabak hamlets have been overrun.
The Democratic Assembly of Shabak & Issues With the Kurds
While QSN was ostensibly created as a Shabak arm to fight back ISIS threats and offensives targeting the Shabak, there are other underlying trends present with the creation of the militia associated with Shabak-Kurdish relations.
Kurdish groups have shown interest in further incorporating areas of Shabak habitation into Kurdistan.13 As early as 2008, minority groups including the Shabak claimed there was an effort to "Kurdify" areas they inhabited.14
Along with the promotion of a separate non-Kurdish identity, the DAS's leader and parliamentarian Hanin Qaddo has specifically called out Kurdish parties for claimed abuses against the Shabak. In 2008 Qaddo opposed the incorporation of Shabak inhabited areas into Iraqi Kurdistan.15 Two years later, Qaddo denounced the Kurdish Democratic Party (KDP) for "intimidating" Shabak voters.16 In 2012 the Shabak leader demanded the expulsion of Kurdish and Christian armed forces from the Nineveh Plain.17
With this in mind, QSN's establishment also recalls the 2012 decision by then Iraqi Prime Minister Nouri al-Maliki to allow for the creation of a 500-man Shabak militia force referred to as, "The Shabak Regiment of Doom."18
For their part, many Kurdish political leaders have not been supportive of independent Shabak efforts to create their own militias. Nevertheless, some of those Kurdish apprehensions were downgraded following the ISIS advance. Thus, QSN has not been the only Shabak armed group to come into existence. However, its other counterpart is under the control of Kurdish military commanders.19 Whereas QSN is organized along lines set by Baghdad-supported Shia militias and Iran's proxy groups and does not appear to be taking order from Kurdish commanders.
Tensions between QSN's DAS parent party and Kurdish parties may explain for QSN's retention of its independence. The DAS, the largest Shabak Party, is also part of the ruling Iraqi State of Law Coalition. This is the same coalition which included former Iraqi Prime Minister Nouri al-Maliki, the current Iraqi Prime Minister, the Badr Organization and Kata'ib Sayyid al-Shuhada, among other Iranian proxy groups. Nevertheless, Qaddo has "wavered between the Hakim and Maliki factions," and then ran on the Badr Organization's electoral list.20
The increase in Iranian proxy cooperation via training, equipping, and other support also speaks to other issues related to Iran's and their proxies' policies in Iraq. The policies in question are particularly focused on Kurdistan. From the summer of 2014 until the present, there has been increased tension between Iran's Iraqi Shia proxies and Kurdish Peshmerga forces.21 Additionally, Iran's proxies have also threatened Kurdish leaders such as Masoud Barzani.22
A push for support for a group which has already had problems with Kurdish leadership seems to be another avenue for Tehran to exert pressure on the Kurds. Nevertheless, QSN's main goals and activities have and will likely remain oriented against the existential threat that is ISIS.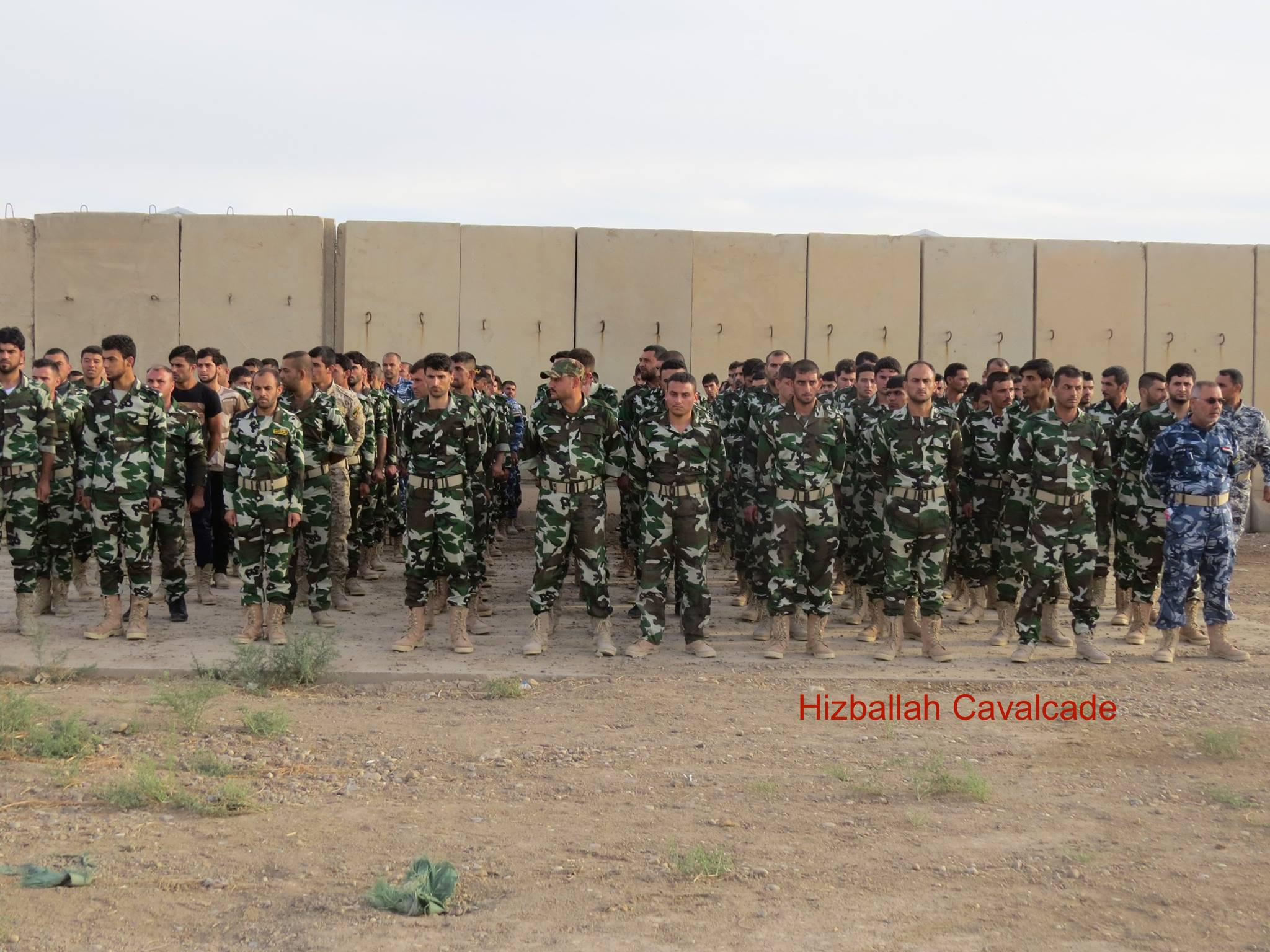 Figure 5: Around 100 QSN are shown in this photo.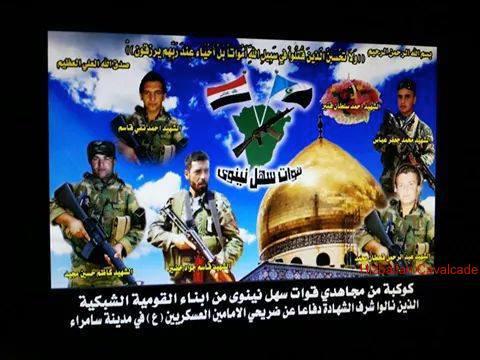 Figure 6: QSN Martyrs are shown on a poster featuring the dome of Syria's Sayyida Zaynab. It is possible the dome was included by graphics designers to demonstrate that the fight in Syria and Iraq, marketed as "protection for shrines", are one in the same.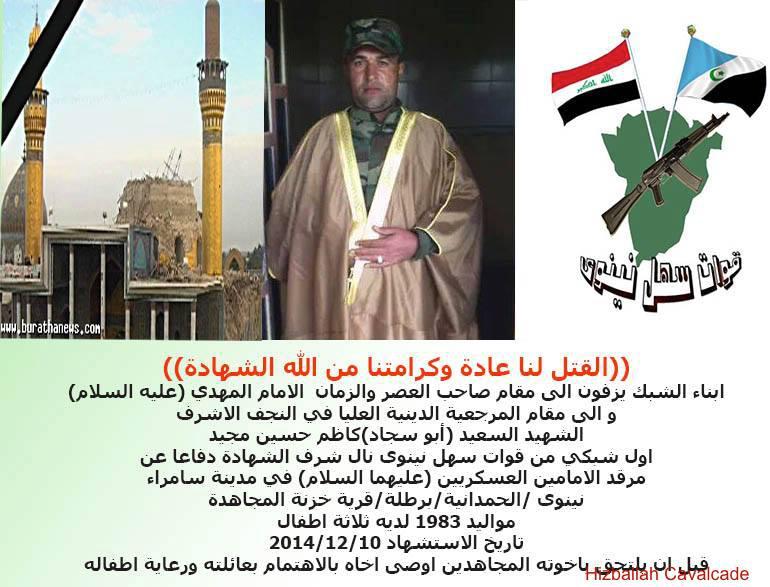 Figure 7: The martyrdom poster for Kazem Husayn al-Asharaf (Abu Sajad).
Videos



Notes: 
_____________
1
See:
https://www.alshabak.net/ArticlePrint.aspx?ID=457
.
2
It is important to note that an Assyrian Christian militia by the same name has also been announced.
3
See:
https://www.alshabak.net/ArticlePrint.aspx?ID=479
. Often, Iran's proxies adhere to the religious-ideological concept of absolute Wilayat al-Faqih and religious and political loyalty is given to Iran's Supreme Leader Ayatollah Khamenei.
4
See:
https://www.alshabak.net/ArticlePrint.aspx?ID=457
.
5
This was the case with Liwa Abu Fadl al-Abbas. The group was often referred to as "Kata'ib Liwa Abu Fadl al-Abbas" or "Kata'ib Abu Fadl al-Abbas."
6
An example of this includes the photo of the AK-102:
https://www.avtomats-in-action.com/media3/AK102right3.jpg
.
7
See:
https://www.bbc.com/news/world-middle-east-28351073
.
8
See:
https://vaticaninsider.lastampa.it/en/world-news/detail/articolo/iraq-iraq-irak-35369/
.
9
See:
https://unpo.org/article/16780
.
10
See:
https://www.niqash.org/articles/?id=2219
.
11
See:
https://www.cnn.com/2013/09/14/world/meast/iraq-suicide-blast/
.
12
Many Sunni Shabak often consider themselves Kurdish.
13
See:
https://globalpublicsquare.blogs.cnn.com/2014/06/24/iraqs-minorities-left-between-scorpions-and-a-hard-place/
14
See:
https://www.mcclatchydc.com/2008/11/11/55711/kurdish-expansion-squeezes-northern.html
.
15
See:
https://www.iraqinews.com/baghdad-politics/mp-slams-shabak-demands-for-incorporation-into-kurdistan/
.
16
See:
https://ninanews.com/english/News_Details.asp?ar95_VQ=ELJMKK
.
17
See:
https://www.niqash.org/articles/?id=3134
.
18
See:
https://www.niqash.org/articles/?id=3134
.
19
See:
https://www.niqash.org/articles/?id=3599
.
20
See:
https://www.iraq-businessnews.com/2014/05/23/the-badr-organization-and-the-new-state-of-law/2/
.
21
See:
https://bit.ly/FP-AllTheAyatollahsMen
and
https://www.businessinsider.com/r-rivalries-resurface-in-iraqi-town-recaptured-from-islamic-state-2014-12
.
22
Ibid.