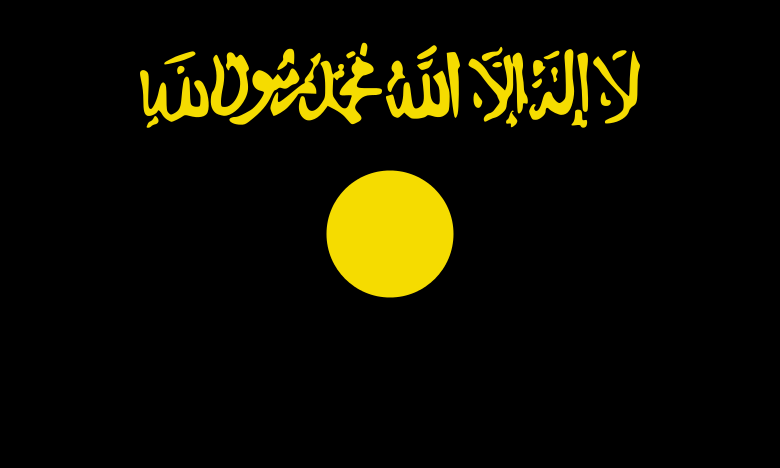 Audio:
Abū Ḥamzah al-Muhājir — "[Their] Assembly Will Be Defeated, And They Will Turn Their Backs [In Retreat]"

Arabic Transcript:
بسم الله الرحمن الرحيم
الحمد لله مالك الملك المتنزه عن الجور والمتكبر عن الظلم المتفرّد بالبقاء, السامع لك شكوى والكاشف لكل بلوى, والصلاة والسلام على من بُعِثَ بالدلائل الواضحة والحجج القاطعة بشيراً ونذيرا وداعياً إلى الله بإذنه وسراجاً منيرا.
أما بعد:
أمة الإسلام, أهلنا ببلاد الرافدين, أبشروا وأمّلوا وقرّوا عيناً, واسكنوا فؤاداً, وطيبوا نفساً.
فأبناؤكم بحول الله سيوفٌ بارقة، ورماحٌ شامخة، ودروعٌ حصينة لكم ولدينكم. واعلموا أنا ذراعكم الطولى، فأمرونا نأتِكم بالبعيد قبل القريب، ونسكب دماءنا دفاعاً عن دينكم وأعراضكم.
نعلم أنكم ضحيتم بالكثير، وأصابكم من جهد البلاء العظيم، لكن اعلموا أن الله ابتلاكم ليمتحن قلوبكم ويختبر صبركم، ويميز طيب معدنكم.
قال الله تعالى: (لِيَمِيزَ اللّهُ الْخَبِيثَ مِنَ الطَّيِّبِ وَيَجْعَلَ الْخَبِيثَ بَعْضَهُ عَلَىَ بَعْضٍ فَيَرْكُمَهُ جَمِيعاً فَيَجْعَلَهُ فِي جَهَنَّمَ أُوْلَـئِكَ هُمُ الْخَاسِرُونَ).
أما والله لأن استشهدنا لنشهدَن, ولأن سؤلنا لنصدَقَنّ, أنا وجدناكم أفضل ما نرجو وأحسن مما نظن، فقد كنتم ولازلتم البيت الذي آوى، والقلب الذي احتضن, فضربتم أروع أنواع الجود والكرم، والشجاعة والإقدام.
ولسوف تقطفون ثمار صبركم بحول الله تعالى بأيديكم في الدنيا والآخرة (فَاسْتَجَابَ لَهُمْ رَبُّهُمْ أَنِّي لاَ أُضِيعُ عَمَلَ عَامِلٍ مِّنكُم مِّن ذَكَرٍ أَوْ أُنثَى بَعْضُكُم مِّن بَعْضٍ), فإياكم إياكم وتثبيط الشيطان، فإن الحصيف إذا أوشك أن يحط الرحال، لا يستريح بالأثقال.
وواللهِ لقد اقتربنا من بلوغ الهدف وإدراك الأمل وإني أرى النصر يفور تحت الثرى يوشك أن يُؤذن له.
واعلموا أنه ليس من عملٍ أحب إلى الله في زماننا هذا بعد الإيمان بالله من الجهاد في سبيل الله.
قال الله تعالى: (يَا أَيُّهَا الَّذِينَ آَمَنُوا هَلْ أَدُلُّكُمْ عَلَى تِجَارَةٍ تُنجِيكُم مِّنْ عَذَابٍ أَلِيمٍ*تُؤْمِنُونَ بِاللَّهِ وَرَسُولِهِ وَتُجَاهِدُونَ فِي سَبِيلِ اللَّهِ بِأَمْوَالِكُمْ وَأَنفُسِكُمْ ذَلِكُمْ خَيْرٌ لَّكُمْ إِن كُنتُمْ تَعْلَمُونَ).
فوحّدوا صفوفكم وطهروا قلوبكم وكونوا ظهراً لإخوانكم المجاهدين، وإياكم والمخذلين المُرجفين (إِنَّ اللَّهَ يُحِبُّ الَّذِينَ يُقَاتِلُونَ فِي سَبِيلِهِ صَفّاً كَأَنَّهُم بُنيَانٌ مَّرْصُوصٌ).
وإلى إخواننا في ساحات الوغى، وأرض الرباط والجهاد أقول:
اعلموا أن دماءنا دون دمائكم، وهدمنا دون هدمكم، ورجالنا وسلاحنا في نحور عدونا وعدوكم, فما خرجنا يعلمُ الله بطراً ولا أشراً, ولا من أجل منصبٍ زائل، أو عَرَضٍ خائر, وإنما جهاداً في سبيل الله، ونصرةً لدين الله، وابتغاءً لمرضاة الله.
فهلمّوا إلى إخوانكم وضعوا أيديكم في أيدينا حتى تكون كلمة الله هي العليا وكلمة الذين كفروا السفلى. فإن الله سائلنا يوم القيامة, وإن الموت أقربُ إلى أحدنا من شراك نعله.
فهذا عدونا قد وحّد صفوفه علينا, أفما آن الأوان أن نجتمع يا عباد الله؟ قال تعالى:(وَاعْتَصِمُواْ بِحَبْلِ اللّهِ جَمِيعاً وَلاَ تَفَرَّقُواْ).
ويا أيها الصليبيّ الكذاب بوش, ويا قطعان العبيد, وخُدّام اليهود:
اعلموا أن الدماء التي فارت في عروقنا غضباً لله عليكم وطلباً للقصاص العادل منكم لهيَ في أوجها وقمة ذروتها, فلم ولن تخمد نارها بحول الله, وإن السيوف التي تلوّنت بدمائكم لتتعطش المزيد من رؤوسكم العفنة.
وإن ما رأيتم في سابق عهدكم، إنما هو غيضُ من فيض، ولسحة من هول ما أعددنا لكم من عواصفَ خالعة، ورعودٌ هلعة، وزوابع تجتثُّ القابع فيكم والماشي, فترقبوا أياماً سوداً تُنسيكم مصائبها أهوالَ ما تُقاسونه اليوم, فما ظنكم بأحرارٍ دنّس اليهود أرضهم وهتكوا عرضهم.
ويا كلبَ الروم: لا يغرّنك العدد والعُدة, أو المدد والمدة, فإن الحرب ما زالت في أولها وهذه أول الملاحم, الغالبُ فيها من صمد لا من سبق, والأمور بخواتيمها, وإنها عندنا لعينُ اليقين, قال ربُّ العالمين: (وَلَقَدْ كَتَبْنَا فِي الزَّبُورِ مِن بَعْدِ الذِّكْرِ أَنَّ الْأَرْضَ يَرِثُهَا عِبَادِيَ الصَّالِحُونَ*إِنَّ فِي هَذَا لَبَلَاغاً لِّقَوْمٍ عَابِدِينَ).
أما أنتم أيها المجوس العملاء: فإن يوم جزائكم قد أزِف, وإن ساعة حسابكم قد حانت, فوالله لأنتم أحقرُ من أن تُرفع لكم راية، أو تُدركوا غاية، فبغدادُ الرشيد لن يسودها إلاّ أحفاد سعد وابنُ الوليد.
وهاهم أسيادكم على أبوابِ فرار, لا يلوون فيه على عميل خائن, فمصيركم مصير أجدادكم المجوس الروافض كالطوسيّ وابن العلقميّ وأمثالهم الذين باعوا بغدادَ للتتار , فكان عاقبة أمرهم خُسراً, فلقد انتحر الأول , وقُتِلَ الآخرُ شرَّ قتلة , وسُحِلَ في شوارعِ بغداد جيفةً قذِرة.
فيا أحفاد الخيانة, وأربابَ الغدرِ, وفضيحة الأمسِ واليومِ:
كأني بأيام الإسماعيلية الباطنية, والقرامطة والعبيدية تُعيدونها بأحطِّ وأحقرِ صورها, فانتظروا على أيدينا ما نالَ أجدادكم على أيدي أجدادنا, ولكن اعلموا أيها المجوس أن هدايتكم إلى الحق، وعودتكم إلى الرشد، وتوبتكم إلى الله من باطل الرفض، ومعونة المُحتل أحبُ إلينا من الدنيا وما فيها, فإن أبيتم إلاّ السيف فانتظروا منا القادم, والقادمُ أدهى وأمرّ.
ويا أعوان المحتل من الحزب العراقي وجبهة التنافر ومن يدور في فلكهم سراً من المنافقين:
فقد كذبتم على أنفسكم، وخُنتم أمتكم, ولا عجبَ ولا ريب فقد كذبتم قبلُ على الله (فَمَنْ أَظْلَمُ مِمَّن كَذَبَ عَلَى اللَّهِ وَكَذَّبَ بِالصِّدْقِ إِذْ جَاءهُ), فادّعيتم أنكم ستدخلون العملية السياسية لدفعِ البلاءِ عن أهل السنة, فكنتم بحقّ شرَّ بلاءٍ عليهم, حيثُ أتيتم بقاتل المسلمينَ في الفلوجة وهادمِ بيوتهم فجعلتموه وزيراً للدفاع.
ثم جعلتم رئيساً للبرلمان من هو أشدُّ رفضاً وأكثرُ مكراً من الصفويين أنفسهم, فقد صرّحَ في إيران بأنه "لا علاقة لهم بالذي يدور في العراق، وأنهم يعملون على استقرار الأمن".
وها هو الهاشمي يقول "أننا نحتاج إلى عامٍ أو عامين لبناء القوات العراقية" في إشارة منه لبقاء المحتل, ثم كان خاتمة الضلال ما أعلنه سيدهم سلام -لا سلّمه الله- في لقاءٍ مع إذاعة لندن "أن خروج المحتل جريمةٌ تماماً كقدومه"!,(رَبَّنَا لاَ تُزِغْ قُلُوبَنَا بَعْدَ إِذْ هَدَيْتَنَا وَهَبْ لَنَا مِن لَّدُنكَ رَحْمَةً إِنَّكَ أَنتَ الْوَهَّابُ).
أما أنتم يا فرسان التوحيد , ورهبان الليل, وأسودَ الشرى:
فجزاكم الله عنا وعن المسلمين كل خير, فلقد عاينت الحروبَ ورجالها وأشهدُ بالله أن أمتي لم تبخلَ علينا في بلاد الرافدين، بخيرة أبنائها، وأصدق نُجبائها، فلم ترى عيني مثلهم، ولا سمعت كخبرهم، إلاّ خبرَ الرعيلِ الأولِ.
فأشهدُ أنهم أصدقُ الناسِ لهجة, وأوفاهم عهدا, وأكثرهم ثباتا, وأشدّهم في أمر الله, فلستُ أشكُّ -يعلمُ الله- طرفةَ عين أنا نحنُ الجيش الذي يُسلِمُ الراية لعبد اللهِ المهديّ, إن قُتِلَ أولنا, فسيُسلمها أخرنا, وبسطُ هذا في غيرِ موضعنا.
فوالله إن تلكَ الدماءَ الطاهرةَ الزكية -دماءَ الشُهداءَ وأميرهم- لهيَ أكرمُ على اللهِ أن تذهبَ سُدى, فأشهدُ باللهِ أنهم ما جادوا بها إلاّ له – نحسبهم والله حسيبهم- .
واعلموا يا أحبابي, أن الله ما اصطفى أميركم إلاّ ليُكرمهُ ويبتليكم, فما ذهب حتى استوى البنيان, وبدأ النصرُ يلوح بين الأغصان, فالصبرَ والثبات, والشدةَ الشدة.
ويا رعية أميرِ المؤمنين, ويا أبناءَ أسامة, وتلاميذَ الظواهري, ورجالَ الزرقاوي:
عزَمتُ عليكم أن لا تُلقوا سلاحكم ولا تُريحوا أنفسكم وعدوّكم حتى يقتلَ كلّ واحد منكم أمريكياً واحداً على الأقل, في مدةٍ لا تتجاوز خمسة عشر يوما, بطلقةِ قناص، أو رميةِ حرّان، أو عبوةٍ ناسفة، أو سيارةٍ استشهادية، وحسبَ ما تقتضيه المعركة, وبدءاً من سماعِ ندائي هذا.
كما عزمتُ على كلِّ سنيٌَ حُر, قتلَ المجوسُ الروافض أباهُ أو أخاهُ، أو أحداً من أهله، أو اغتصبوا له عِرضاً، أو دمّروا واحرقوا له بيتاً، أو أسروا له أسيراً فهوَ بأيديهم ذليل، أن يقتلَ مجوسياً رافضياً واحداً من جيش الدجال، أو فيلقِ غدرٍ أو حزب الدعوة أو حزب اللات أو حزب العدالة، أو حركة ثأر الله لعنهم الله.
ورسالتي الأخيرة لوليّ أمرنا, الملاّ عُمر, وأميرنا أسامة, وشيخنا الظواهري:
أقولُ: إنا على العهدِ ماضون, وعلى دربِ الجهادِ سائرون, فأبشروا بما يسرّكم, وسيروا على بركة الله, فإنما نحنُ حسنة من حسناتكم وسهمٌ في جعبتكم فارموا بنا حيثُ شئتم فلن تجدوا إلاّ جندياً مطيعاً.
وأخيراً ..
اللهم إني أعوذُ بك من فتنة القول, كما أعوذُ بك من فتنة العمل, ونعوذُ بك من التكلّفُ بما لا نُحسِن, كما نعوذُ بك من العُجبِ بما نُحسِن.
(وَاللّهُ غَالِبٌ عَلَى أَمْرِهِ وَلَـكِنَّ أَكْثَرَ النَّاسِ لاَ يَعْلَمُونَ)
خادمُ المجاهدين
أبو حمزةَ المُهاجر
عبد المُنعم البدويّ