The Clear Banner sub-blog on Jihadology.net is primarily focused on Sunni foreign fighting. It does not have to just be related to the phenomenon in Syria. It can also cover any location that contains Sunni foreign fighters. If you are interested in writing on this subject please email me at azelin [at] jihadology [dot] net.
—
Turkish Foreign Fighters and the Ogaden
By OSMahmood and North Caucasus Caucus
In recent months, there has been a major increase in international media coverage of Turkish citizens fighting alongside The Islamic State (IS). Much of the commentary has focused on the notion that this is abnormal behavior for citizens of the secular state. While this is partially true (the percentage of Turks in IS is even lower than some European countries by comparisons of percentage of total population), it should be recognized that at least for certain communities in Turkey, participating in jihadist conflicts is not abnormal, and those who participate are often honored. To provide a vivid example of this trend, this article will focus on a very specific case from 1996 of 14 Turkish foreign fighters who were killed in one of the lesser-known jihadi conflicts.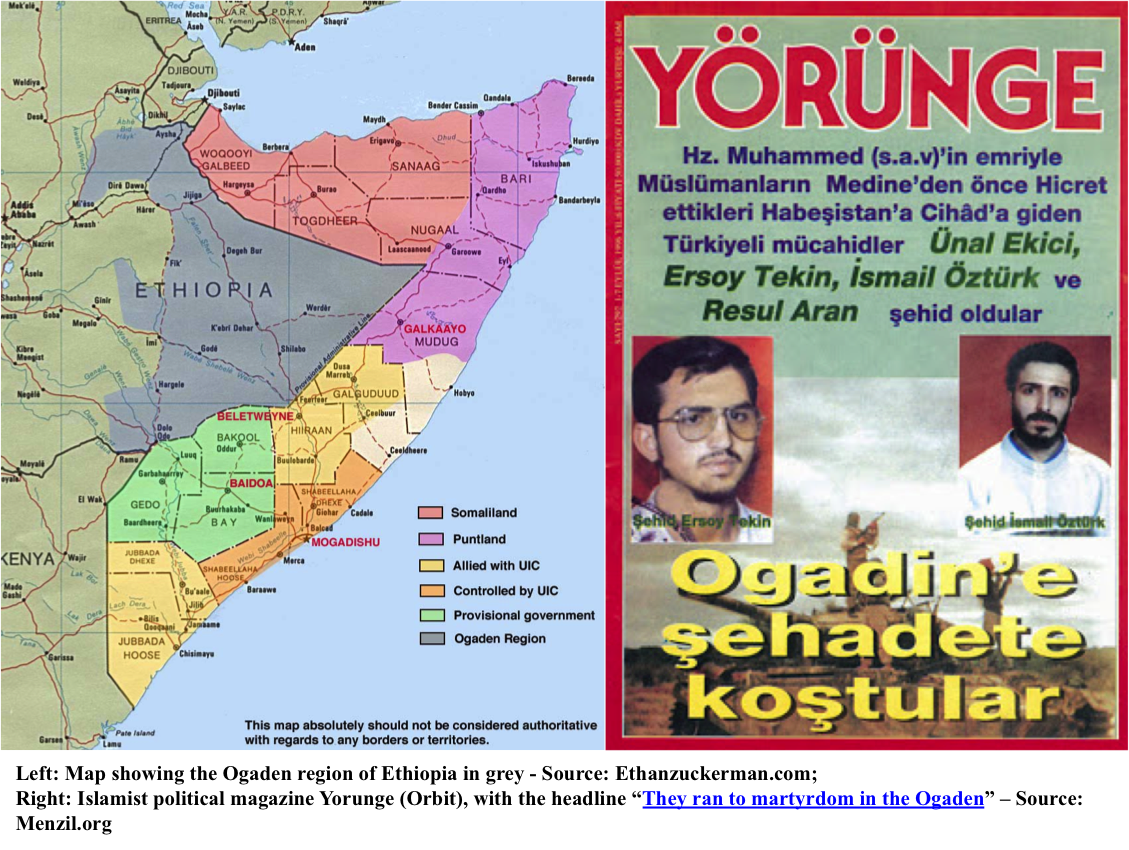 Conflict in the Ogaden
The year 1996 must have been a confusing time to be an aspiring jihadi. With the Dayton Accords ending the war in Bosnia the previous year, and the Khasavyurt Agreement temporarily halting hostilities in Chechnya, two of the premiere jihadist conflicts enticing foreign fighters came to an end. Given this context, some jihadis, including a group of young Turkish citizens, looked further afield to participate in one of the more obscure Islamist conflicts – the battle between ethnic Muslim Somalis and Ethiopian government forces in the Ogaden region of Ethiopia.
The Ogaden – A Basic Background
The Ogaden, consisting of the mainly ethnic Somali-inhabited eastern region of Ethiopia, has long had a contentious history. By the early 20th century, the region slowly came under the domain of the Christian empire based in the highlands of central Ethiopia, though control shifted to the British after the Second World War. The British returned the Ogaden to Ethiopia in 1948, along with the Haud in 1954 (the north-eastern section used as a grazing land by nomadic Somali herders), effectively signaling the demise of a 'Greater Somalia' that united all Somali-inhabited lands, much to the chagrin of many Somali nationalists.
The reincorporation of the Ogaden into Ethiopia sparked a host of resistance movements and a devastating Cold War-infused proxy battle with Somalia in 1977-78. Following the collapse of the Mengistu government in Ethiopia in 1991, the Ogaden National Liberation Front (ONLF) assumed control of the region under Ethiopia's federal structure. The harmonious relationship between the ONLF and the new Ethiopian government, however, did not last – by 1994 the ONLF had divided, with a wing renouncing its political position in favor of armed resistance.
The Rise and Fall of Islamist Interest in the Ogaden
During this time, the struggle for the Ogaden caught the eye of Islamist actors in Somalia. While the ONLF operated as a secular, nationalist party within Ethiopia, often accused of narrowly representing the Ogaden clan, al-Ittihaad al-Islami (AIAI) in Somalia developed a branch focused on the Ogaden that infused Somali irredentism with Islamist rhetoric, adding a new, albeit somewhat peripheral dimension to the struggle. The conflict was often portrayed in terms of Somali Muslims rising up against a Christian entity. Based in Luuq along the Ethiopian-Somali border, AIAI's Ogaden wing also established training camps within the Ogaden itself, and even conducted a series of attacks in Ethiopia's two largest cities in 1995-6.
Osama bin Laden also developed an interest in the Ogaden during his stay in Sudan from 1992-96, so much so that during his August 1996 declaration of jihad against the United States, the al Qa'ida (AQ) leader referenced the region amongst a host of other global hotspots where Muslims have suffered at the hands of a "Judeo-Christian alliance." Representatives from al Qa'ida traveled to the Ogaden in the early 1990s and aided in the establishment of training camps, with bin Laden himself reportedly investing $3 million to bring foreign fighters to the region, cementing the Ogaden on AQ's early 1990s horizon [Note: The vast majority of open-source information regarding AQ activities in the Ogaden during this time period comes from declassified documents in the Harmony Database, obtained by the Combating Terrorism Center and analyzed in its 2007 report Al-Qaida's (Mis)Adventures in the Horn of Africa].
Ethiopia, however, responded forcefully to the 1995-6 attacks, bombing camps in Luuq on 9 August 1996 and again in January 1997, effectively routing AIAI. Combined with Osama bin Laden's move to Afghanistan and AQ's struggles in Somalia, the Ogaden likely fell off AQ's map. With AIAI decimated, resistance to Ethiopian rule returned to the realm of the secular, clan-based ONLF, a stiutation that largely persists to the present day.
Turkish Involvement in the Ogaden
Much of the information for this article was drawn from Turkish language sites dedicated to Turkish Islamist martyrs killed in conflicts outside Turkey (as well as those killed fighting Kurdish separatists), such as sehidlerimiz.com and menzil.org. These websites purport to reproduce contemporary reporting from the time of the fighters' deaths and often provide images of the news articles, primarily from local newspapers. Due to the age and second hand nature of much of this material, some caveats apply, especially as data on Turkish fighters who may have gone to fight but ultimately survived is not available.
As in Syria, looking into the backgrounds of fighters reveals connections to other jihadist conflicts and/or friends and family serving as pulling factors. Below we will describe the experience of a number of the Turkish fighters – who likely joined with the Islamist AIAI's Ogaden wing, and were all reportedly killed along the Ethiopian-Somali border on two different days between August and December 1996.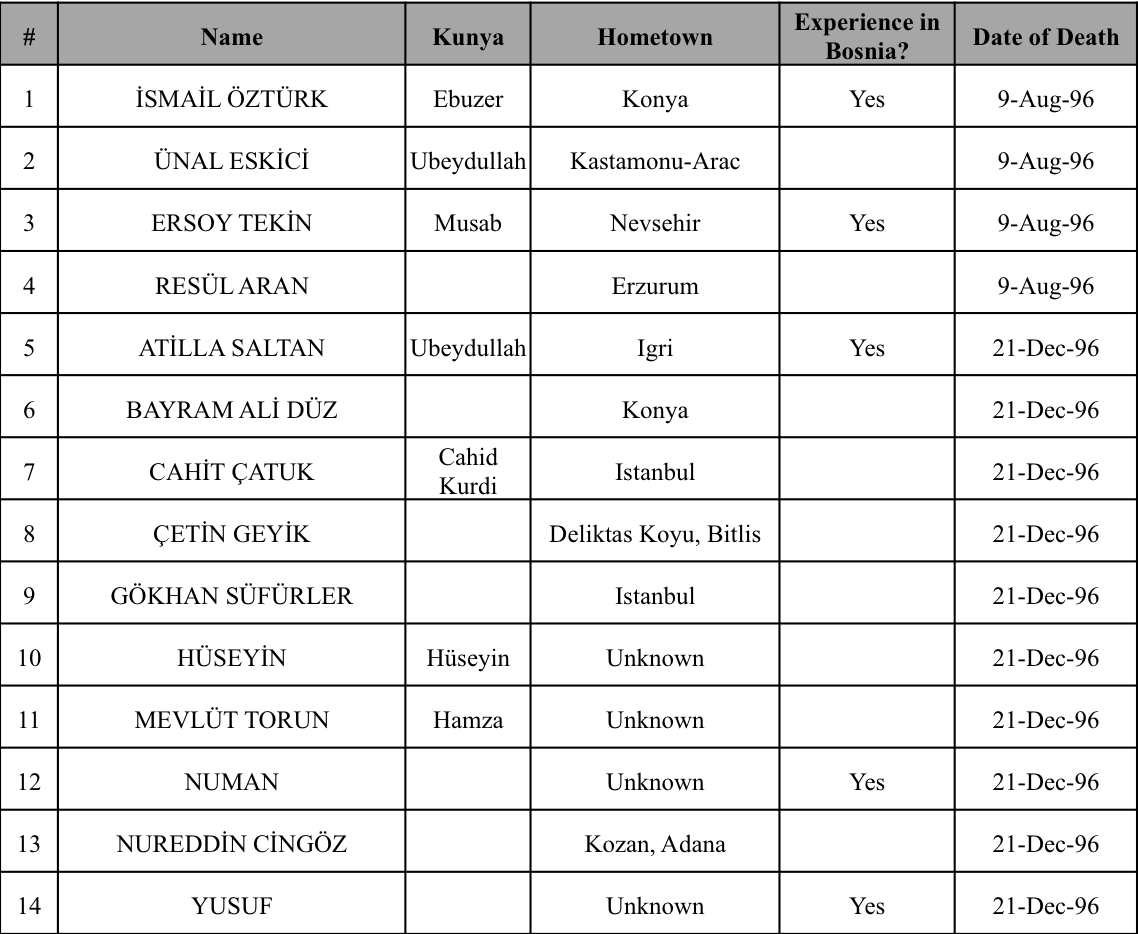 Backgrounds and Parental Involvement
From the available information, the majority of the 14 Turkish fighters killed in Ogaden had similar backgrounds – early 20s, often college students or professionals, and idealistic. One fighter, Nureddin Cingöz from Kozan, Adana, had graduated from a theological imam-hatip high school, where he allegedly won first place in a hadith knowledge competition. However, when he left with his friend, Bayram Ali Düz, for the Ogaden, both were students at Konya's Selcuk University.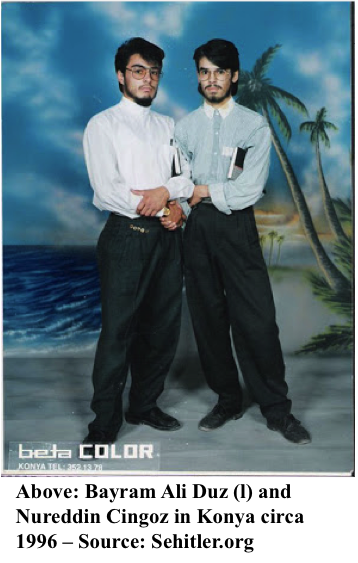 In some cases, fighters seemed to travel without support from their families. For example, Gökhan Süfürler graduated from a vocational high school in Istanbul before taking a job as an accountant working at a company in Kartal. After he left his job, Süfürler's father wanted him to work at a different job before completing his military service, but Süfürler "claimed to have higher ideals," according to his father. According to a letter he sent home, Süfürler wrote that he felt guilty living a good life in Turkey while injustice and deprivation occurred elsewhere. In an interview with Selam Gazetesi, Sufurler's father explained that while he was born in Istanbul, his family was originally from Salonica, Greece and was quite secular. However, his father and other family members started praying more regularly after his son's death.
In other cases, families appear to have been supportive. In an interview after his death in the Ogaden, Ismail Ozturk's father stated that his son's death should not be treated as a tragedy, but as martyrdom. Ozturk's father went on to say that when his sons were young he brought back Islamic books from Libya where he was working, and that he tried to pass on his religious convictions. Ismail took his upbringing to heart and went to Bosnia, but the war ended two or three weeks after his arrival. He returned to Turkey changed and even more committed to jihad. He later tried to join the conflict in Chechnya, but was turned back by Russian preventative measures. After these failures, Ozturk decided try his luck in the Ogaden. This time, however, his father allegedly tried to convince him to stay and get married, demonstrating the at times shifting nature of familial support for such activities.
The Bosnian Connection
The conflict in Bosnia appears to have served as a central bridge to the Ogaden, with many fighters meeting there and deciding their next destination. One figure who seems to be especially important as a link between Bosnia and the Ogaden is Atilla Saltan. A young man from Agri in eastern Turkey, Atilla eventually got a job in advertising in Istanbul. While there, he became engaged in the study of the Quran and other religious activites, eventually leaving his job. He moved to Germany, staying with family and decorating a local mosque. His apparent motivation was to make his way to Bosnia to fight, arriving there in November 1995. When the ceasefire came into effect on 14 December 1995, however, his opportunity vanished. Nonetheless, Saltan met other foreign fighters who informed him of a new fight in the Ogaden. In May 1996, Saltan left Turkey for the Ogaden with 10 friends, likely including Ismail Ozturk. It is known that AQ recruited foreign fighters in Bosnia for other external operations, and that the group was active in training foreign fighters in the Ogaden around this time. It is possible that one of the other foreign fighters who informed Saltan of the fight in the Ogaden was one of these recruiters.
Several other fighters in the Ogaden had some experience in Bosnia, though its unknown if they were included in the 10 who travelled with Saltan. Ersoy Tekin reportedly fought in Bosnia and returned to Turkey, but became restless. In addition, after arriving in Bosnia in 1996, Bilal Ukbe met two childhood friends, identified only by their first names Yusuf and Numan. Realizing there was nothing left for them to do with the fight against the Serbs essentially over, they returned together to Turkey. Nonetheless, soon after returning, they also travelled to the Ogaden.
Turkish Media
Some fighers moved back and forth between the Ogaden and Turkey, taking advantage of a relatively open media environment in Turkey to publicize their activities. For example, Saltan at one point returned to Turkey from Ethopia in order to gather material support for the fighting. He participated in television and radio programs in various cities. Apparently an effective orator, Saltan traveled openly for two months, calling for support for the fight in the Ogaden. While he was in Turkey, his close friend Ozturk was killed, causing Saltan to return to fight. The story of four other Turks was reported on the front-page of the 1990s Islamist political magazine Yorunge (Orbit), with the headling "They ran to martyrdom in the Ogaden" – another indication of Turkish media interest in the activities of its citizens in the Ogaden.
Experiences in the Ogaden

Historically, foreign fighters arrive to find their conflicts far less hospitable than expected – the Turks arriving in the Ogaden were no exception. Surprisingly, two who arrived in October 1996, Cingöz and Düz, informed their family they received no combat training. Düz even called his father from the Ogaden, reportedly telling him he wanted to return home, and shift to supporting militant efforts in the Ogaden through material means from Turkey. While the recorded articles do not go into much further detail, AQ members operating in area in the early 1990s complained about the divisive nature of the Somali clan system, food insecurity, and the harsh local environment. In line with the concerns they expressed, all 14 of the recorded Turkish fighters who arrived between May and October 1996 would be dead before the end of the year.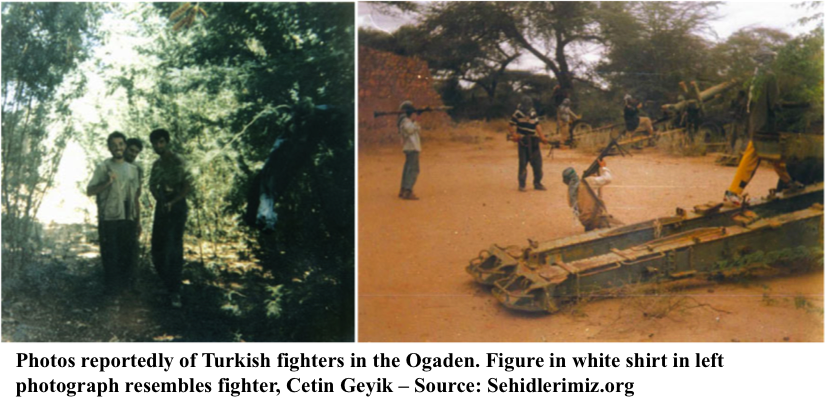 Ebu Abdurrahamn al-Hetavi (Arabic for Hatay, a southern province in Turkey), identifying himself as a spokesman for the Foreign Relations Bureau of Islamic Jihad, released a statement on 17 August 1996 claiming a litany of victories and accomplishments during 35 skirmishes in June and July 1996, including the death 987 Ethiopian soliders and the liberation of the towns of Luug (Luuq) and Belet Hevva (Beled Hawo). Al-Hetavi's statement also included a description of attacks on hotels in Addis Ababa and the assasination of a "transportation minister" (likely the failed attempt on the life of Ethiopian Transport and Communication Minister Abdul al-Majid Hussein), both claimed by AIAI. Interestingly, while the publicization of the incidents in Addis reveals the ties between the group of Turkish foreign fighters and the AIAI's Ogaden wing, al-Hetavi gets some details incorrect (such as claiming Hussein was killed when he survived the assasination attempt), demonstrating a certain disconnect with other aspects of the movement.
Furthermore, the exact nature of the "liberation" of Luuq that al-Hetavi refers to is unclear, and the death count of Ethiopian soldiers is high (likely exaggerated). Rather, al-Hetavi's claims came shortly after a cross-border raid by Ethiopian forces on AIAI militants in Luuq and Beled Hawo on 9 August 1996, in an attempt to eradicate the movement. While Ethiopian forces did not fully succeed on this occasion, al-Hetavi's statement potentially serves as a response to that event, demonstrating that the Islamist forces were still active and strong in the cities, and had inflicted serious damage on the enemy. In addition, the number of skirmishes decribed reveals the persistent low-level guerilla conflict between Islamist actors and Ethiopian forces in the Ogaden at this time, in addition to the more high profile terrorist bombing campaign in Ethiopia's urban areas.
The statement also reported that four Turks (Resul Aran, Ersoy Tekin, Unal Ekici, and Ismail Ozturk), in addition to a Frenchman, an Algerian, a Saudi, a Gambian, and three Egyptians, were killed. The presence of other foreign fighters emphasizes the Ogaden as a battleground for non-Turkish nationalities as well, consistent with reports of AQ attempts to funnel militants into the region in the early 1990s.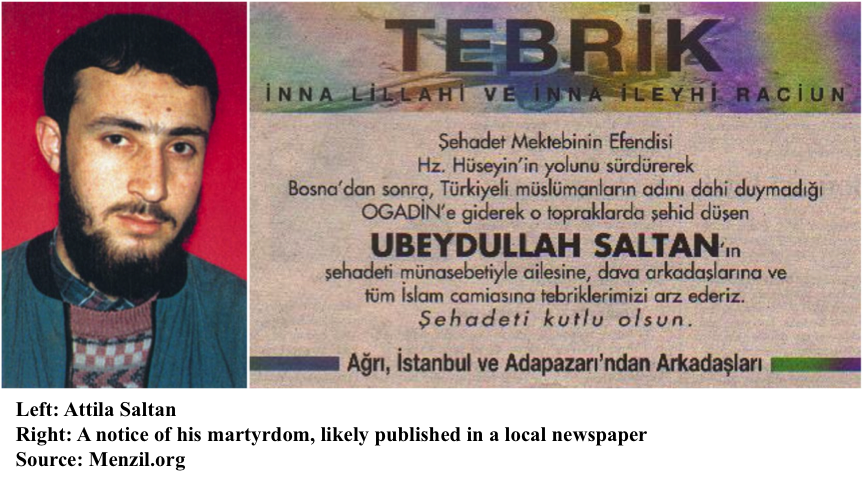 An attack on AIAI forces on 20 December 1996 devastated the Turkish fighters in the Ogaden. According to a 1 January 1997 statement from external relations spokesman for Ittihadi Islami, Ebu Yasir, ten more Turkish citizens were killed in this battle, along with 48 other foreign fighters (including two Bosnians and three Egyptians). This attack ended much of the resistance, at least with international participation, although Ethiopian forces returned in January 1997, fully routing remaining AIAI forces for good. Some of the families did not receive news of their sons' death until February 1997, after the final battle. Response within Turkey varied, with Saltan's family holding public prayers to honor him in Agri and Istanbul sometime in 1997, while others seem to have been confused by their sons' choices.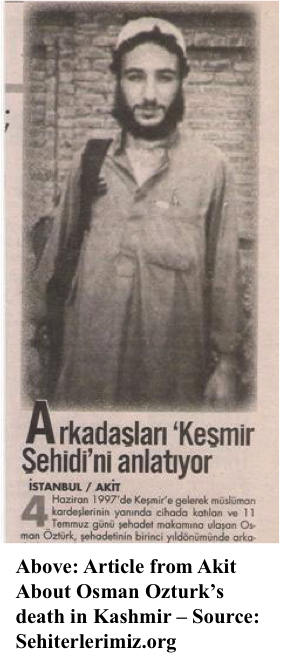 Conclusion
It was true in 1996 and it remains true today: as long as there are impressionable and idealistic young men, along with relatively permissive environments, some will waste their lives on doomed foreign ventures. Despite the apparently miserable experience of the fighters in the Ogaden and the inability of AIAI to achieve its goals, they went on to inspire others to participate in similar conflicts. Ismail Ozturk's twin brother, Osman was not able to join his brother and their mutual friend (Atilla Saltan) when they went to the Ogaden in summer 1996. When the pair was killed, a friend said "….the flame of jihad on the Allah's path flared up in [Osman's] heart." He chose to follow in brother's footsteps by traveling to the Hizbul-Mujahideen Camp in Azat, mirroring his brother's experience when Indian forces killed him in Serter Nekts, Jammu, Kashmir, in July 1997. These twin brothers, killed thousands of miles away from each other in other people's wars, serve as potent examples of the violent dynamics that continue in places like Syria today.
OSMahmood is an Africa analyst primarily focused on the Horn of Africa and northern Nigeria.

North Caucasus Caucus is written by a Washington, D.C.-based analyst. Views here are his alone. Read more at northcaucasuscaucus.blogspot.com and follow at Twitter at @ncaucasuscaucus.