NOTE: For prior parts in the Hizballah Cavalcade series you can view an archive of it all here.
–
Singing Hizballah's Tune in Manama: Why Are Bahrain's Militants Using the Music of Iran's Proxies?
By Phillip Smyth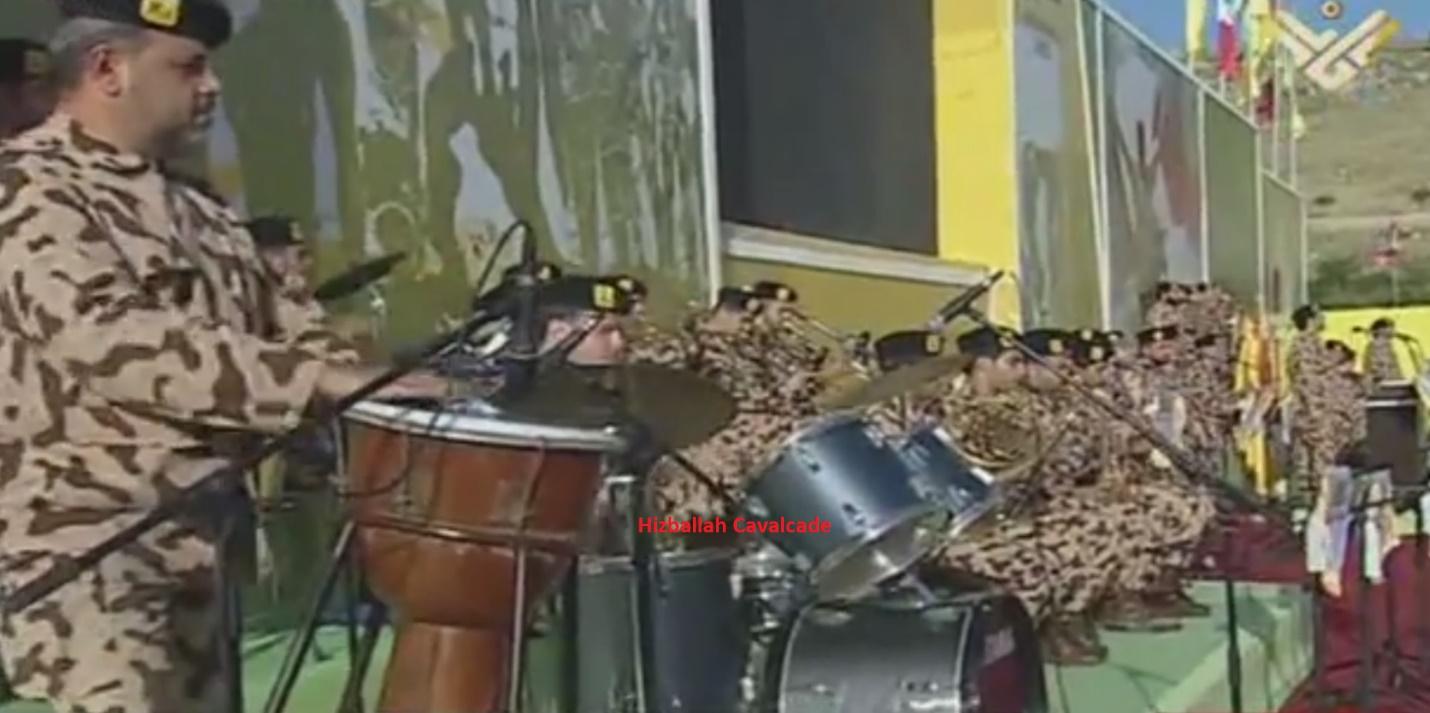 Figure 1: A screenshot of a Hizballah musical band performing at the 2013 "Resistance and Liberation Festival"
Bahraini officials have repeatedly accused anti-government militants and protesters in the country of being supplied, trained, and supported by Iran and its numerous regional proxies. Still, the government of Bahrain has done little to bolster their claims of deep and intrinsic links between Bahraini militants and Tehran. Along with official Iranian denials, the issue of Iran-Bahraini militant links is still quite hazy. Nonetheless, this does not mean that within the material released by Bahraini militant organizations that there are not hints of some level of Iranian influence. One of the more intriguing pieces pointing to influence from Iranian-backed organizations comes from the utilization of specific types of music in the many propaganda videos released by Bahraini militants, their sympathizers, and amplifiers.
Numerous instances of Bahraini militants producing propaganda videos with different varieties of music created and utilized by Iranian-backed proxies could indicate a connection with Iran's proxies. Nevertheless, this type of overlap should not be viewed as a "smoking gun" affirming Iranian involvement. However, it does assist in piecing together direct and indirect influences.
The pieces of music in question were originally developed and used by Iranian proxy organizations, particularly Lebanese Hizballah, Asa'ib Ahl al-Haq (AAH), and Kata'ib Hizballah. In fact, some of the songs that have been promoted fit a long standing media strategy employed by the aforementioned groups and Iran when manufacturing narratives and perceptions for themselves and other armed groups.
The use of music as a transferable propaganda medium follows a very formulaic strategy used by Iran and its "Islamic Resistance" proxy organizations for many years. Often, songs produced for one group are repackaged for newer organizations in other geographic locations. The songs are then altered in a way to make them appeal to the populations and target audience where the new group is located.
Possible Reasons for Using Specific Songs
Why would Bahraini militant groups utilize Hizballah and its Iraqi clones' music and with such frequency? Some possible answers include:
Direct Iranian influence or assistance provided to the developing militant groups.
Video editing/production was offered to Bahraini militants by Iran and/or its proxies as a means to influence and shape militant organizations and to encourage the adoption of a more bellicose strategy to the broader (and more peaceful) protester audience.
Bahraini militants sympathize with Iranian-proxy groups, their exploits, and with the general concept of "Al-Muqawama al-Islamiyya" ("The Islamic Resistance"). The hope to be as successful, feared, and/or respected as those organizations has led them to adopt the same varieties of music.
Thumbing their nose at the government: With the government of Bahrain accusing protesters and militants of being Iranian proxies, militant groups may use the material as a way to subtly frighten or encourage speculation among Bahraini government and other observers.
Narrative Goals: One song by Lebanese Hizballah's Ali al-Attar called "Wa'ad al-Asra" or "The Prisoner's Promise" was written to celebrate the release of prisoners Hizballah sought to free during the 2006 Hizballah-Israel War. While the song makes clear references to Lebanese Hizballah and themes related to the 2006 war, the same song was employed by some Bahraini protesters (as background music for their uploaded clips) when they protested the government's detention of key protest-leaders.
Auto-Tuning the Revolution: Examples of the Musical Overlap
In March 2014, a music video which was claimed to have been produced by "Saraya al-Bahrainiyya al-Muqawama" or the Bahraini Resistance Brigades, (which is likely another name used by The February 14 Youth Coalition's Saraya al-Muqawama al-Sha'biya [Popular Resistance Brigades]) was posted by the popular Revolution Bahrain's YouTube Channel. The video featured a montage of edited clips, which purported to show Bahraini militants engaged in training. The music video also included a number of videos of bombings orchestrated by militant Bahraini organizations.
Yet, the music used was strikingly familiar in the circles of Iranian-backed Shi'a Islamist groups. In fact, Iranian-backed Iraqi group, Asa'ib Ahl al-Haq had released the exact tune back in 2011 to commemorate attacks the group orchestrated against U.S. targets to demonstrate solidarity with Bahrain's protesters. Later in 2011, when fellow Iranian proxy Kata'ib Hizballah released footage of attacks it had also launched in solidarity with Bahraini protesters, it too used the same song.



However, the song was neither originally Bahraini nor Iraqi, instead its origins were rooted father to the west, in Lebanon. The original song, "Risalat al-Thuwar" ("Message of the Rebels"), was performed by one of Lebanese Hizballah's official bands, Firqat al-Fajr (The Dawn Band), following the 2006 Hizballah-Israel War. It first appeared on the band's 2007 "Lahan al-Turab" or "Melody of the Soil" album. Still, the rendition dealing with Bahrain was not the only version of the song. Asa'ib Ahl al-Haq had their own Iraq/Grand Ayatollah Muhammad Muhammad Sadiq Sadr (as opposed to Sayyid Hassan Nasrallah) themed "Risalat Thuwar" produced in 2011.


"Risalat al-Thuwar" is not the only Hizballah song which has been adopted and rebranded by Bahraini militants and their amplifiers. Another song used by Bahraini militants also comes from Firqat al-Fajr. The song, "Ya Wa'ad Allah" ("O Promise of God") can be found on the group's 2008 album, "Sharit Wa'ad Allah" ("Take the Promise of God"). The song has been released in different formats, with more recent music video varieties showcasing the assassinated Hizballah terror-mastermind Imad Mughniyeh. The album also included an instrumental version of the song. Both versions have been prominent features on productions done by Hizballah's Al-Manar TV network.
In Bahrain, "Ya Wa'ad Allah" was used as background for clips released to the popular (particularly with militant groups) Revolution Bahrain's YouTube account. One of these videos included the firebombing of an armored car used by Bahraini government forces.


It is not just the polished music video-quality material finding its way into Bahraini militant propaganda productions. Bahraini militant group Saraya al-Mukhtar released a video of their April 2014 targeting of Bahraini police with an improvised explosive device. Another bomb attack in Bani Jamra also utilized the same background music.
The musical selection in the background matched with instrumentals used by Iraq's Asa'ib Ahl al-Haq. This music was first featured on the AAH-affiliated Al-Ahad TV in the late summer/fall of 2013 to commemorate Asa'ib Ahl al-Haq members killed fighting in Syria. Further pointing to some level of Iranian or Iranian proxy influence, is highly unlikely that this particular musical element could find its way into so many pieces of released footage. This may indicate some Bahraini militant footage being sent abroad (possibly to Iraq) where the footage is re-edited and put back together for a later introduction.



Another similar instrumental used by Bahraini militants with Saraya al-Mukhtar and Saraya al-Ashtar was also the same exact tune utilized in a number of Kata'ib Hizballah video releases (see: 00.17-00.40 on "Kata'ib Hizballah Anti-America Video").




The use of the last two instrumentals create further questions. Why would these groups, which have resorted to using a variety of improvised weapons, and exist under increasing heavy security crackdowns, spend the time to find, edit, and utilize background instrumentals which already have obscure points of origin. Why pick these two exact instrumentals, which have only been found in the repertoire of Asa'ib Ahl al-Haq and Kata'ib Hizballah? Other Bahraini protest organizations have utilized a variety of different musical accompaniments. Thus, the use of these particular musical pieces seem out of place when compared to the rest of what has been released.
Whatever the reasons, closely assessing the propaganda published by these organizations may provide insight into rather opaque organizations. While assessing the musical selections may appear to be a tangential escapade, AAH, Kata'ib Hizballah, and Lebanese Hizballah have all demonstrated their strategy of using this material as another method to push the narrative of the "Islamic Resistance."