NOTE: For prior parts in the Hizballah Cavalcade series you can view an archive of it all here.
—
Deck the Halls with a Minority Alliance: Shia Militia Social Media Messages to Christians
By Phillip Smyth


Figure 1: This photo, purporting to show a Shia banner on a church (possibly in Iraq) has been circulated around as a symbol of Shia-Christian unity and coexistence. The photo has been present on a multitude of Iranian-backed Shia Islamist group Facebook pages.
Minority alliances in the Middle East are hardly a new trend. During the Syrian Civil War there has been deliberate engagement by some minority elements to build more effective political alliances and fighting groups based on minority identification. This has particularly been the case with the mainly Alawite support base for Syrian leader Bashar al-Assad and his system's relationship with Druze and Christian elements within Syria.[1] The trend of marketing the Syrian leader as both a secularist and as one who will take care of other minority groups has been a major theme in pro-Assad open source media circles.[2]
Nevertheless, Bashar al-Assad's power bloc is not the only group touting their minority alliance credentials in the face of a mainly Sunni Islamist rebel enemy. In fact, Shia Islamist militias backed by Iran, which are also engaged in fighting these rebels, have also actively attempted to court Christians. These groups have tried to build a minority alliance sentiment with a number of strategically placed photos on their hive-like social media accounts. While this is but one of many different trends found on Shia Islamist militia social media pages, it does play to grander narratives.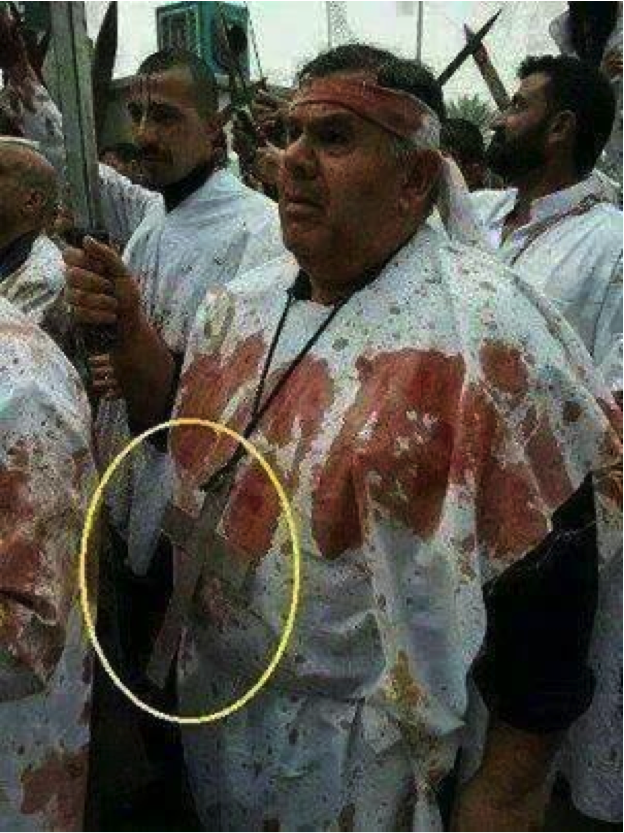 Figure 2: A photo showing a man covered in blood from what can be assumed was his own practice of zanjeer zani (Shia self-flagellation using a sword or knife). Note how a crucifix around his neck is circled. Some pro-Shia-militia-in-Syria social media pages have suggested the man is a Christian showing his devotion to historical Shia leader, Husayn. Other pages have used the photo as a symbol of Shia respect for Christians (and vice versa).
Lebanese Hizballah has actively engaged Lebanon's Christian (primarily Maronite Catholic) community. In 2006 the group became a senior partner with Michel Aoun's mainly-Christian Free Patriotic Movement in the March 8th Alliance.[3] Lebanese Hizballah has also attempted to court Lebanon's Christian community in recent years. In 2012 around Christmas, pro-Hizballah writers published pieces touting the group's outreach to Christians.[4] The group also issued a 2013 Christmas greetings to Christians and held meetings with the community.[5]
Since Shia militia groups in Syria have branded their enemies as al-Qa'ida style extremist "Takfiris", it allows for continued marketing of Shia group activities as a hard power counter. Many Christians in Syria arrived in the country due to attacks they suffered in Iraq. Other Syrian Christians worry about their presence in the country with ascendant Sunni Islamist extremist groups in the country.
The goal of these photos appears to be less of an attempt to recruit Christian fighters for Shia militia ranks.[6] Instead, they are used to create the image of cross-sectarian unity. This form also pushes a narrative that Christians can not only find protection with Shia Islamist militias, but that these organizations will both respect them and act as viable long term allies. This messaging structure also plays off of earlier themes adopted by many regional Christian groups, namely the fear of being drowned in a "Sunni Sea".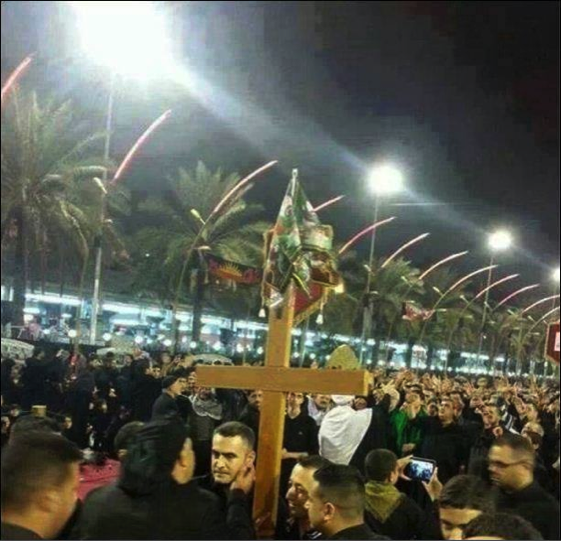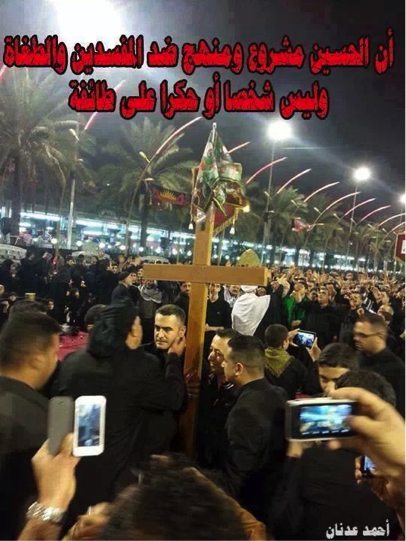 Figure 3: A photo supposedly showing Christians in Iraq engaging in a Shia pilgrimage. This photo also received many different captions. The main theme behind the captions promoted Christian-Shia brotherhood.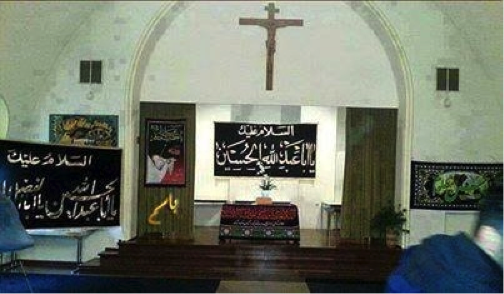 Figure 4: A photograph claiming to show an Iraqi church which had hung Shia banners to help usher in the New Year. This picture started to appear on Shia Islamist militia pages in December 2013. The photo was unclear, but implied it was taken in November during Ras as-Sanah al-Hijriyah (the Islamic New Year). Rebel activists seized upon the photograph, claiming it showed a church being desecrated with Shia flags in Syria.


Figure 5: A picture promoting 'Syrian unity' between Shia and Christians. This picture has appeared on a small number of Iraqi Shia-manned militia group Facebook pages.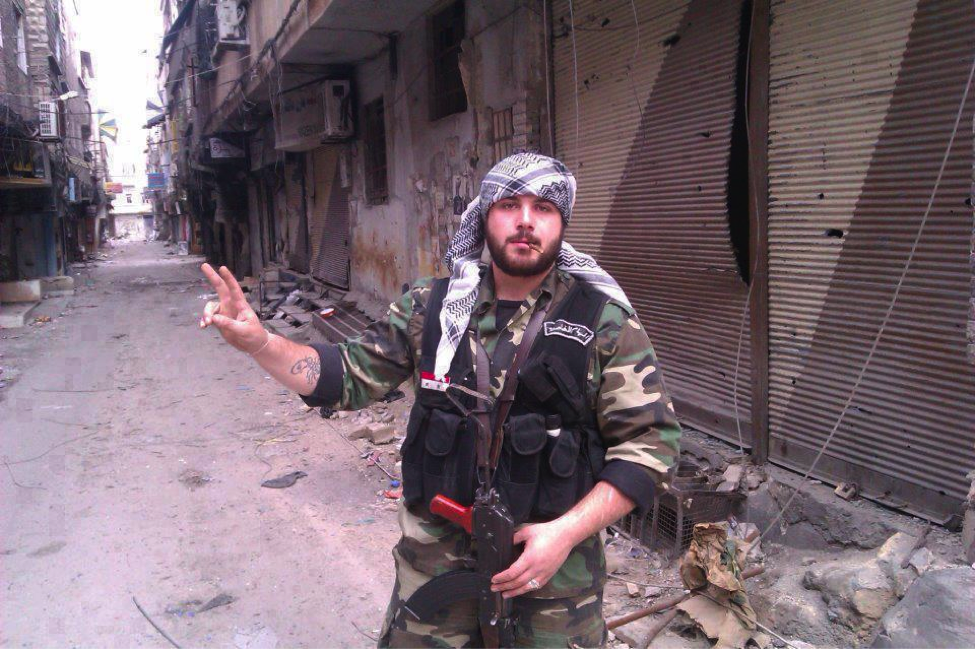 Figure 6: In April, Shia militia pages claimed this fighter was a "Christian martyred defending the Shrine of Sayyida Sukayna bint Husayn [the Sayyida Ruqayya Mosque]". Some Shia militia pages referred to him as the "Son of the Virgin Mary".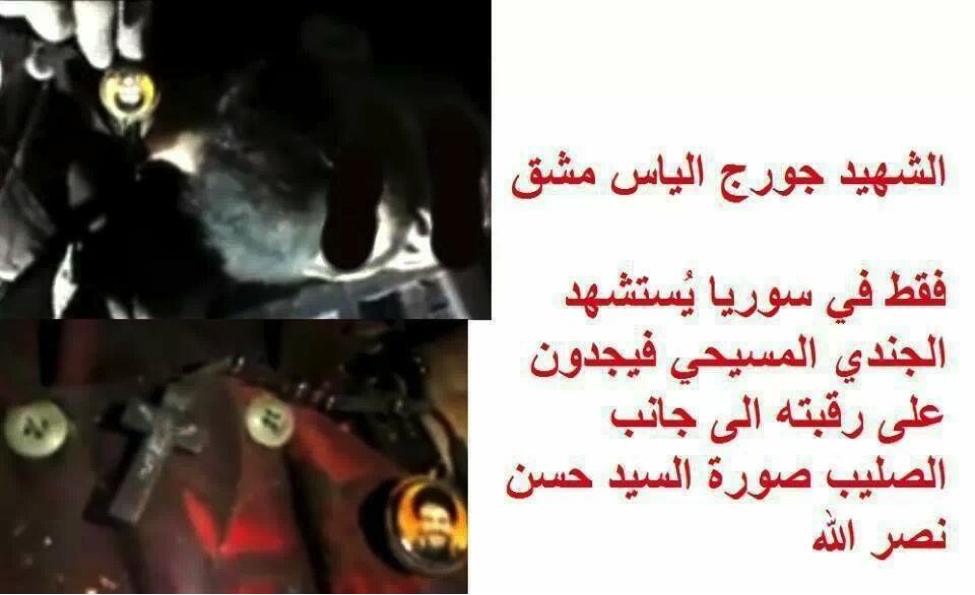 Figure 7: A photo showing a Syrian fighters accoutrements. Included are small medallion-like pictures of Lebanese Hizballah leader Sayyid Hassan Nasrallah and a crucifix. It noted in the caption that these items belonged to a Christian soldier named George Elias and that he wore them around his neck.
[1]
On pro-Assad Druze relations and deployments see:
https://www.csmonitor.com/World/Middle-East/2013/0921/Assad-harvests-support-from-Druze-in-Israel-with-apples
and for the Christian relations with Assad see:
https://www.aljazeera.com/indepth/features/2013/10/lebanese-christians-pray-assad-victory-2013102083955862360.html
https://www.haaretz.com/news/diplomacy-defense/.premium-1.553717
. I also authored a piece on Assad's development of minority alliances:
https://www.gloria-center.org/2012/04/syria%E2%80%99s-31-percenters-how-bashar-al-asad-built-minority-alliances-and-countered-minority-foes/
.
[2]
This theme can be seen in a PBS News piece which asks "Why Did Assad, Saddam and Mubarak Protect Christians". The article is from 2011 and gives some insight into the development of the "Assad-as-minority-protector" concept:
https://www.pbs.org/newshour/rundown/2011/10/mid-easts-christians-intro.html
. See also:
https://www.nytimes.com/2012/06/29/opinion/syrias-threatened-christians.html
.
[3]
See:
https://yalibnan.com/site/archives/2006/02/full_english_te.php
.
[4]
See:
https://www.al-monitor.com/pulse/tr/contents/articles/originals/2012/al-monitor/hezbollah-media-outlets-warm-to.html#ixzz2oVzFU8Fb
.
[5]
See:
https://www.shiitenews.com/index.php/lebanon/8604-hezbollah-congratulates-christians-on-christmas
.
[6]
Though, limited online sentiment has been shown by some who claim to be Christian and wish to fight in Syria. See:
https://www.liveleak.com/view?i=25e_1374364131&comments=1
. In an early December interview, Maronite Christian leader of the Free Patrioti Movement and Hizballah ally, Michel Aoun, denied sending fighters to act alongside Hizballah in the defense of churches. See:
https://www.naharnet.com/stories/en/109224
.