NOTE: As with all guest posts, the opinions expressed below are those of the guest author and they do not necessarily represent the views of this blogs administrator and does not at all represent his employer at the Washington Institute for Near East Policy.
Jihadology.net aims to not only provide primary sources for researchers and occasional analysis of them, but also to allow other young and upcoming students as well as established academics or policy wonks to contribute original analysis on issues related to jihadism. If you would like to contribute a piece, please email your idea/post to azelin [at] jihadology [dot] net.
Click here to see an archive of all guest posts.
—
The Conquest of Constantinople: The Islamic State Targets a Turkish Audience
By North Caucasus Caucus
"We earnestly desire from our exalted god that He grant us the good news of the conquest of Istanbul and other places, and in that vein we patiently continue." – Konstantiniyye, June 2015, pp.6
Introduction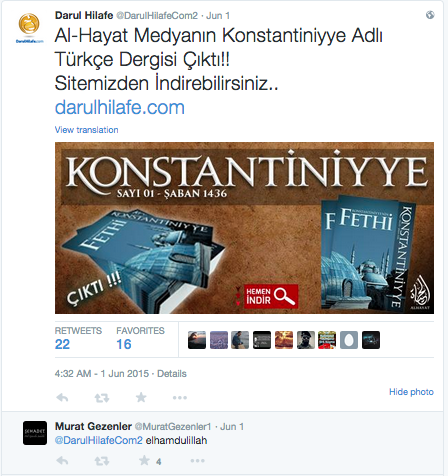 On 01 June 2015, official Islamic State (IS) media outlet al-Hayat Media released the first issue of a new Turkish language magazine entitled, Konstantiniyye (the transliteration of the Ottoman spelling of Constantinople). The lay out and design of the 46-page magazine are familiar to those who have read some of al-Hayat's other publications such as Dabiq and Istok, a similar specifically Russian-language magazine just released several weeks prior to Konstantiniyye. While all the previous issues of IS's magazine, Dabiq, had been translated into Turkish, this is the first official publication from al-Hayat directed at a Turkish audience and could be an indication of IS leadership no longer caring as much about provoking the Turkish government.
Content and Themes Directed at a Turkish Audience
The first issue of Konstantiniyye was entitled, "The Conquest of Constantinople." In the introduction of the magazine, al-Hayat lays out its goals and bemoans that "the people of Turkey, especially Muslims, have been deprived of much of the multitude of news, writings, and videos coming out of the Islamic State each day." To rectify this, al-Hayat states that they established a dedicated Turkey desk, which will provide official translations of all al-Hayat publications as well as publish Konstantiniyye monthly. Konstantiniyye specifically for a Turkish audience and focusing on "topics of interest to Muslims in Turkey about the Islamic State." The writers go on to say, "We have tried not to overwhelm the reader by taking care to keep our writings short." The release of the magazine appears to have been timed to coincide with two events in Turkey – the annual celebration of the conquest of Constantinople and the Turkish national elections.
Conquest of Istanbul
The centerpiece of the magazine is an article entitled, "The Conquest of Constantinople." The magazine was released two days after Turkey's annual celebration of "Fetih Gunu," the day commemorating the fall of Constantinople to the Ottomans in 1453. The commemoration of this event has grown considerably over the last decade and become a much more prominent event in Turkish popular consciousness. The impressive panorama museum, constructed in 2006, remains a very popular tourist attraction. (I visited myself in 2014 and had to wait in line for more than 45 minutes to enter). A film about the conquest, Fetih 1453 was released in February 2012 and was the most expensive and highest grossing movie in Turkish history. Clips from Fetih 1453 were used in the al-Hayat Balkans-focused release, "Honor in Jihad."
The article seeks to tie the conquest of Constantinople and modern day Istanbul into IS's broader narrative about the pre-destined nature of Caliphate and the final apocalyptic battles at al-Amaq and Dabiq. Based primarily on the hadiths of Abu Hurairah, the author writes, "Allah's messenger [Muhammed]…told us the good news that Constantinople would also be conquered. Constantinople was conquered before, but the conquest referred to in this good news has not yet occurred." However, the conquest does not refer to taking the city by force. The author writes,  "As can be understood from these hadiths, close to the Last Hour, the city that was formerly known as Constantinople and now is known as Istanbul will be conquered with the call of takbir and without weapons or blood." The discussion of the conquest of Istanbul is likely in line with previous claims that IS will conquer Rome. This is not an actual goal, but more to energize a potential Turkish audience.
Following "The Conquest of Constantinople," the magazine features a poem about Istanbul (a full translation of the poem can be found at the end of this article). The popularity of poetry among jihadis has been well chronicled among many nationalities of foreign fighters (Thomas Hegghammer has written on this topic extensively, as has The New Yorker). This mirrors the increased volume of original IS-focused nasheeds regularly released throughout the last few months.
Elections and Democracy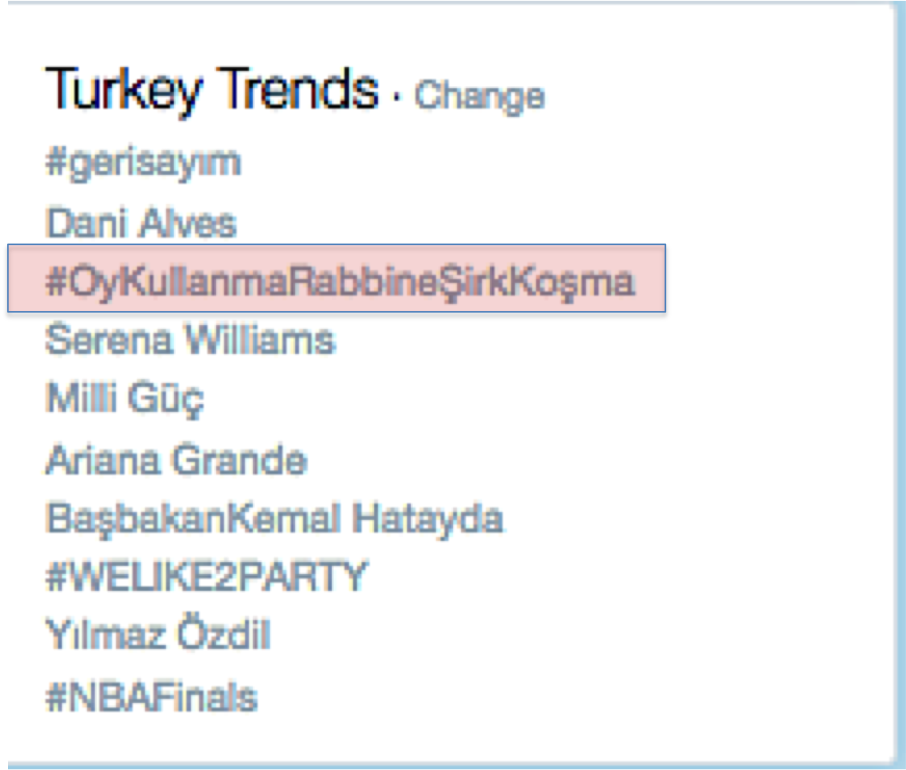 There ar e two sections on democracy, one entitled, "Democracy was Ignited " and the other "The Qur'an is for the Dead and Democracy is for the Living." Both articles lay out standard Salafi arguments about the incompatibility of being a Muslim and participating in democratic systems, as well as how the democratic systems will ultimately fall just like communism and socialism. As a potential indicator of writers knowing their audience, the first article included a meme popular on more religiously conservative Turkish Facebook pages, featuring US soldiers raiding a house in Iraq with the caption, "Open the door, Democracy is coming!" The title of the second article presents the idea that some Muslims have been deceived into believing that the Qur'an does not apply to them in their everyday life, therefore there is a need for democracy.
While unlikely coordinated, a Turkish Salafi group headed by Halis Bayancuk (Ebu Hanzala), similarly launched an anti-voting campaign. Though often associated with IS in both the Turkish and Western media, Bayancuk publicly stated in May 2015 that he has not pledged allegiance to IS emir Baghdadi, but some IS members call him their brother and he calls some IS members his brothers in religion. Using the slogan, "Don't vote, honor your creator," Bayancuk's websites, Tevhidgundem, Tevhiddersleri, and Tevhiddergisi, laid out the organization's strategy and goals. Laying out both real world and virtual tactics, goals included distributing hundreds of thousands of brochures and hanging a similar number of billets in 30 major cities around the country as well as sending five million e-mails and hashtag bombing (having supporters all tweeting at 9pm local time in order to get the campaign's hashtags trending). On 04 June, #OyKullanmaYaratıcınaŞirkKoşma (Don't vote, don't undermine your creator) and #OyKullanmaRabbineSirkKosma (Don't vote, don't undermine your lord) did briefly trend in Turkey. Under the hashtag, supporters posted photos of themselves posting billets and using graffiti stencils to deface political advertisements throughout the country.
Considering the enviable over 85% turnout for the election, the campaign likely had a negligible effect on the overall outcome of the election. However, it shows a growing coordination and support base for Salafi groups. A similar, but much smaller campaign was launched during the last national election in 2011. One major difference was the attempt to get grass roots support – providing instructions on how people could personally get involved as well as PDFs of the brochures and stickers so supporters could have them produced in one of Turkey's ubiquitous print shops.
Other Turkey Focused Content and Other Standard IS Propaganda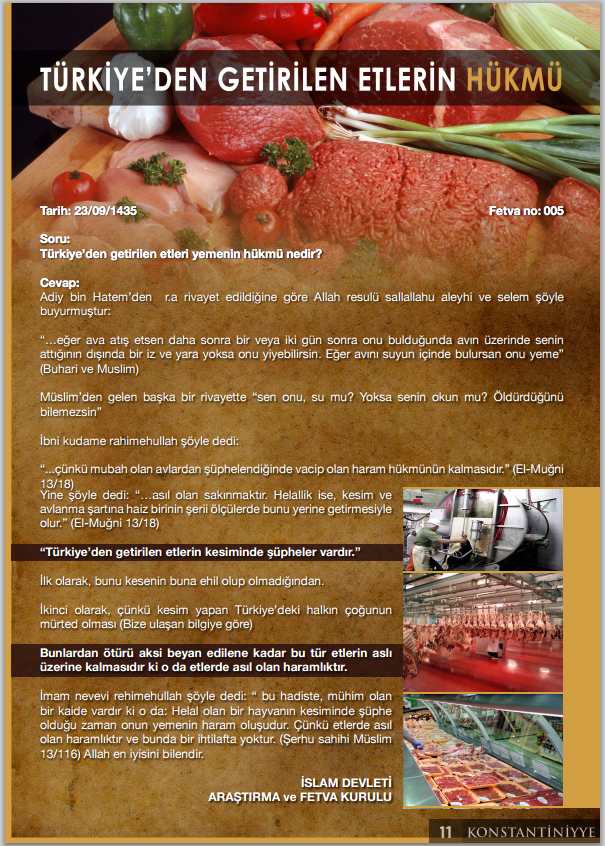 The final two articles, calibrated to resonate specifically with a Turkish audience, are a dietary fatwa and an article about Palestinians in the Yarmouk camp. The fatwa focuses on how people living in the Islamic State should not eat meat brought in from Turkey (such as pre-packaged meat sold in grocery stores). The primary reason against eating this meat, according to the fatwa, is the animals are not slaughtered in accordance with proper rules and those handling the meat are not actually Muslims. Stories about processed meat in Turkey not being halal have existed for years (though the authors claim they have insider information on the topic). Additionally Palestinian issues have had great resonance among a large portion of the Turkish population, not just Salafis or the very religiously conservative.
The remainder of the magazine is standard IS media material – a translation of an address by IS spokesman Ebu Muhammed al Adnani entitled, "The Killers and Those who are Killed (originally released in March 2015), justification for the destruction of Iraqi antiquities, and a profile of Boko Haram and its pledge of allegiance to IS. The material is generally short and punchy and with the purpose of convincing readers the necessity to immigrate to the Islamic State.
Distribution and Reach
The website, darulhilafe.com appears to have been the first to post the magazine, linking to the PDF uploaded to archive.org. As of this writing, according Topsy, 437 tweets linked directly to the PDF. According to a whois.com registry, the website was established on 15 March 2015 and is registered to an owner in the Uskudar neighborhood of Istanbul. darulhilafe.com replaced the first Turkish language IS website, islamicstate.info, which was shut down in February 2015. The website is currently acting as the primary source for the distribution of Turkish language translations of official material from al-Hayat. Other pro-IS websites, such as Takvahaber.net and Enfalmedya.com, both mirrored the content and linked to the PDF (Takva even provided a Kurdish-language version of the table of contents to advertise the magazine).
Konstantiniyye reflects the steadily increasing volume of Turkish language IS propaganda has throughout 2015. Takva Haber (which had a predecessor site and Youtube channel focused on covering the Islamic State of Iraq in 2009) and Enfal Medya have been the two primary websites providing pro-IS media coverage in Turkey. Along with providing coverage on wide range of issues (from Boko Haram to negative coverage about police shootings in the US), both sites produce original Turkey-specific IS stories. Such stories include reports about Turkish IS members killed fighting in Syria/Iraq or by airstrikes, the arrest of supporters trying to enter IS-controlled territory, or just links to guides on how to avoid surveillance from unmanned aircraft.
While these sites are both openly pro-IS in their orientation, they are not official Turkish language IS websites. However, they have been helping to build an audience and are now assisting in the dissemination of official IS propaganda. For example, both Takva and Enfal cross publish the daily IS news updates put together by Darulhilafe. If al-Hayat is successfully increases its output of Turkish language translations, there will be a number of websites and social media disseminators ready to assist.
Conclusion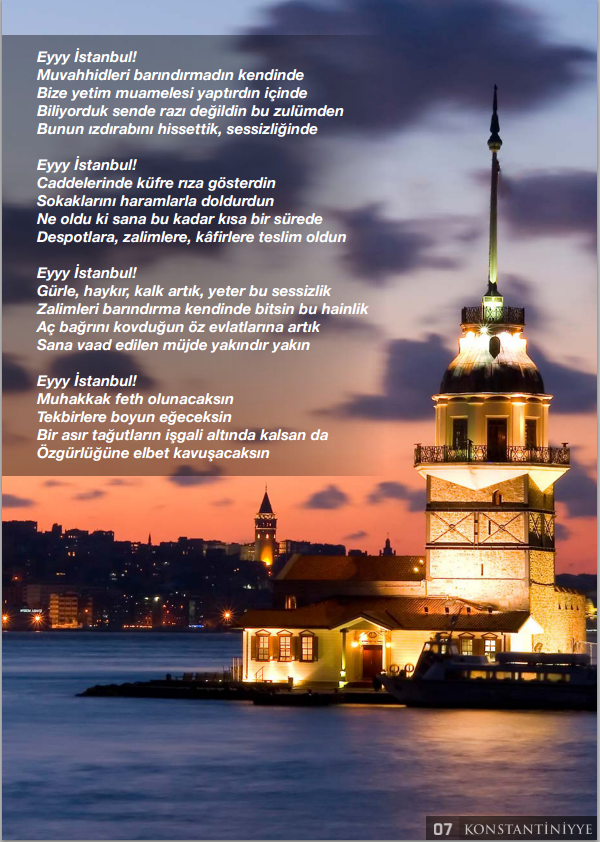 The triumphant discussions of the release of the magazine indicate several things. First, the online infrastructure for the distribution of the magazine and other IS propaganda has been slowly building throughout 2015.  The audience for future releases will know exactly where to find it. Second, al-Hayat now appears to have sufficient Turkish-language assets to produce a far higher volume of translations and original content. Third, al-Hayat understands the Turkish political and social situation well enough to time its releases accordingly. Some of the themes and messages in Konstantiniyye could resonate with a larger audience (though likely still a relatively small minority) in Turkey outside of just IS supporters. Fourth and most importantly, IS leadership is not worried about openly trying to recruit Turkish citizens to join the organization. While individual Turkish foreign fighters have long recruited other Turkish citizens in person or through social media, this is the first open move by the organization as a whole to target Turkish citizens. This could ultimately indicate a broader shift in the approach of IS leadership towards the Turkish government.
*Translation of Konstantiniyye Poem (done by a friend of mine):
Oh, Istanbul!
Who sheltered those who believe that Allah is one
Who treated us as fatherless children
We knew that you too were not accepting of this injustice
We felt this suffering in your silence
Oh Istanbul!
You consented to profanity in your streets
You filled the streets with harams
What happened to you that in such a short time
You yielded to despots, oppressors, and infidels
Oh Istanbul!
Roar, shout, rise up already – enough of this silence
Don't shelter oppressors – let this treason end
Open your bosom to your real children already
The good news that was promised to you is so close
Oh Istanbul!
Certainly you will be conquered
You will bow your head in worship
Even if you stay under false gods for a century
You will surely be reunited with your freedom
North Caucasus Caucus is written by a Washington, D.C.-based analyst. Views here are his alone. Read more at northcaucasuscaucus.blogspot.com and follow at Twitter at @ncaucasuscaucus.