The Clear Banner sub-blog on Jihadology.net is primarily focused on Sunni foreign fighting. It does not have to just be related to the phenomenon in Syria. It can also cover any location that contains Sunni foreign fighters. If you are interested in writing on this subject please email me at azelin [at] jihadology [dot] net.
—
The Forgotten Fighters: Azerbaijani Foreign Fighters in Syria and Iraq
By North Caucasus Caucus
This article, the first of two parts, will focus on the activities of Azerbaijani foreign fighters in Syria and Iraq in 2014 – their leadership, units, and overall trends. The follow-up will focus on the impact of the conflict in Syria on the Azerbaijani domestic scene and the Azerbaijani government's response.
My first article on Azerbaijani foreign fighters for Jihadology was published in January 2014 and focused on their activities since the beginning of the conflict in Syria. Several incidents that occurred around that time caused the Azerbaijani mainstream media to begin actively covering developments relating to the actions of their countrymen in Syria. The most prominent such incident occurred on 03 January 2014, when the Islamic Front attack on the Sheikh Suleyman Islamic State (IS) training camp led to the death of six Azerbaijani foreign fighters. During the infighting, some Azerbaijani  fighters were reportedly taken hostage, but they were still texting friends in Azerbaijan who posted their messages on Facebook. At this time, Azerbaijani journalists began to follow the social media postings of fighters in Syria regularly.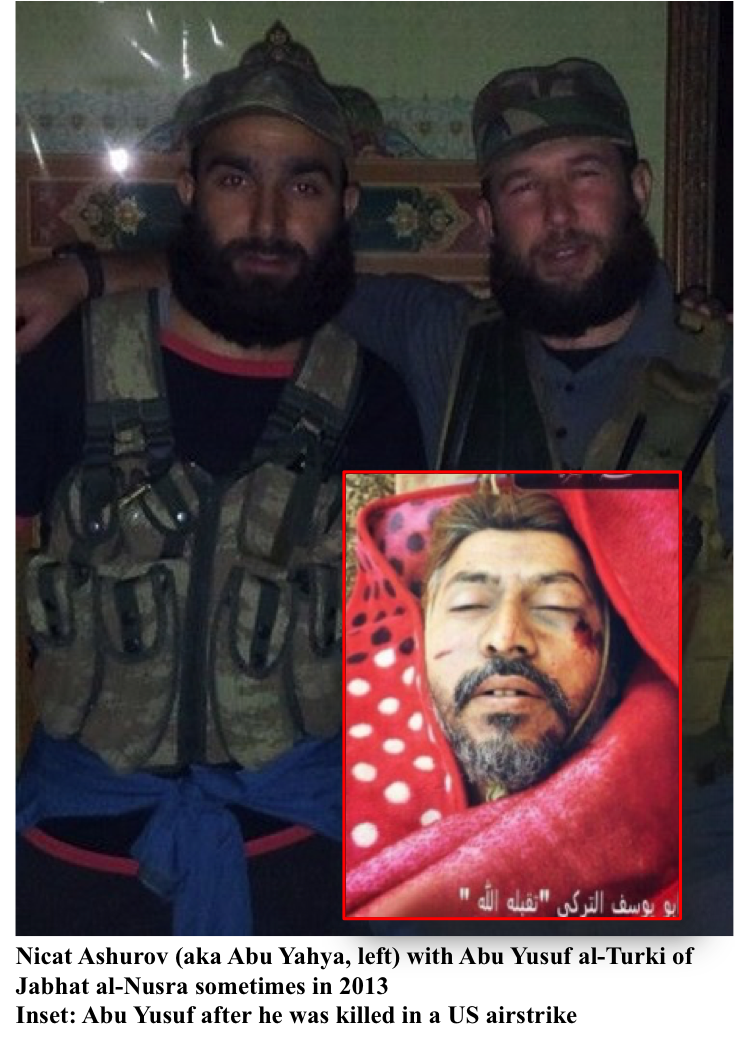 Since then, the main source of information about the activities and views of fighters has shifted from their own social media postings to mainstream media coverage.  With this shift, a problem has arisen of parsing fact from misinterpretation, as well as the general lack of fact-checking endemic to the Azerbaijani media. I have tried to corroborate press reports with social media reporting whenever possible. Repeatedly throughout 2014, the Azerbaijani media published photos of fighters as having recently been killed, when in fact they had been killed up to a year earlier. There were also indications as early as February 2014 that Azerbaijani foreign fighters were aware of the scrutiny of their online activities and were in some cases counting on the media helping to distribute their messages or videos.
One somewhat surprising trend that has held since the publication of my last article is that there have been no confirmed reports of Azerbaijani citizens fighting with pro-government Shi'a units in Syria or Iraq, despite Shi'a making up approximately 70% of Azerbaijan's population (though the occasional news story on the trend is still occasionally published). Instead, all confirmed Azerbaijani foreign fighters in Syria have fought with Sunni rebel groups, and many with IS in particular. Although an Azerbaijani Sunni news website posted the names of eight Azerbaijanis from Nardaran, the center of conservative Shiism in Azerbaijan, and claimed they had been killed in Syria, leaders from Nardaran denied the story. No visual evidence has emerged to corroborate it and the claims remain questionable considering the source. The impact of Syria on sectarian issues within Azerbaijan will be covered in-depth in a follow-up to this piece.
Hometowns and Numbers
Despite some very prominent databases overlooking Azerbaijani foreign fighters, leading to their exclusion from several prominent infographics, they continue to have a presence in Syria and Iraq. Azerbaijani media outlets consistently report that close to 200 Azerbaijanis have died fighting in Syria since the beginning of the conflict. An April 2014 estimate put the number of Azerbaijanis in Syria at approximately 250. In May 2014, according to a survey of 40 police districts in Azerbaijan, 104 people were identified as having gone to fight in Syria, with 60 killed. In December, the Azerbaijani Border Service reported that 30 returning former fighters had been detained throughout the year.
Along with fellow analysts, I have identified 216 Azerbaijani foreign fighters and their family members in Syria (88 killed, including 64 in 2014 alone, 49 returned, of whom 40 were arrested, 66 still in Syria or Iraq, and 13 whose status is unknown). The number is likely higher since this database only includes fighters and their family members with some unique personal identifying information.
The hometowns of fighters remain relatively consistent with the data from 2013. According to the survey of police districts mentioned above, of the 104 identified by police, 40 were from Sumqayit, 22 from Shabran, and 15 from Qusar. Other locations mentioned in the police report were Xacmaz, Zaqatala, Qax, Yevlax, Oguz, Quba, and Sheki. From my own data, Baku, Terter, and Ismayilli were also other hometowns that appeared to be prominent.
Units
At the beginning of 2013, Azerbaijani foreign fighters started out primarily fighting with the Azerbaijani jamaat of Jaysh al-Muhajirin val Ansar, led by the charismatic leader and face of Azerbaijani fighters in Syria, Nicat Ashurov (aka Abu Yahya al-Azeri). After Ashurov was killed in September 2013, the majority of Azerbaijani fighters appeared to have joined the Islamic State.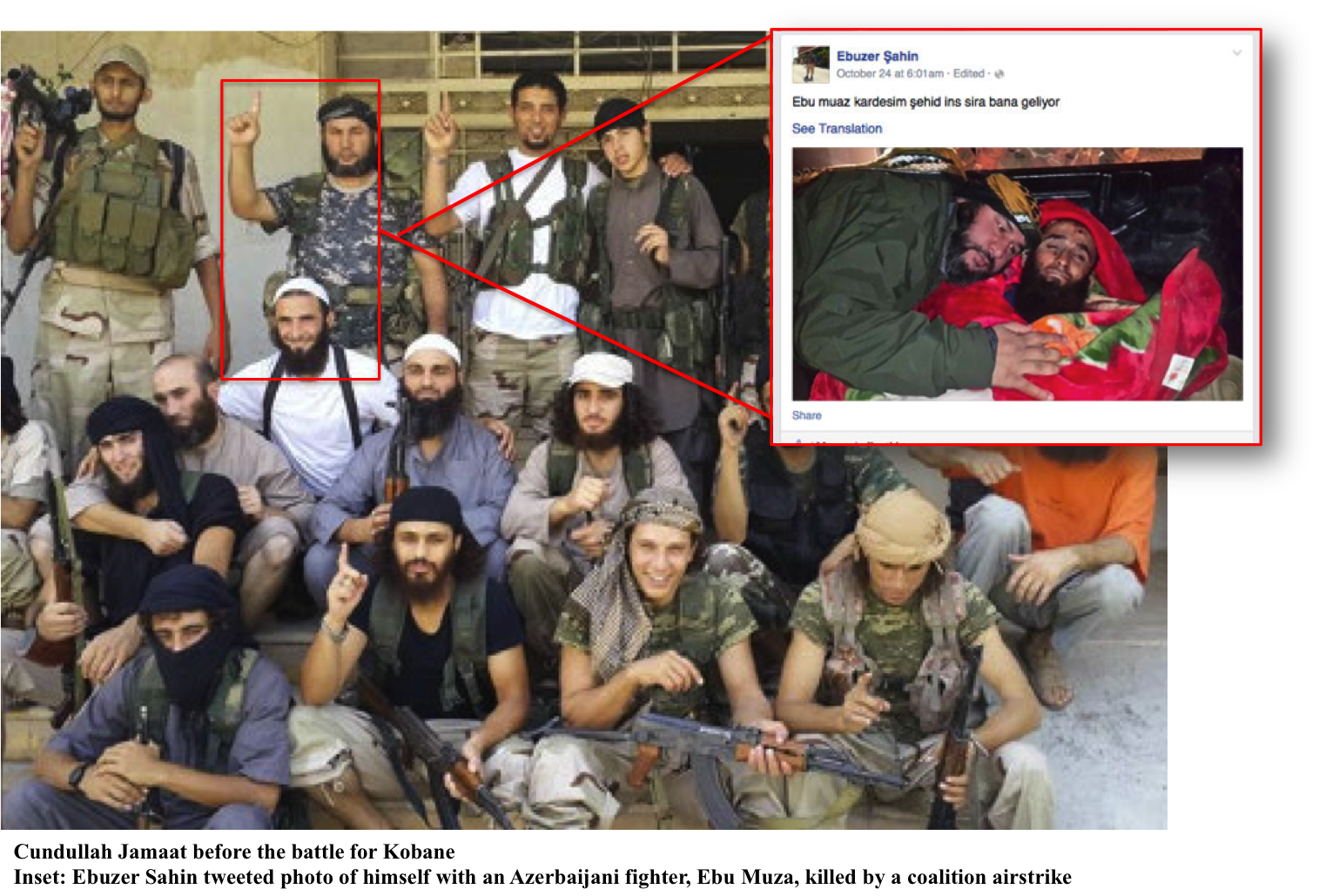 Islamic State
Though an Azerbaijani fighter appeared in photos posted by the Twitter account of the Bitar Battalion, a predominately Libyan affiliate of IS, there appear to be two primary units within IS in which Azerbaijanis fight. The first is a mixed Turkish-Azerbaijani unit previously based on Raqqa, which appears to have been engaged in Kobane. Ebuzer Sahin, a Turkish citizen and likely spiritual leader of the unit identified it on social media as the Cundullah (pronounced Jundullah) jamaat.

The second unit is another mixed group of Turkish and Azerbaijani fighters currently fighting in Iraq. On 8 November 2014, this group released a video via the Turkish-language version of al Hayat Media showing them eating a large meal together in Fallujah, Iraq. The video gained some prominence because one of the fighters complained about women being afraid of them. It's possible this was the Jamaat Khattab, lead by Emir Khattab (more information on him below). Elshan Qurbanov, an alleged former IS fighter, who gave a
televised interview
after his arrest upon return to Azerbaijan, said he fought in a unit led by Khattab until he was wounded in Anbar Province, Iraq in August 2014. Azerbaijanis are also reportedly part of the
Abu Kamil Jamaat,
which is primarily a Chechen IS jamaat.
Jabhat al-Nusra (JAN)
Despite the majority of Azerbaijani foreign fighters appearing to fight with IS, there are at least several still fighting within various JAN units. In early 2014, Fariz Abdullayev from Sumqayit was reported killed in Syria. As recently as 18 December, Ruslan Aliyev was reported to have been killed fighting in attack on Wadi al-Deif military base in Idlib, likely fighting alongside Jabhat al-Nusra that was engaged there.
Azerbaijanis have also aided in the JAN-IS propaganda war. In May 2014, A pro-JAN Turkish language outlet Ummetislam.com, published an interview conducted by Turkish Islamist journalist Muhammed Isra with a man named Ebu Hasan Kerimov, an alleged IS defector who disparaged the group and its activities. He described how he travelled to Sanliurfa in southern Turkey and met with an IS facilitator who smuggled him into Raqqa via Tal Abyad.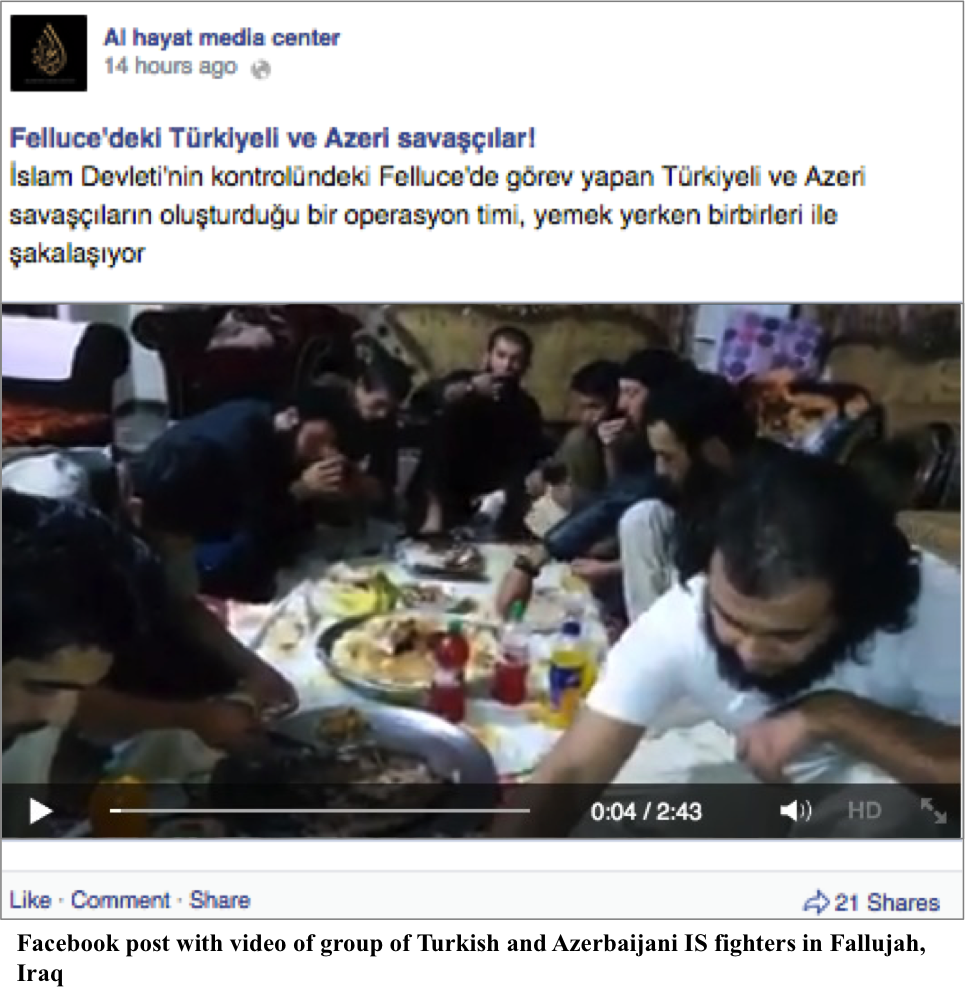 Conversely an Azerbaijani was part of a major propaganda coup by IS against JAN. In February 2014, an English-speaking fighter calling himself Abu Muhammed al-Amriki briefly gained some prominence. In the video Abu Muhammed claimed that he had lived in the US for 10-11 years and described when he had left JAN to join IS. The video gained enough attention that Abu Muhammad al-Jolani, JAN's emir personally responded to al-Amriki's accusations. There is strong evidence that Abu Muhammed (who was reportedly killed by an airstrike in October 2014) was an Azerbaijani in reality (though he might have been a resident of the US at some point). First, Abu Muhammed appeared in a major address by Abu Yahya in May 2013. In the address, Abu Yahya calls on his countrymen to come to Syria and join the Azerbaijani jamaat of Jaysh al-Muhajirin val Ansar, indicating all the men appearing in the video. Besides the February video in which Abu Muhammed spoke English, he appeared in a number of other videos in which he exclusively spoke Russian. Second, Turkish IS member Ebuzer Sahin posted a photo of himself with Abu Muhammed, indicating that he was also from Azerbaijan. He was likely primarily a Russian speaker.
Leadership
The death of Ashurov (mentioned above) in September 2013 appears to have been a major blow to Azerbaijani fighters in Syria. Ashurov appears to have been communicating with contacts in Azerbaijan and trying to convince them to join the fight. Since Ashurov's death, several other leaders have emerged, but none appear to command the same respect.
"Karabakh Partisans"
Some of the leadership came from an older cadre of Azerbaijani jihadis – including those who fought in Afghanistan and Chechnya. Several of the experienced Azerbaijani jihadis in Syria had been part of a group known as a "Karabakh Partisans." This was a group of Azerbaijanis who fought in Chechnya and then desired to start a jihadi paramilitary campaign against Armenian forces in Nagorno-Karabakh. Azerbaijani security forces captured and imprisoned them in 2004. However, a number of those imprisoned were quietly released in 2010. One of these fighters was a highly respected fighter, Rustem Askerov, who was killed in 2013. More information about this fighter emerged in 2014. A journalist from al Jazeera Turkish interviewed Askerov's mother, who still lives in Baku and is taking care of three of his children. Askerov had attended religious studies in Medina in 1998 before eventually going to fight in Chechnya.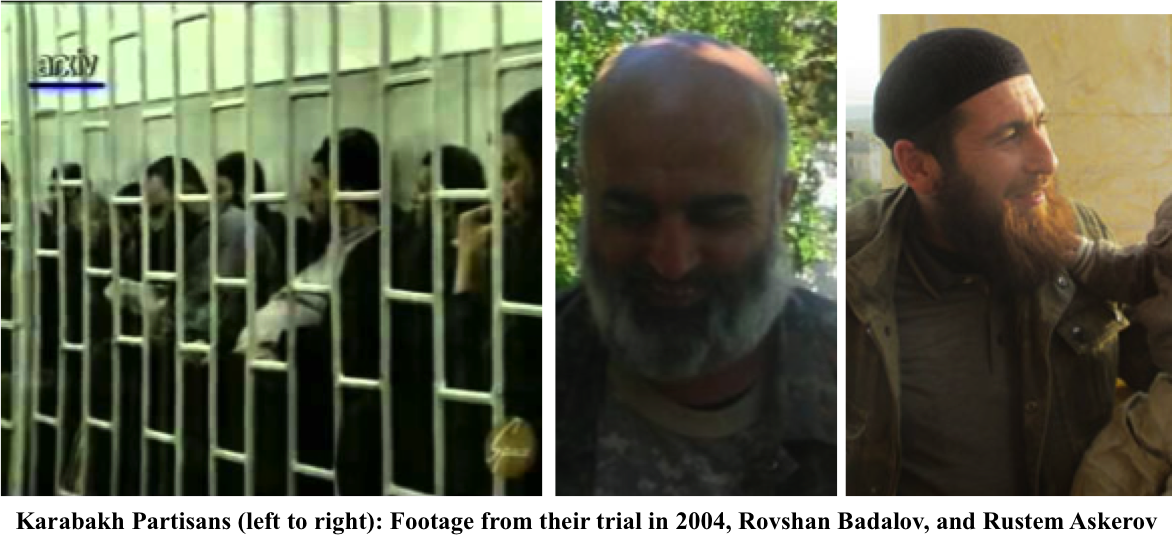 Rovshan Badalov, a second member of the "Karabakh Partisans" was killed in Kobane in October 2014 – some reports claim he was killed in an airstrike, while others state he conducted a suicide attack. Like Rustem Askerov, Badalov had also fought in Chechnya in 2001, reportedly leading a group called the Tabuk jamaat. According to a report from Azerinfo, Badalov had connections to the pro-IS Turkish preacher Halis Bayancuk aka Ebu Hanzala (who was arrested in January 2014 for alleged recruiting activities, but later released in October 2014). The report suggests Bayancuk supported Badalov and his recruiting activities in Baku, Sumqayit and Sheki, Azerbaijan.
Musab al-Azeri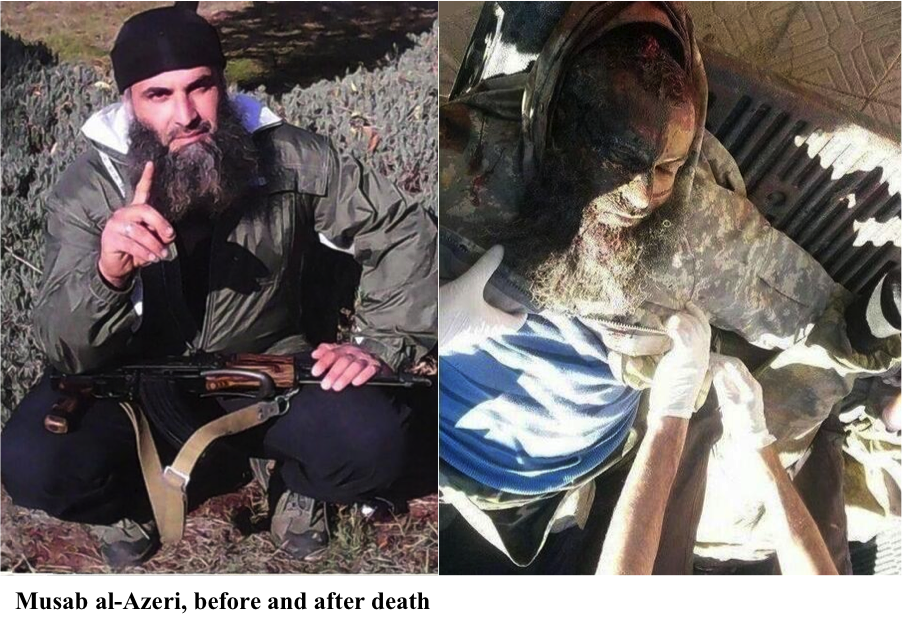 After Ashurov's death, fellow Sumqayit native Musab Abdurahim Abdulmacid reportedly replaced him as head of the Azerbaijani IS unit leader. However, Musab al-Azeri would not have much time as leader. He was among 12 Azerbaijanis killed in an attack by the Kurdish Peoples Protection Unit (YPG) on 22 March on a forward IS base. After the attack, YPG media outlets uploaded a video of their fighters walking through the camp after the attack. Among the possessions of the IS fighters they film are several pieces of lined notebook paper, showing a list of vocabulary belonging to an Azerbaijani trying to learn Arabic.
Muhammed al-Azeri
After Musab al-Azeri's death in March, Muhammed replaced him and released a video address in April with over 50 fighters and several children – presumably all Azerbaijanis. In the video, he and another Azerbaijani fighter using the name Umeyr called on Azerbaijanis to immigrate to the Islamic State. However, after this video Muhammed disappeared from public view, with some speculating that he ran afoul of IS leadership. There was a report in November of two Azerbaijani IS commanders, Hamza Azeri and Umeyr Azeri, being executed by IS for betraying famed IS commander Omar al-Shishani. It is not clear if Umeyr is the same fighter since many fighters use very similar names, but it is telling that neither Umeyr or Muhammed have appeared in any videos or photos of the Azerbaijani jamaat in Syria since the April address.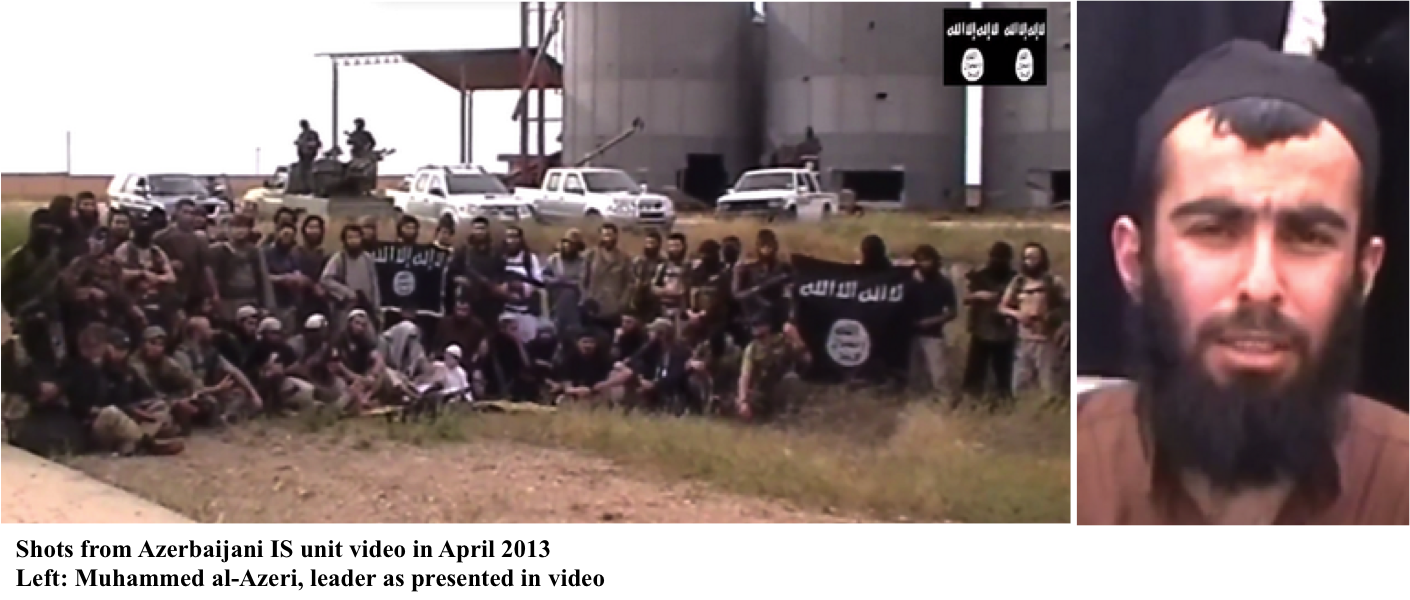 Zohrab Mamedov
An Azerbaijani named Zohrab Mamedov appears to be the head of the mixed Turkish-Azerbaijani IS unit identified as Cundullah jamaat. The Turkish spiritual leader of this unit, Ebuzer Sahin, is also a prolific social media user, posting dozens of photos and videos of the unit on Twitter and YouTube. In a number of the group photographs, Mamedov is seated in the center. In other videos, Sahin verbally identifies Mamedov as emir of the unit. This unit has taken a number of casualties from coalition bombing. US airstrikes killed a number of Azerbaijani foreign fighters. One notable fighter killed was Seymur Velishov (mentioned below) aka Topchubashov, which roughly translates as, "head of the artillerymen" and refers to his reported command of an artillery piece.


Khattab al-Azeri (Ramaldanov, First Name Unknown)
Another fighter known as Khattab has been identified as an emir in social media, though his exact role is unknown. From available information, Khattab, who is 29 years old and appears to have been in Syria for more than two years, is widely respected by Azerbaijani foreign fighters. Khattab appeared in some of the earliest video addresses sitting by the side of jamaat leader Ashurov. He also appeared in a fundraising video with a semi-infamous Dagestani member of ISIS, Abu Hanifa. In February 2014, Khattab released a video, standing atop a tank. In the video, he discusses the capture of the tank from Islamic Front, likely in western Syria, near the border with Iraq. He released a statement in October calling on Azerbaijani members of JAN to leave and join IS. As of right now, he appears to be the most prominent Azerbaijani foreign fighter in Syria and Iraq.
Fighter Demographics
Most Azerbaijani fighters are similar to other foreign fighters from around the world in Syria – most are young men, often with recent demonstrations of religiosity, and some are involved in martial sports such as wrestling or boxing (though these sports are especially popular in the Caucasus). At least three fighters were converts to Salafism despite coming from Shi'a families. Many of the fighters appear to have prior social connections to other fighters, leading to locational clustering. There are some older fighters, for example, a 42-year-old IS member from Terter named "Abdul Vahid" was reportedly killed in Syria in October 2014. These older fighters often have connections to previous conflicts, as we will see in the later section of this article on leadership.
Some fighters appear to have been in dire financial straits before leaving. For example, the wife of 34-year-old Soltan Mirzayev, stated that her husband left for Syria in August 2013 with only five manat (6.38 USD) in his pocket. Additionally, the mother of Rashad Bakashaliyev, a wrestling champion, stated her son had left their home because he was not able to provide for his family economically due to a disability. She even wrote a letter to the Ministry of Internal Affairs asking them to take her son into the army, but was refused.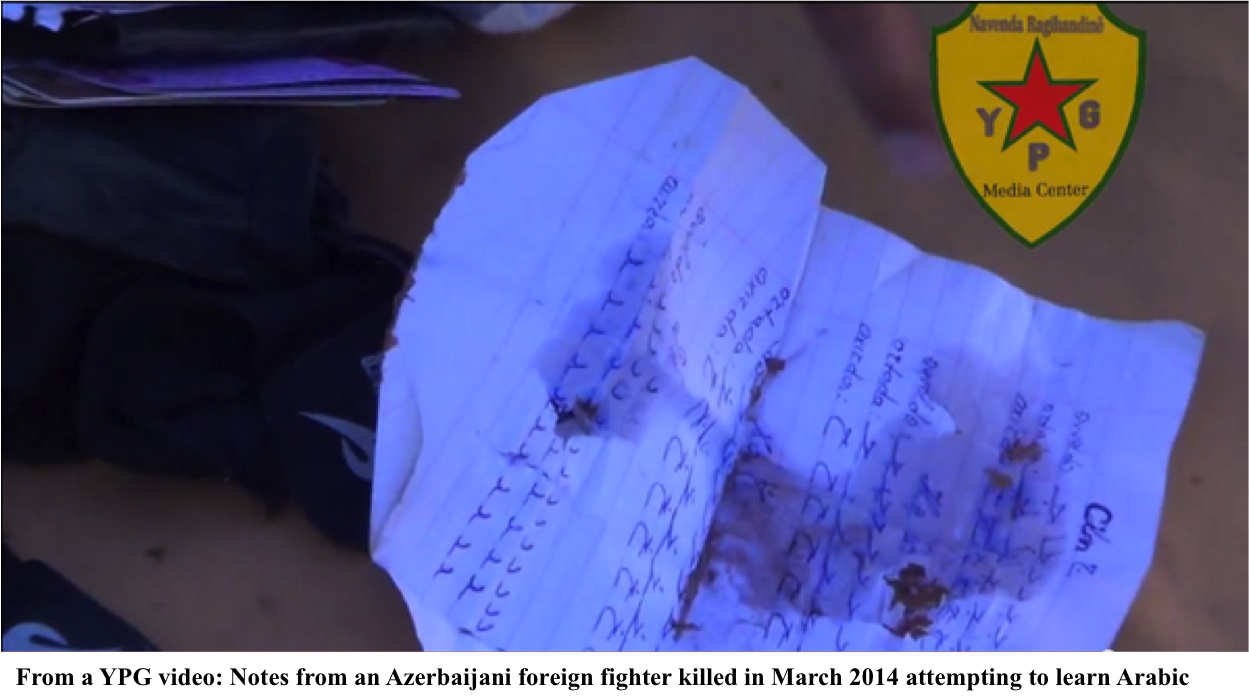 While the majority of fighters appear to come from more difficult economic backgrounds, not uncommon for many young men in Azerbaijan, some appear to come from better economic backgrounds. In May 2014, Elmaddin Quliyev from Sumqayit was reported killed in Syria. In an interview, his brother reported Quliyev had studied at Azerbaijan State Economics University, and he had a good job working for an international oil company before leaving for Syria.
Internally Displaced Peoples (IDP)
There has long been concern that the approximately 750,000 Azerbaijanis displaced by the Armenian occupation of Azerbaijani territory in the early 1990s are particularly vulnerable to radicalization (despite the IDPs being nearly entirely Shi'a, as Katy Pearce points out here). That there have been several notable cases of Azerbaijani IDPs killed in Syria have heightened these concerns. The media has contributed to these fears, with reports of their deaths often emphasizing the fighters' status as IDPs. For example, Sirazi Huseynov, killed in May 2014, was an IDP from Shusha and Cavid Qasimov, killed in August 2014, was from Aqdam. Rashad Bakashaliyev, mentioned above, grew up in Ismayilli, but was originally from Kelbajar. His case received a great deal of media attention.
Despite these cases and the media attention they garner, there does not actually appear to be a major correlation between IDP status and radicalization. Those with IDP status make up approximately 10 percent of the Azerbaijani population, and it is unlikely that they make up much more than 10 percent of the cohort of Azerbaijanis who have fought in Syria in the past or who continue to do so.
Routes
Despite the increasing difficulty of reaching Syria for foreign fighters, it still remains relatively easy for Azerbaijanis to reach the country due to the availability of numerous air and land routes, the ease of travel within Turkey because of linguistic similarities, and lack of visa requirements. From media reports of Azerbaijanis trying to cross into Syria, those captured have been a mixture of potential fighters and the wives and children of men already fighting in Syria. For example, Turkish border guards reportedly captured three Azerbaijanis on 23 April – one in Kilis and two in Hatay. The captured individual in Kilis was reportedly part of a mixed group of other foreigners – Germans, Saudis, and Tunisians. On 20 November, four Azerbaijanis were captured near Kilis, along with 18 people from "Eastern Turkistan." The group of Azerbaijanis consisted of the 23-year-old wife and 10-month-old daughter of Araz Pashayev, an IS fighter, an apparently unrelated 18-year-old girl, and a 24-year-old man.
Facilitation Network in Turkey
Several incidents throughout 2014 gave insight into the facilitation network within Turkey for Azerbaijani foreign fighters. After the incident in Nigde on 20 March, in which a group of ethnic Albanian foreign fighters (including a German citizen) killed several Turkish security officers, Turkish police raided several locations reportedly connected to IS facilitation. During the raids, they arrested two Azerbaijanis. These Azerbaijanis were either potential fighters making their way to Syria or Azerbaijanis working with Turkish facilitators.
Media reports from December 2014 indicate that Azerbaijani IS members had representatives in Istanbul willing to provide financial support to potential fighters. Pro-IS Turkish language outlet Takva Haber reported that Ehtiram Islamov reportedly requested money from Azerbaijani IS members in Istanbul in order to allow him to travel to Syria. After he received 1,500 USD, he disappeared. Takva published Islamov's photo and claimed they were conducting an investigation into the incident, obviously angry at being swindled.
Facilitation Network in Russia
From available information, it appears several Azerbaijani fighters have travelled through Russia to reach Syria, flying from Moscow to Turkey. In December 2014, a resident of the village Xudat in Xacmaz Province, Sarkhan Alikhanov, reportedly went to Syria in order to join Jabhat al-Nusra. He first called his family from Makhachkala, Dagestan and later from Moscow, from where he flew to Turkey. Additionally, in 28 October 2014, the FSB arrested six Azerbaijanis in Moscow who they alleged were IS facilitators, though there are reasons to doubt these claims.
Fighters' Families
One distinct trend in 2014 is the number of Azerbaijani women willingly traveling to Syria, either to meet their husbands or just to join the Islamic State. Similar to the story mentioned above, a mother of two women from Armudpadar in Xacmaz District reported her daughters, Cicek Baybalayeva and Konul Haciyeva, left for Syria along with their children, 15-year-old son Nurlan, 13-year-old daughter, Ayna, and a two-year-old child. They were going to join Haciyeva's husband, Taleh Haciyev.
Not all wives are willing to join their husbands. The mother of fighter Zumurad Mamedov (aka Hasan Azeri) told APA that her son, who converted to Salafism from Shiism, had left Azerbaijan two years earlier and reportedly traveled to Afghanistan via Iran. At the time of his leaving, he was married and had three children. He contacted his family in July 2013, trying to convince them to join him in Syria, but they refused.
Another distinct trend in 2014 is the families of killed fighters refusing to return to Azerbaijan. For example, a barber named Rahid and Etibar Malikov travelled together with their wives from Ismayilli to Syria. The two men were reportedly killed in Syria by in two airstrikes, respectively on 08 September and 22 October 2014. After Malikov's death, his wife refused to return to home despite her family begging her to return.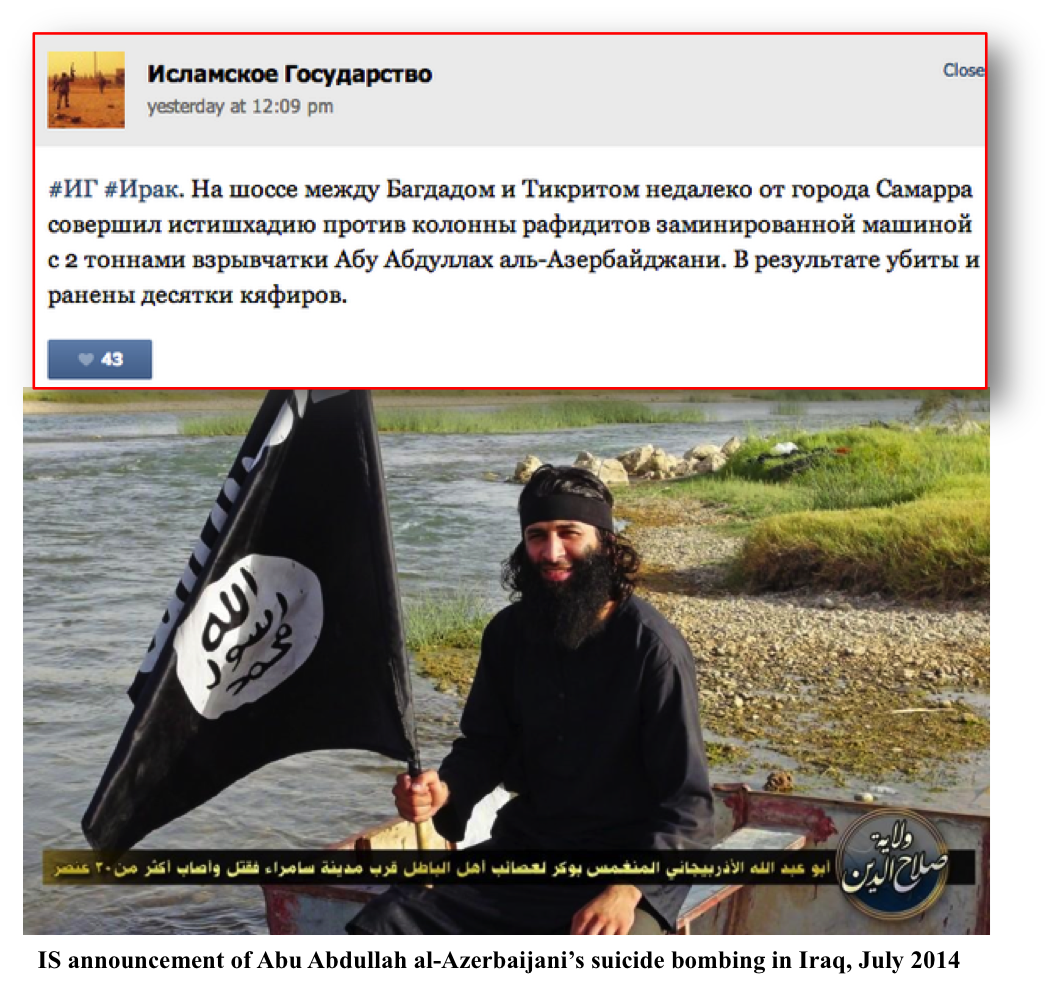 These stories have become more prominent in Azerbaijan as they were highlighted by the very popular ATV show, Seni Axtariram (I am Looking For You), hosted by Khoshgedem Hidayetqizi. The purpose of the show is to reunite families and friends who have lost contact with each other. In 2013 and 2014, Hidayetqizi made headlines by traveling to Syria herself to try to get in touch with Azerbaijani foreign fighters after their families contacted the show. One prominent episode of Seni Axtariram from June 2014 focused on Makhluqa Qiyasli, a divorcee from Terter. She left for Syria with her new husband and two children, a 14-year-old son and 12-year-old daughter. The family of her ex-husband contacted the show, trying to get the children back to Azerbaijan. They had reportedly contacted their aunt and told her they wanted to return home, but their mother was forcing them to stay. The show was eventually able to get a message to Qiyasli, who replied that she refused to return home.
Social Media and Other IS Trends
April 2014 was significant for the number of videos posted by Azerbaijani fighters. One video on 08 April 2014 was posted by Seymur Velishov, a fighter who is well-known since his father, a Shi'a veteran of the war in Nagorno-Karabakh, gave an interview in which he indicted the police for doing nothing to stop his son from going to Syria despite his warnings. Velishov uploaded a video of himself with several other Azerbaijani foreign fighters, including an older Azerbaijani veteran of the Chechen conflict on the banks of the Euphrates during IS's push into Iraq in spring 2014.
The increase in the number of the videos posted might have been in response to the increased coverage of Azerbaijani foreign fighter social media activity by the mainstream media in Azerbaijan – including by state-run media entities such as the Azerbaijan Press Agency. From 30 April-03 May, Azerbaijani IS members posted videos on their own Facebook pages that were subsequently picked up by online media in Azerbaijan. The first showed a group of approximately 40 Azerbaijanis watching two of their countrymen wrestling and cheering them on; the second was uploaded by two fighters showing themselves driving around Raqqa and standing in front of the enormous IS flag hoisted in the center of the city.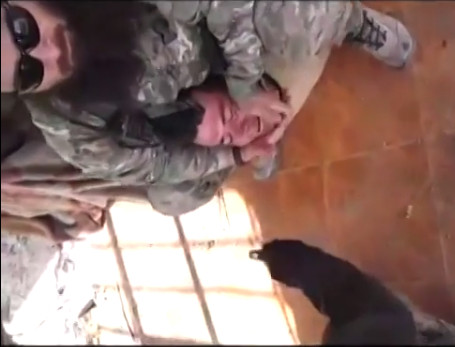 The other was far more gruesome, as it showed an Azerbaijani, not wearing anything to obscure his identity, beheading an unnamed man. It is possible that Azerbaijani fighters were following trends within IS, publicly demonstrating their increased devotion to IS. In June, Azerbaijanis also followed a trend of other foreign fighters in Syria, posting a photo of a pile of destroyed Azerbaijani external passports and national identification cards.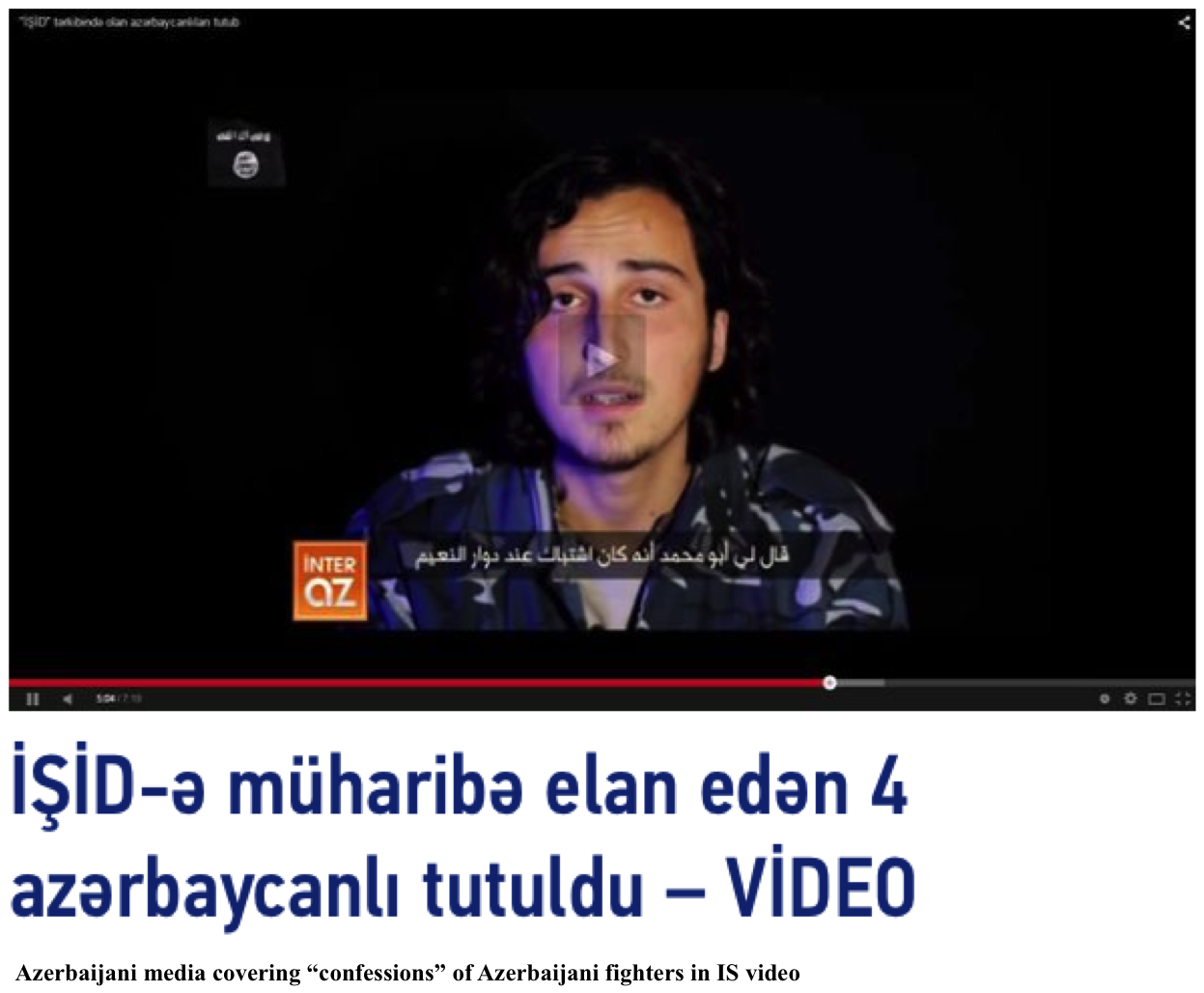 In late December, four Azerbaijanis appeared in an official IS video subtitled in Arabic. The four, ranging from a young man with long hair and a goatee to a bald, grey-bearded man, confessed on camera to trying to betray IS. The alleged leader, Elvin, was killed in the escape attempt. The four men were reportedly executed. The video was meant to be a rebuttal of claims that IS are ghulaat (extremists) or khawarij. The Azerbaijanis are portrayed as ultra-takfirists. In the video, the Azerbaijanis criticize IS emir Abu Bakr al-Baghdadi for not takfiring the local Syrian population who they wanted to charge jiyza (taxes for non-Muslims), instead of zakat (money voluntarily given by Muslims). An article later published in all4syria claimed that 38 Azerbaijani and Chechen IS fighters were executed after clashes related to this disagreement.
It is still unknown if this was a real internal conflict within IS, or a PR move for the global jihadi community as well as jihadi opinion makers that need to be convinced of IS's relative moderation. Regardless, the Azerbaijani media quickly picked up the story. This may act as an evocative example of the internal strife within IS, which differs from the more simplistic and uncomplicatedly heroic vision portrayed in other IS propaganda.
Conclusion
Azerbaijanis continue to fight in Syria and Iraq, though split over several mixed units with Turkish-speakers rather than within their own distinct units. They have been involved in most of the major IS offensives and also suffered some notable heavy losses throughout 2014. This could point to poor leadership.
Azerbaijanis appear to continue to join IS, along with their families, though the large number of fighters killed by coalition airstrikes may act as a deterrent to potential future fighters. Furthermore, in the more than 15 months since the death of Nicat Ashurov aka Abu Yahya al-Azeri, no Azerbaijani fighter has emerged as an equivalently charismatic, unifying leader. Lastly, the recent high profile betrayal of IS by Azerbaijani fighters could cast doubt on the loyalty of other Azerbaijani foreign fighters.
North Caucasus Caucus is written by a Washington, D.C.-based analyst. Views here are his alone. Read more at northcaucasuscaucus.blogspot.com and follow at Twitter at @ncaucasuscaucus.