NOTE: As with all guest posts, the opinions expressed below are those of the guest author and they do not necessarily represent the views of this blogs administrator and does not at all represent his employer at the Washington Institute for Near East Policy.
Jihadology.net aims to not only provide primary sources for researchers and occasional analysis of them, but also to allow other young and upcoming students as well as established academics or policy wonks to contribute original analysis on issues related to jihadism. If you would like to contribute a piece, please email your idea/post to azelin [at] jihadology [dot] net.
Click here to see an archive of all guest posts.
–
Abdulhakim Mujahid Muhammad (Carlos Bledsoe): A Case Study in Lone Wolf Terrorism
By Daveed Gartenstein-Ross
June 1, 2009 was a Monday. Shortly after 10:00 a.m., Private William Long, 24, and Private Quinton Ezeagwula, 18, stood outside the joint Army-Navy recruiting center in northwestern Little Rock, Arkansas, taking a smoke break. The two young men, who were working at their hometown recruiting center before moving on to their first duty station, spoke of where that first assignment would take them. Long said that he would be leaving for Korea the following Monday; Ezeagwula was bound for Hawaii a day earlier, on Sunday.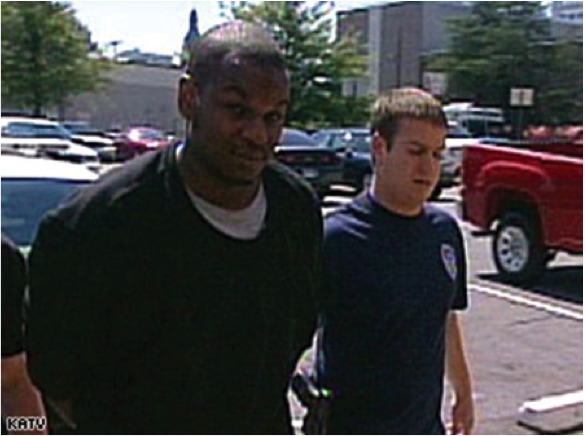 Figure 1: Abdulhakim Mujahid Muhammad at the time of his arrest.
As they made conversation, a black Ford Sport Trac sport utility vehicle pulled around from the commercial parking lot adjacent to the recruiting station, and the SUV's window rolled down. Ezeagwula thought he heard the driver say something, so he turned and looked toward the driver, a black male in his mid-twenties.
Almost immediately, the driver—Abdulhakim Mujahid Muhammad, formerly  known as Carlos Bledsoe—began firing at the soldiers with a SKS semi-automatic rifle. Long collapsed, and would be declared dead upon arrival at the hospital. Ezeagwula was hit in the back and torso, and dropped to his knees. He crawled back toward the recruiting station, seeking shelter from the gunfire. Muhammad continued shooting through the recruiting station's window, hoping to hit the fifteen Army and civilian personnel inside. His SUV then drove off.
Though this initially appeared to be a routine drive-by shooting, Muhammad made his motivations clear after Little Rock police apprehended him. He said that he was a practicing Muslim, and was motivated to carry out the shooting by the injustices of U.S. foreign policy. It soon became obvious that the shooting had been an act of lone wolf jihadist terrorism.
This article examines the Muhammad case in detail. I conducted field research in Little Rock, Arkansas, in the summer of 2012. Before traveling there, I read all available court documents and media reporting related to Muhammad's attack, making note of figures who seemingly had special insight into him and the attack, and interviewed Muhammad's father (Melvin Bledsoe) by telephone. In Little Rock, I interviewed prosecutor Larry Jegley; Lt. Carl Minden of the Pulaski County detention facility; guards who worked at the facility during Muhammad's incarceration; and Jim Hensley, an attorney who was part of the defense team. I also visited the detention facility, where I was given access to the administrative segregation wing where Muhammad had been held, and I was able to gain access to the files that the prosecution used in this case.
The article thus documents a great deal of information that has not been made public previously, including Muhammad's violent tendencies prior to his conversion to Islam, the extent to which the FBI was aware of Muhammad before his attack, the manner in which he continued his jihad even while incarcerated (assaulting inmates and guards), and the fact that he was able to convert another inmate. The article also provides rich detail on the evolution of Muhammad's religious ideology during his radicalization.
Muhammad's Early Life and Conversion
Abdulhakim Mujahid Muhammad was born as Carlos Bledsoe on July 9, 1985, and grew up in Memphis, Tennessee. His family operated a tour company, Twin City Tours, and Muhammad began to assist the family business when he was eight years old. He would interact enthusiastically with customers. ''He grew up in the business,'' Muhammad's father, Melvin Bledsoe, told me. ''He came to work in the summers, after school was out.''
There are two different accounts of Muhammad's upbringing. One is the family's view that he was a typical American boy. Describing his son as a ''fun kid,'' Bledsoe explained: ''He loved to have fun, he was a practical joker, he loved high fashion clothes, rap music, girls. Typical young boy.'' The family had a couple of dogs during Muhammad's youth: it had an American Eskimo until he was twelve, but after it was killed by a neighbor's dog, the family bought a golden retriever. The American Eskimo was one of the memories that neighbor Curnelia Crutchfield emphasized after news of Muhammad's shooting became public, telling the media that he ''seemed like he was a good kid. He was a happy-go-lucky kid. I remember he had a white dog and they were the best of friends.''
Muhammad graduated from high school in 2003, and went to college at Tennessee State University in Nashville. He wanted to get a degree in business administration, and eventually run the family business. Melvin Bledsoe and his wife hoped their son could give them an early retirement.
The other account of Muhammad's upbringing, told by Muhammad himself, is significantly darker. Speaking to a psychologist with the Arkansas Department of Human Services, Muhammad recalled that he was suspended from school several times for fighting, and characterized himself as ''a gang member.'' Several people I interviewed were dismissive of the claim that he had been in a gang. However, records from the Shelby County, Tennessee Sheriff's Office suggest that there may be merit to Muhammad's claim. A police report from February 2002 describes an incident in which Muhammad was punched in the face by a man named Derrick Moore, who claimed Muhammad had threatened him. The report notes that Muhammad and Moore had in the past been ''affiliated'' with a gang called the Vice Lords.
Muhammad was involved in a couple of other violent incidents before leaving for college. In August 2002, he entered a barbershop and told a man named Derrick Cathey to step outside to fight. Cathey refused, and barbershop employees told Muhammad to leave. He later returned with two other men, and a knife was pulled during the course of the ensuing altercation. And in May 2003, another driver struck Muhammad's car. Muhammad jumped out of his vehicle and started hitting the other driver's rear passenger window with chrome-plated brass knuckles. Muhammad yelled, ''Bitch I'm gonna kill you, get out, I'm going to kill you when I get your address.'' Officers who arrived on the scene found the brass knuckles in Muhammad's left rear pocket during a pat-down.
Of course, this involvement with violence as a teenager doesn't mean Muhammad would inevitably have committed murder absent his encounters with Islamic extremism. His defense lawyer, Jim Hensley, told me that if Muhammad hadn't been captured by this fringe ideology, ''I don't think he ever would have murdered anybody.'' (Muhammad fired Hensley before trial, but Hensley continued to serve as an informal consultant to Muhammad's father.) On the other hand, prosecutor Larry Jegley thought that Muhammad might have ended up a killer even without drifting into Islamic radicalism. ''It's possible,'' Jegley said, that he might not have killed absent becoming radicalized. But on the other hand, ''he also could have hooked up with the Crips or the Bloods.'' Jegley noted, however, that Muhammad had every opportunity to not go down the wrong path, in that he was blessed with a father who had ''pulled himself up by his bootstraps, worked hard, took chances, and was part of the American dream. His family members all wanted desperately for him to share in that.'' Thus, Jegley said, ''I'm not going to argue with anybody who says the radical Muslim stuff he was exposed to could have been an influence.''
Though Muhammad had early brushes with the law, one particular 2004 incident, occurring in Knoxville, Tennessee, would indelibly change his life.
Around 9:00 p.m. on the evening of February 21, Knoxville police officer Michael Harper pulled over a blue Mazda. A man who had been in the car's front seat fled, and the officer found Muhammad in the back. There were weapons in the car, including a SKS assault rifle and a single-shot shotgun, which Muhammad told the officer he had been trying to sell. A search accompanying the arrest turned up a bag of marijuana in Muhammad's front left pants pocket, and he was charged with unlawful possession of a weapon and drug possession.
Muhammad could have faced up to fourteen years of imprisonment, which he said ''spooked'' him. The family hired a lawyer, who argued he was just a college student who was experimenting. The prosecutors gave Muhammad a plea deal that included a year's probation, but one condition was that if he got into further criminal trouble, he would have to serve the full fourteen-year sentence.
The experience seemingly instilled in Muhammad the idea that he had to show he could do better. He became interested in religion, and would later provide an account of this exploration to journalist Kristina Goetz of Memphis's largest daily newspaper, The Commercial Appeal, to whom he wrote from jail.
Muhammad told her that he first looked into Christianity, the faith in which he had been raised, but no longer believed in it. He found the doctrine of the Trinity ''not comprehensible,'' telling Goetz: ''1 + 1 + 1 = 3. That's wasn't clicking to me.'' (This article retains Muhammad's original spelling and grammar, which is idiosyncratic, when quoting from his writings.)
Thereafter, Muhammad decided to study Judaism, saying that he ''was attracted to the belief of monotheism.'' However, he claimed that he was turned away from a couple of orthodox synagogues because he was black. Muhammad wrote of Judaism: ''That religion seem to me like too much of racial pride and not for other people. It seem to be all about 'the Jews' or 'Children of Israel.'''
Then Muhammad began to explore Islam. He visited a mosque in Nashville, and reported being ''drawn and amazed'' by salah, the congregational prayer. He attempted to join in the prayer, but it was obvious to the others that Muhammad was unfamiliar with the sequence of standing, bowing, and prostration. After salah was done, one of the congregants asked Muhammad how long he had been Muslim, and he said that he wasn't—that he was just interested in the faith. Muhammad reported that the congregation responded enthusiastically, with shouts of Allahu Akbar! permeating the room. The congregants, he wrote, ''embraced me like I was a long loss brother.'' The congregant who had spoken to Muhammad explained the fundamentals of the faith, and Muhammad felt attracted to its ''pure monotheism, no 1 + 1 + 1 = 3.'' Muhammad was given a translation of the Qur'an, and other books. ''I believed in it wholeheartedly,'' Muhammad wrote, ''and decided to become a Muslim.''
Muhammad took his shahadah, or declaration of faith, at a mosque in Memphis in 2004, at the age of nineteen.
Muhammad's Religious Evolution
By his own explanation, Muhammad ascribed to an interpretation of Islam at the time of the shooting that is best labeled salafi jihadist. Salafi refers to an austere religious methodology that seeks to re-create Islam as it was supposedly practiced by the Prophet Muhammad and the first three generations of Muslims. The term jihadist refers to the belief that violence should be undertaken in the effort to purify Islam in this manner.
Soon after Muhammad's conversion, he began to embrace a highly legalistic practice of the faith consistent with salafism. Muhammad's family glimpsed his transformation during his trips back home to Memphis. As Melvin Bledsoe explained, they actually learned that he had become Muslim after Muhammad ''took down all the pictures from the walls in the bedroom where he slept,'' including a picture of Martin Luther King, Jr. that held particular emotional resonance for the family. When the family asked why he had done this, Muhammad explained that it was because he had converted to Islam. Muhammad's decision to take down the pictures in his room is consonant with Islamic rulings holding that pictures depicting anything with a soul are religiously impermissible.
Another aspect of Muhammad's legalism can be glimpsed in what he did with a dog that he had bought while in college. Since Muhammad had grown up with a couple of dogs, it was natural that he bought a puppy—a Rottweiler—while in college. But a popular interpretation of Islam holds that dogs are religiously impermissible pets. In one hadith, for example, Prophet Muhammad states that ''Angels (of Mercy) do not enter a house wherein there is a dog or a picture of a living creature.'' So Muhammad took his Rottweiler into the woods, and let it go. It was only a year and a half old when he did so.
Muhammad adopted a number of other legalistic practices and trappings consistent with a salafi practice. His father told me that Muhammad tried to grow out a beard, but ''it wouldn't grow right. It would always be thin and ragged, and we would make fun of him about it. He'd be an old man before he would grow a beard, but he kept trying, because he was told that's what he should do.'' Muhammad rolled his pants legs up above the ankles, another behavioral change often associated with salafism. He began chewing a miswak, a stick used for cleaning one's teeth that Prophet Muhammad had reportedly used.
Muhammad legally changed his name from Carlos Bledsoe to Abdulhakim Mujahid Muhammad on March 29, 2006. His father told me, ''Carlos and Abdulhakim Muhammad are two different people.'' Indeed, Muhammad began to distance himself from his own family due to their refusal to become Muslim when he tried to push his new faith on them. As Melvin Bledsoe said in congressional testimony, ''It had gotten to the point where he had no interest in coming home, even for the holidays.''
Muhammad's writings from jail provide further evidence supporting Bledsoe's interpretation of his son's transformation—both the notion that Carlos Bledsoe and Abdulhakim Mujahid Muhammad were ''different people,'' and also the way he distanced himself from his family. In one letter to Kristina Goetz, Muhammad flatly stated, ''I'm not Carlos. I'm Abdulhakim Mujahid Muhammad—a new man, changed man.'' Continuing, he substantiated his post-conversion distance from his family, analogizing his situation to that of the prophet Abraham. Muhammad wrote: ''Abraham was a friend of Allah but his relatives and people especially his father were enemies of Allah and that's the situation with me and them [his family]. I love Allah, and His Messenger, they hate them. So we are on different sides.''
In September 2007, Muhammad left for Yemen. At the time, the imam of Masjid Furooq in Nashville wrote a letter to the Yemen Al Khair Institute on Muhammad's behalf. The letter explains that Muhammad wanted to go to Yemen because he ''seeks knowledge'' of Islam. It goes on to describe Muhammad's religious practice as salafi: ''He follows the Quran and Sunnah according to the understanding of the Salafis Salih. He is Salafi and seeks to increase his knowledge of Quran and Sunnah, and the Arabic Language.''
Muhammad's Time in Yemen
Muhammad arrived in Yemen on September 11, 2007. One unfortunate aspect of his time there is that we only have his own account for much of what occurred.
It's clear that by the time he left the U.S., Muhammad self-identified as salafi, and had adopted the mores, customs, and rules of that practice of the faith. Seemingly, though, it wasn't until his time in Yemen that he embraced the need for religiously-inspired violence. He told Kristina Goetz, ''I've loved Jihad ever since I became Muslim. But here in America you have hypocrites and hypocritical sects preaching against Jihad and the Mujahideen so I fell victim to their false knowledge and cowardly ways.''
While in Yemen, Muhammad taught English at two different schools, but that was by no means his primary interest. In fact, he felt guilty and uncomfortable teaching English because, as he wrote, ''it's the English and others that are the enemies to the Muslims.'' Thus, Muhammad ''felt uncomfortable teaching the Language of the Enemy to my brothers and sisters.''
Muhammad later expressed the new worldview that he adopted while in Yemen, and explained how it led him to embrace the need for violence. As has been the case for many homegrown jihadist terrorists, Muhammad put political rage at the center of his explanation, but fused that rage with a sense of religious obligation:
What lead to the attack on the Recruiting Center was this. America and it's allies are waging an all out war on Islam and Muslims. Even before 9-11 it was involved in a war against Islam. The US Foreign Policy regarding occupied Palestine was the sole purpose of 9-11. In Islam there's a call to duty—Jihad—and it's of different types but the one I'm mentioning is a defensive struggle or fight with weapons against those who attack, kill, maim the Muslims. And this is apart of Islam….
''Like I said'' there's an all out war against Islam and Muslims in Afghanistan, Pakistan, Waziristan, Chechnya, Somalia, Palestine, Phillipines, Yemen etc. And Muslims have to fight back. Like I said before in a past interview we believe in an eye for eye not turn the other cheek. Now it's a all out war on America and I'm on the other side. The side of the Muslims Yes! The side of Al-Qāeda Yes! Taliban Yes! Al-Shabaab Yes! We are all brothers under the same banner. Fighting for the same cause which is to rid the Islamic world of Infidel and Apostate Hypocritic regimes and Crusader Invaders and re-establish the Caliphate, the Islamic Empire and Islamic Law as was ended officially in 1924 by the fall of the Ottomans.
Muhammad told Little Rock police that he got married while in Yemen, to a Yemeni woman who was a student at one of the schools where he taught. He said, though, that they divorced before he returned to the U.S. A marriage document issued by Yemen in September 2008 provides verification for his claim of marriage.
It's unclear at what point during his time in Yemen Muhammad came to accept the need to undertake violence, but his writings reveal that he did not receive military training. He noted that he had wanted to travel to Somalia for training, and had even obtained a fraudulent Somali passport, but he was unable to do go. Muhammad boasted that if he had received this training, his attack would have been even deadlier: ''My drive-by would have been a drive-in, with noone [sic] escaping the aftermath!!''
But before Muhammad could go to Somalia, Yemeni authorities arrested him in October 2008. There is some dispute in open source reporting over why he was arrested (some sources claim he overstayed his visa), but the likeliest explanation is that Yemeni officials suspected Muhammad of being a militant, especially because of his fraudulent Somali passport.
Muhammad was clearly on the FBI's radar at this time. As a senior counterterrorism official in the U.S. government told me, ''Carlos Bledsoe was interviewed by an FBI agent from Nashville in Yemen. What was the agent doing in Yemen? He wasn't there on a TDY [temporary duty assignment]. The embassy didn't even know he was there.'' Muhammad corroborated this account, describing his interview with an FBI agent in his public correspondence.
After carrying out his attack in Little Rock, Muhammad would claim that he was associated with Al-Qaeda in the Arabian Peninsula (AQAP), the jihadist organization's Yemeni affiliate. Muhammad's claim that he was a part of AQAP is rather vague. He told Kristina Goetz that he would not say much about AQAP, but ''yes, I'm affiliated with them.'' He wrote, ''Our goal is to rid the Islamic world of Idols and Idolators, Paganism and Pagans, Infidelity and Infidels, hypocrisy and hypocrites, apostasy and apostates, democracy and democrats and relaunch the Islamic caliphate, the Islamic Khalifah and to establish the Islamic Law (Shari'ah)—Allah's Law on Earth and anyone who strives for this is affiliated with the movement. So yes I'm Al Qāeda and proud to be.'' Muhammad did not expand on this alleged affiliation, and open-source information provides no corroboration.
The Little Rock Attack
Muhammad was deported back to the United States in January 2009. He lived with his family for about three months in Memphis before moving to Little Rock. Muhammad's family wanted to straighten him out, so gave him a job with Twin City Tours in Little Rock as the company expanded to that location.
Muhammad said that he had formulated the intention to carry out an attack during his incarceration in Yemen. Upon his move to Little Rock, he began developing a specific plan of action, targeting recruiting centers and Jewish organizations. He looked at possible targets in places that included ''Little Rock, Memphis, Nashville, Florence, Kentucky, Philadelphia, Baltimore, and D.C.''
In preparation for an attack, Muhammad bought guns and a stockpile of ammunition. He refused to use credit cards to buy these supplies because, as he later told a court-appointed psychologist, ''Muslims don't believe in interest.'' At one point, he purchased a .22 rifle at a Walmart to see if the FBI would put a hold on the purchase, or if he would be questioned. No such actions came. Muhammad recalled walking out of the store with his new gun, thinking, ''It's on.''
But Muhammad's initial journey to carry out an attack resembled a farce more than anything else. He first threw a Molotov cocktail at the house of a rabbi in Nashville, but it bounced off a window. Muhammad fled the scene, driving toward his next target, an army recruiting center in Florence, Kentucky, that he had found on the Internet. But the recruiting office was closed when he arrived.
Muhammad felt dejected. Gas cost around $4 a gallon, and he felt he had spent a lot of money on an unsuccessful expedition. But when Muhammad returned to Little Rock, driving down Rodney Parham Road on June 1, 2009, he saw two soldiers standing in front of the joint Army-Navy recruiting center smoking, and he recognized an opportunity. Muhammad drove through a parking lot adjacent to the center, approaching from around a corner so the two soldiers would be less aware of him.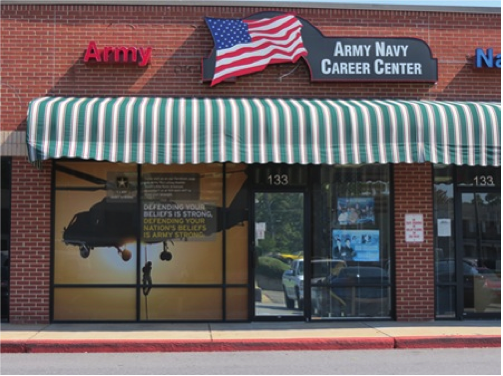 Figure 2: Photograph of the Army-Navy recruiting center taken in August 2012.
Muhammad's black Ford Sport Trac SUV pulled up next to William Long and Quinton Ezeagwula shortly after 10:00 a.m., and he shot at them with a SKS semi-automatic rifle. Long collapsed and was pronounced dead upon arrival at the hospital less than an hour later, at 10:56 a.m. Tragically, his mother, Janet Long, was sitting nearby, in her car, when Muhammad shot her son. She saw his sudden execution first-hand. As Ezeagwula, who was injured in the shooting, crawled back into the recruiting station, Muhammad continued firing through the window until his ten-round clip was empty. He then drove away.
Another driver, Woody Mulkey, heard the shooting from his truck, which was at  the nearby stoplight at the corner of Reservoir and Rodney Parham. He saw Muhammad's truck, with a gun sticking out the window, and briefly pursued it. However, Mulkey incorrectly anticipated the direction that Muhammad would take in his retreat, and lost sight of him.
But Muhammad's shooting was sloppily executed if he had any intention of escape: he had left his truck's tailgate down, thus making the vehicle easier to spot as he fled. Police logs show that officers pursuing Muhammad were told about the tailgate.
An officer caught up with Muhammad as he drove east on I-630. The arrest was uneventful. The officer activated his blue lights and Muhammad pulled toward the right shoulder but didn't stop, then pulled across I-630 to the left lane, and continued onto the I-30 East on-ramp. Muhammad then stopped about halfway up the ramp. The arresting officer drew his service weapon, and made Muhammad keep his hands outside the window of his car. When two other officers arrived, Muhammad was instructed to turn his car off and throw the keys out the window, after which he was arrested.
Muhammad waived his Miranda rights at the beginning of the interrogation. He told Detectives Matt Nelson and Tommy Hudson that he was a practicing Muslim, and shot the two soldiers because he was angry at the U.S. military. Muhammad said that ''if there would have been more out there I probably would have shot them too.''
Muhammad's Detention and Trial
While awaiting trial, Muhammad was detained at the Pulaski County Regional Detention Facility in Little Rock. It is the largest county jail in Arkansas, holding 1,130 inmates (with construction underway to add another 240 cells). As Muhammad told Kristina Goetz, he realized that he could continue ''waging jihad'' even while incarcerated, and he remains notorious among the facility's guards and administrators.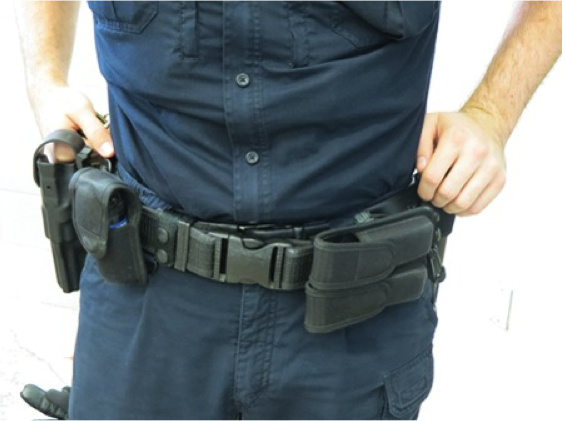 Figure 3: Duty belt worn at Little Rock's Pulaski County regional detention facility. Deputy Grunerwald claims that Muhammad stabbed his belt, while Muhammad insists he actually stabbed Deputy Grunerwald's stomach.
Muhammad was involved in several violent incidents. The first occurred on October 24, 2009. Another inmate, George McFee, had been pouring juice into Muhammad's cup when Muhammad cut his left hand and wrist with a makeshift knife that he had fashioned from his glasses. Muhammad explained in a letter from jail that he did this because McFee was ''a blasphemer who got mad because I told him to calm down so I could hear the news on TV and he responded by cursing me, my mother, and the almighty allah.'' He said that because McFee had ''blasphemed the Creator,'' stabbing him was ''a just reward.''
Muhammad also stabbed a guard, Deputy Grunerwald, whom he said was an Iraq  war veteran. Again he made the shank from his glasses. Guards at the Pulaski County Regional Detention Facility have rather large duty belts (see Figure 3), and Grunerwald reported that he was stabbed in the belt. Muhammad didn't believe this, saying in a clinical evaluation, ''He lied and said I stabbed his belt. I stabbed his stomach, that bastard.'' In explaining why he had stabbed Grunerwald, Muhammad claimed that he was ''a Crusader in the Crusader Army and was combat medic just back from Iraq. He bragged and boasted of having killed 'sand niggers' and Muslims in front of me so I shanked him as a reward.''
Jim Hensley, Muhammad's attorney, didn't believe this account of the altercation when I told him of it. ''I don't think that happened,'' Hensley said. ''Soldiers don't talk about things like that. I was in the Marine Corps and I was a cop, and I don't talk about either. The one thing a true warrior who loves his country doesn't want to do is go to war. Shame on Carlos for saying that.''
In April 2010, Muhammad threatened another of the prison personnel, Deputy Huff, saying, ''You're done, you redneck ass motherfucker. I'm gonna kill your bitch ass, I'm gonna find something better than a piece of motherfucking glasses, you punk ass white boy. I'm gonna stab you in the motherfucking heart. You bitch, I'm gonna kill you. I'm gonna get you better than I got Grunerwald. I'm gonna stab you in the motherfucking heart.'' And Muhammad assaulted another guard, Lieutenant Martin, in October 2010. In that incident, Muhammad was being moved from his cell to the shower when he charged Martin, hitting him in the back of the head.
Even though he was placed in administrative segregation, Muhammad persuaded another inmate to splash urine on a guard whom he considered his enemy. Muhammad was also able to convert an inmate, as shown by a letter that Mu'min Abdulaziz (formerly known as Frank Askew, Jr.) wrote to the judge in Muhammad's case. In it, Abdulaziz described Muhammad as ''my brother in Islam and the individual who has awakened me.''
Lieutenant Carl Minden, who handles media relations and training for the Pulaski County Sheriff's Office, told me that Muhammad ''was renowned for making all sorts of problems for the staff.'' This included not only assaults and threats, but also vandalizing his cells. For that reason, Muhammad would only be kept in a cell for a few days before authorities had to move him. Both Minden and also several guards and officials at the jail whom I was able to interview said that Muhammad was easily in the top percentile of offenders that the jail had seen, in terms of one inmate doing so much damage. The reason for this was not just Muhammad's resolution to wage jihad, but also the sheer length of time he was held, 784 days in total. (The jail is a pre-trial facility, but given the nature of Muhammad's case, there were multiple delays.)
Ultimately, Muhammad was tried by local rather than federal prosecutors. There are various theories about why federal prosecutors didn't take the case away from the local Office of the Prosecuting Attorney. Muhammad's explanation was egocentric: ''I outsmarted them and they know it that's why they don't want to pick these charges up and are leaving me in State Court to be hung. But it's OK people still see pass the smoke and mirrors.'' And a senior counterterrorism official in the U.S. government suggested to me that federal prosecutors may not have taken the case because of hesitation to describe it as terrorism.
On the other hand, prosecutor Larry Jegley thinks the explanation may be easier: his office, sadly, has a lot of experience prosecuting murders, as there are anywhere from forty to 100 a year in his jurisdiction. Federal authorities may have decided it was best for experienced local prosecutors to handle the case.
When the Muhammad case went to trial, the specifics of his worldview, motivations, and process of radicalization weren't presented to the jury. ''We looked at it, but only to see if anything jumped out as an aggravating factor if we got to the sentencing phase,'' Jegley told me. ''But it wasn't part of our case in chief, because motive isn't something we had to prove beyond a reasonable doubt.'' The case was treated like so many other murders that Little Rock experiences in any given year: terrorism and Islamic extremism played no role in the prosecution's case.
However, Muhammad's beliefs did figure in the defense's case. Though the state psychologist found Muhammad fit to proceed with trial, the defense argued that he was not guilty by reason of mental defect. Psychiatrist Bhushan Agharkar testified that Muhammad had a delusional disorder by virtue of his ''fixed, false beliefs.'' Though brainwashing is not a recognized defense in Arkansas, this was a brainwashing defense by another name.
But we never learned whether this defense would have succeeded. Muhammad unexpectedly took a plea bargain more than a week into the trial, before the case went to the jury. Muhammad's lawyers explained to the local press that they had offered a plea because they believed the prosecution was willing to accept one in exchange for taking the death penalty off the table. Muhammad was sentenced on July 25, 2011, to ''life without parole, 11 additional life sentences plus 180 years.'' Immediately after the plea bargain, Muhammad was moved from the Pulaski County Regional Detention Facility to a larger state prison, but he left an impression that officials at the regional facility won't soon forget.
Conclusion
This case illustrates the overarching difficulty of protecting against lone wolf terrorist attacks in a free and open society. While Muhammad swore that he ''outsmarted'' federal authorities, in reality his attack illustrates the advantages enjoyed by lone wolf actors. It's difficult to take preventive action against a potential attacker like Muhammad even if authorities have strong information that he has been radicalized and poses a danger. Here, Muhammad had already come across the FBI's radar, yet if they had moved to arrest him prior to the attack, federal authorities most likely would have lacked a compelling criminal case.
But the shooting also demonstrates the limits of what a lone wolf terrorist might accomplish. At the end of the day Muhammad, not the most gifted operative, shot two people, killing one. The shooting was tragic, but so too are all the murders that regularly occur in Little Rock and other cities. When I asked Jegley, he said he thought the incident's effect on the community was ''about the same'' as many other murders. ''I think that there was more of an outrage factor than there would be for a street killing down at 15th and Oak between a couple of drug dealers because here it was a man in uniform,'' he told me. ''But no, I don't think anybody here was terrorized. You want to see a terrorized community, let's go back to 1993–1994, when the gangs were tearing this place up. That really terrorized the community.''
Daveed Gartenstein-Ross is a senior fellow at the Foundation for Defense of Democracies and an adjunct assistant professor in Georgetown University's security studies program. He is the author or volume editor of twelve books and monographs, including Bin Laden's Legacy (Wiley, 2011). This post is adapted, with permission, from an academic article that he recently published with Terrorism & Political Violence.