NOTE: For prior parts in the Hizballah Cavalcade series you can view an archive of it all here.
—
Iran's Losses In the "35th Province" (Syria), Part 1
By Phillip Smyth
Click here for a PDF version of this post
"Syria is…[Iran's] 35th province and a strategic province for us. If the enemy attacks us and wants to take either Syria or Khuzestan, the priority for us is to keep Syria…If we keep Syria, we can get Khuzestan back too, but if we lose Syria, we cannot keep Tehran." –Mehdi Taeb, a high-level Iranian cleric speaking to to Iran's Basij (paramilitary group attached to the Iranian Revolutionary Guard Corps), February, 2013.[1]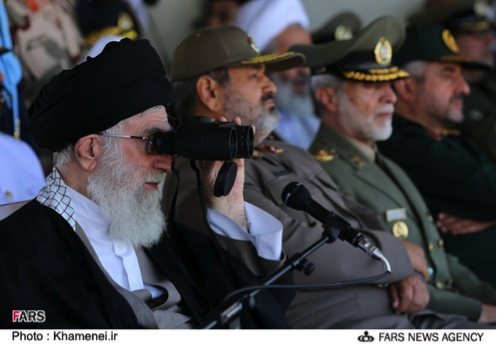 Iran's (Iraqi and Lebanese) Shia proxies are not the only groups losing members due to their involvement in combat in Syria. Iran is actively contributing infantry personnel to bolster regime of Bashar al-Assad. The Iranian Revolutionary Guard-Quds Force (IRGC-QF); Iran's long-arm used to create, command, bolster Tehran's proxies, and execute attacks overseas, has been rather active in Syria.[2] Their movements have not simply been limited to acting as behind-the-scenes guides for proxy or Assad's forces. In fact, the IRGC-QF has engaged in combat and taken a number of casualties and their losses are becoming increasingly more public.
Back in August, 2012, 48 Iranian "Pilgrims" were kidnapped by Syrian rebels, when they were heading to the Saydah Zaynab Shrine.[3] Rebel forces accused these men of all being IRGC fighters.[4] It was later reported by the Iranians that the group included "Retired" IRGC members.[5] Rebels have also accused the IRGC of acting as commanders for Lebanese Hizballah's May, 2013 offensive in Qusayr.[6]
Following Lebanese Hizballah's official May recognition of their full-involvement in Syria, it would appear that Iran is not only becoming more open about their involvement, but also utilizing many of the same narrative points first honed by its regional Shia proxies.
February, 2013, witnessed the loss and public funeral of a senior IRGC-QF commander in Syria. It was claimed by Tehran he was simply working on "Reconstruction projects" in war torn Aleppo. Even with such a high-profile death, little additional information was offered by Iran regarding their activities in Syria.
However, In June, three IRGC members were claimed by Iranian sources to have been killed while operating around Damascus's Saydah Zaynab Shrine. Proclaiming IRGC members have been killed defending the shrine recycles the exact narrative Lebanese Hizballah and other Iraqi Shia groups have been utilizing for many months. This line also demonstrates that Tehran has become more comfortable with using sectarian-based messaging to convey why it is willing to lose men in the Syrian war.
Based on the released data regarding killed IRGC-QF members, it is likely that Summer-Fall 2013 may witness several more announcements and public funerals.
As opposed to previous Hizballah Cavalcade posts, this post did not rely on the monitoring of social media, forums, or other sources. Instead, announcements of death and photographs were taken from official and officially approved Iranian sources.
__
Name: General Hassan Shateri (A.K.A. Hossam Khoshnevis)
Death Announced: February 13, 2013. It was claimed by Iranian media that Shateri was killed in Syria on February 12, 2013. His funeral was held on February 15, 2013.
Notes: Shateri was a high-level IRGC-QF leader and the highest ranking Iranian killed in Syria. His work with Lebanese Hizballah (and possibly other Iranian-backed organizations in Iraq) was of great importance to the Iranians.[7] This connection was displayed openly at his funeral with funeral-goers waving Lebanese Hizballah flags and placing a Lebanese Hizballah flag on his casket.
Iran's English-language PressTV reported that Shateri was killed, "by unknown gunmen as he was traveling by road from Syria to Lebanon." Iran also blamed "Suspected Israeli agents" for Shateri's death.[8]
Mashregh News posted a number of photos showing Shateri going about his duties in Lebanon (one is reposted here).[9] In Iranian media, the narrative used to explain Shateri's tasks in Lebanon and Syria was that he was an overseer for the reconstruction of south Lebanon (from damage suffered during the 2006 Hizballah-Israel War). Additionally, Iranian-government-backed Fars News Agency described Shateri's presence in Syria as the result of, "Reconstruction and development projects" he was working on in Aleppo.[10]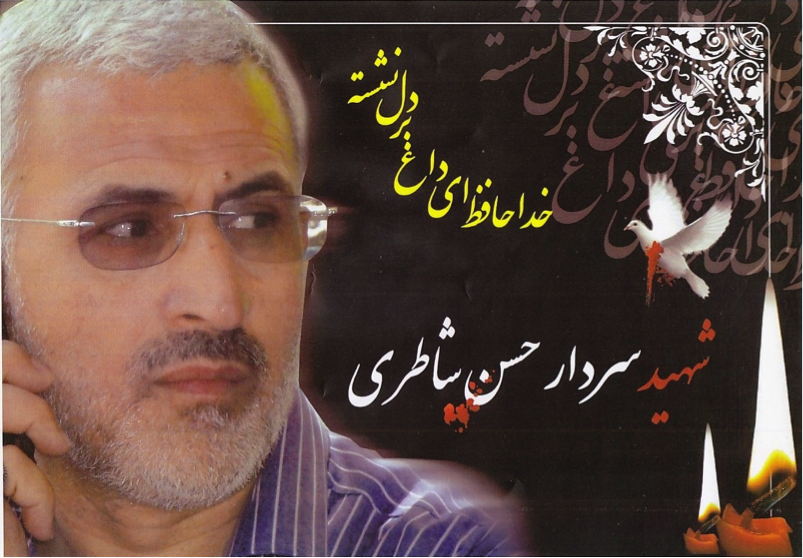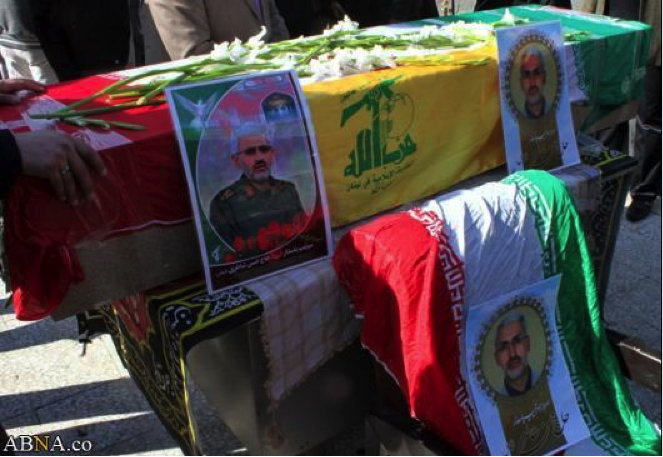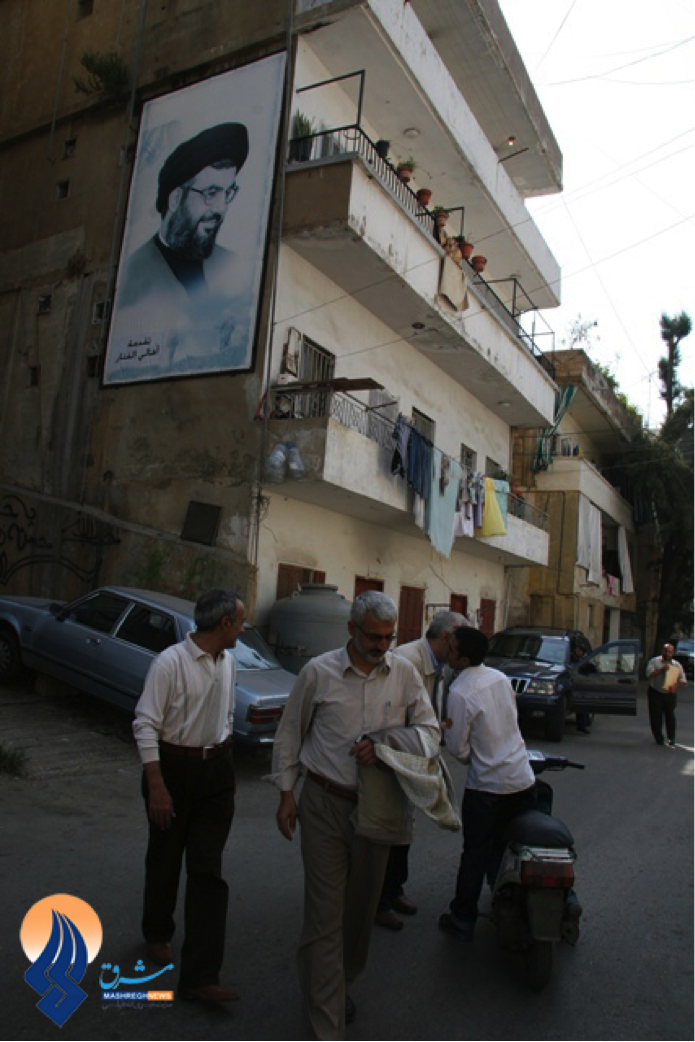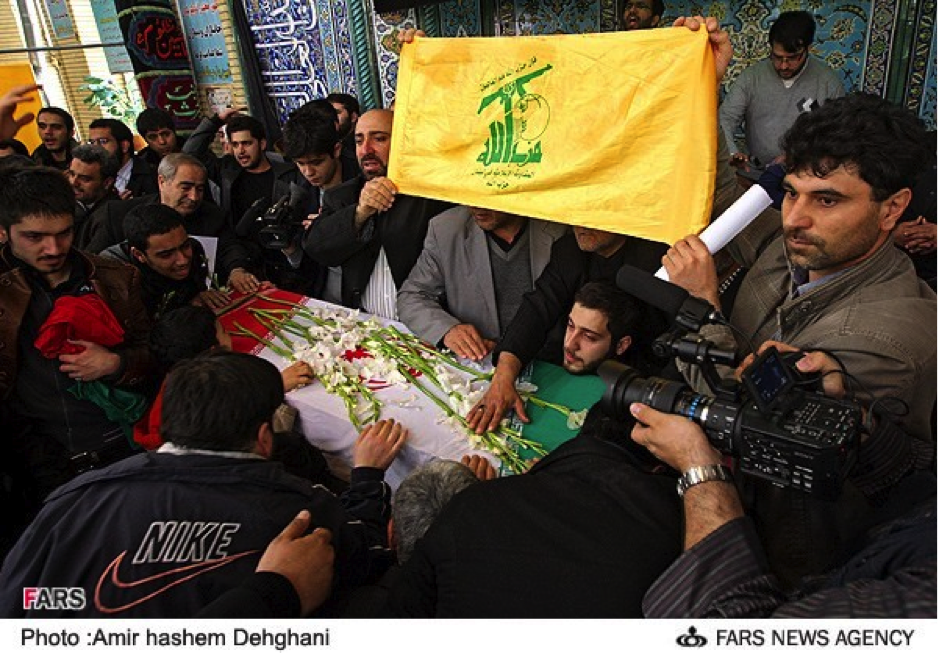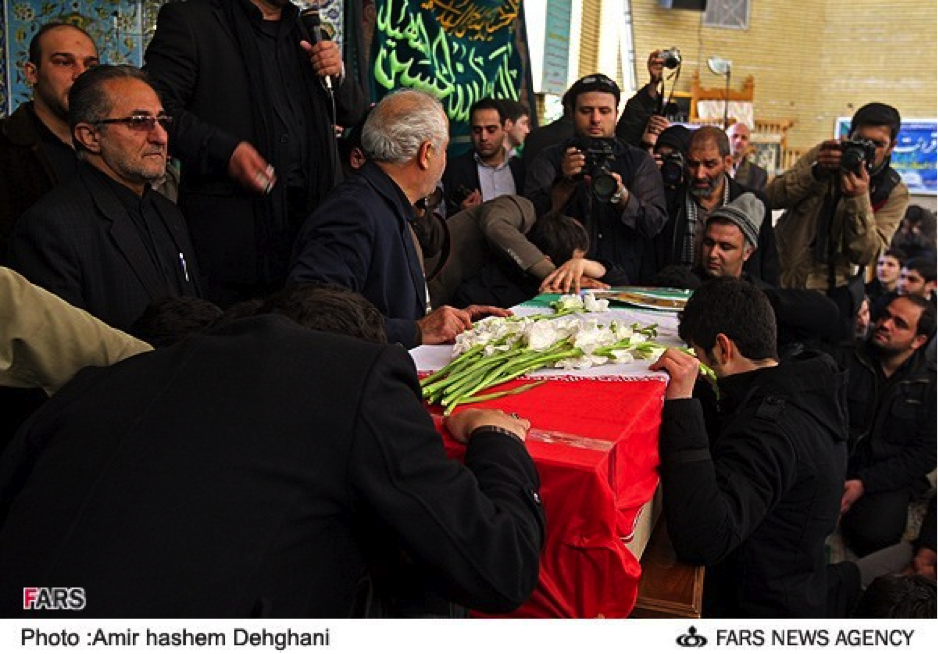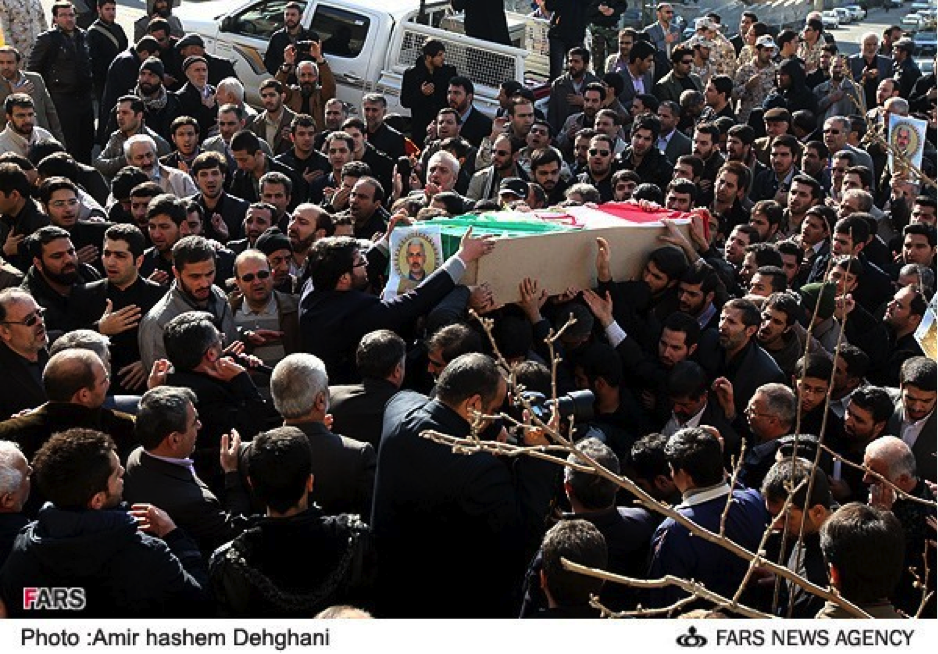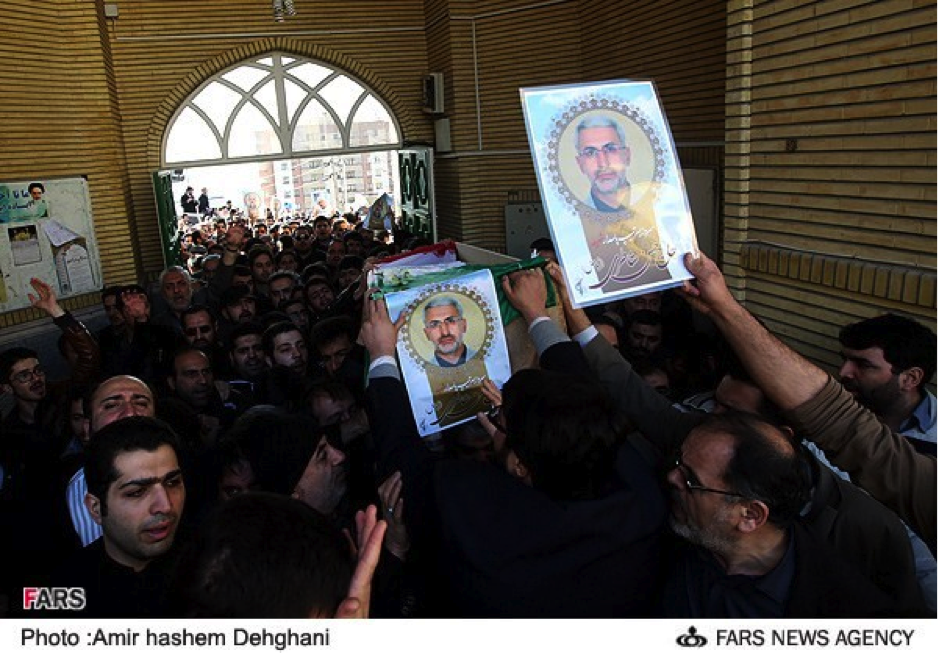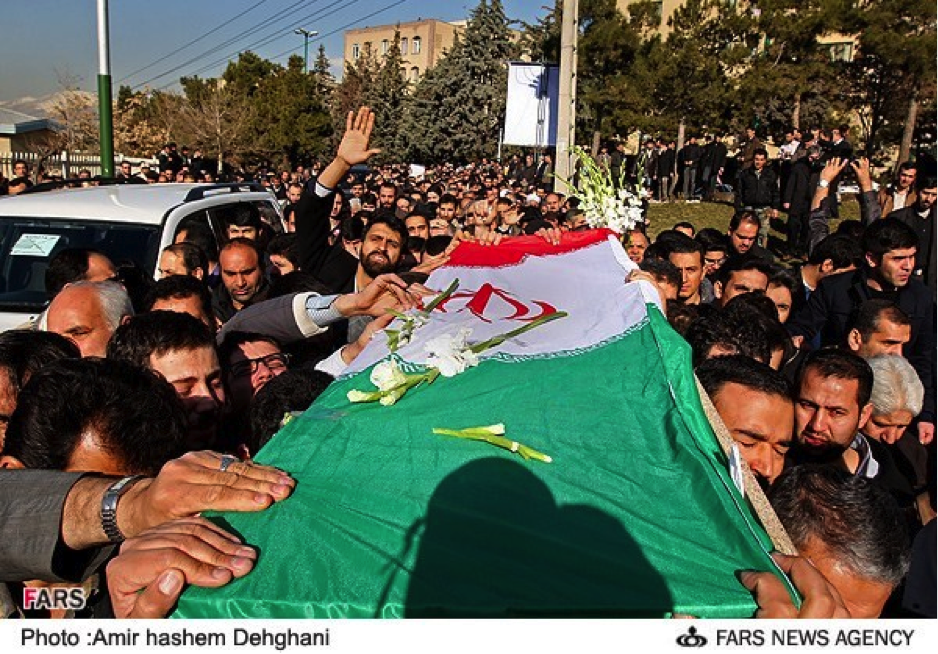 Name: Lt. Colonel Amir Reza Alizadeh
Death Announced: May 4, 2013 (It was announced Alizadeh was killed in Syria on May 1, 2013).
Notes: Iranian reports claimed Alizadeh was killed by an explosion which occurred outside of the Iranian embassy in Damascus. The bombing, according to Iranian state media, was orchestrated by, "Wahhabi terrorists".[11]  Alizadeh's funeral was held in Rudsar, Iran.[12]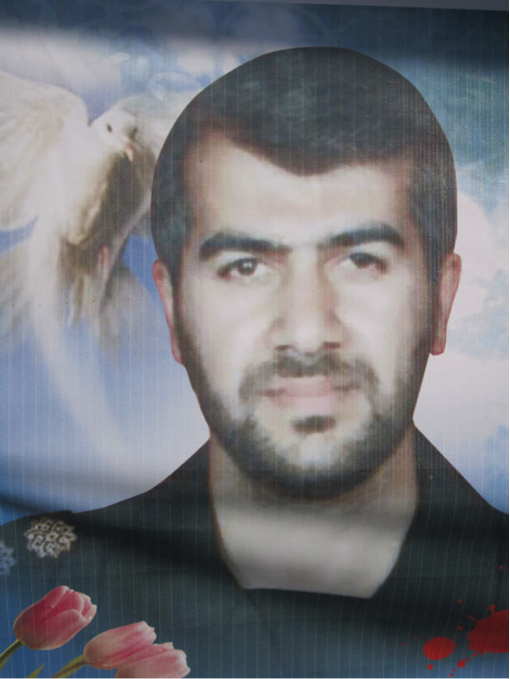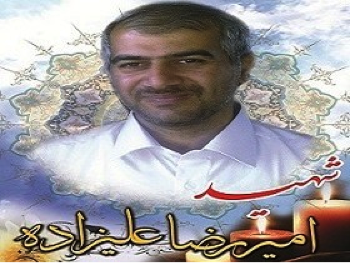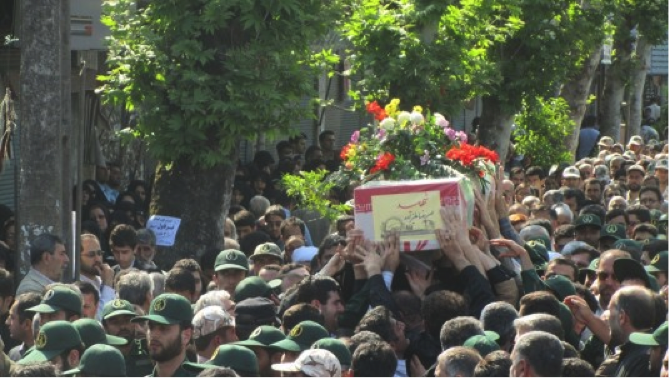 Name: Mehdi Khorasani
Death Announced: June 10, 2013
Notes: Since Shanaei and Khorasani had a shared funeral service, photos for both are located after the entry for Shanaei. Iran's Damghan News published a full album of funeral photographs. However, the link did not work two days after the photos were posted. Shanaei and Khorashani were pictured together holding AK-47 type rifles in front of the Saydah Zaynab Shrine. Their funeral was the first group funeral (for two or more killed) held in Iran for personnel killed in Syria.
Name: Ali Asqar Shanaei
Death Announced: June 10, 2013
Notes: Shanaei and Khorashani were pictured together holding AK-47 type rifles in front of the Saydah Zaynab Shrine. Their funeral was the first group funeral (for two or more killed) held in Iran for personnel killed in Syria.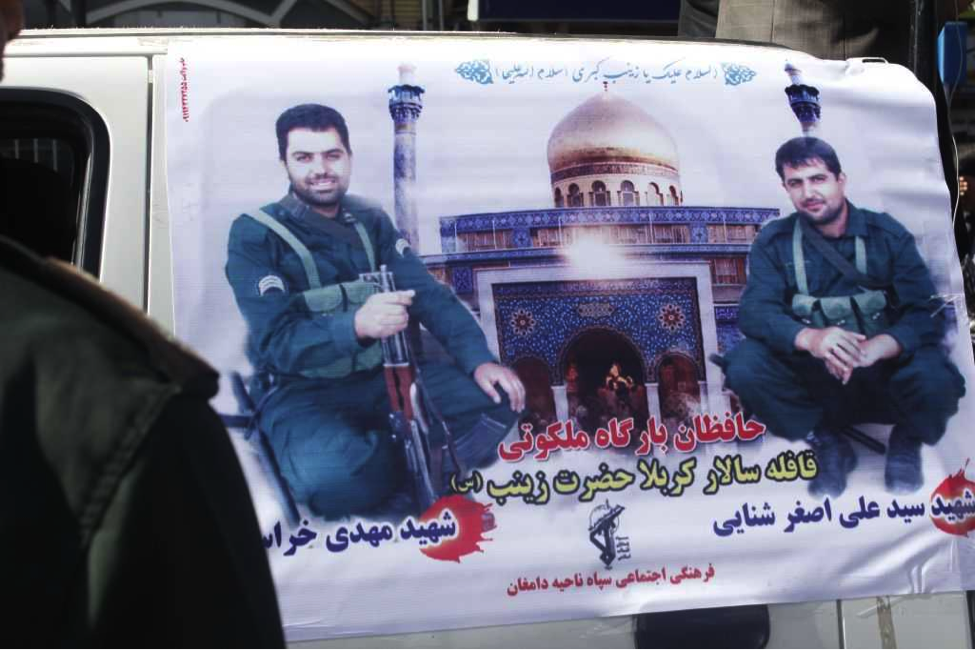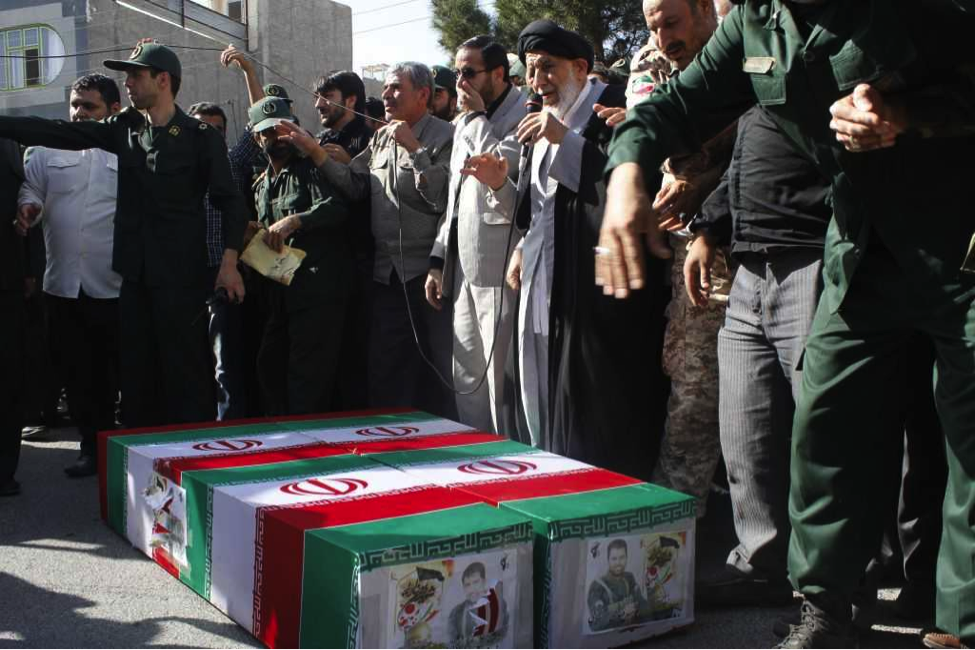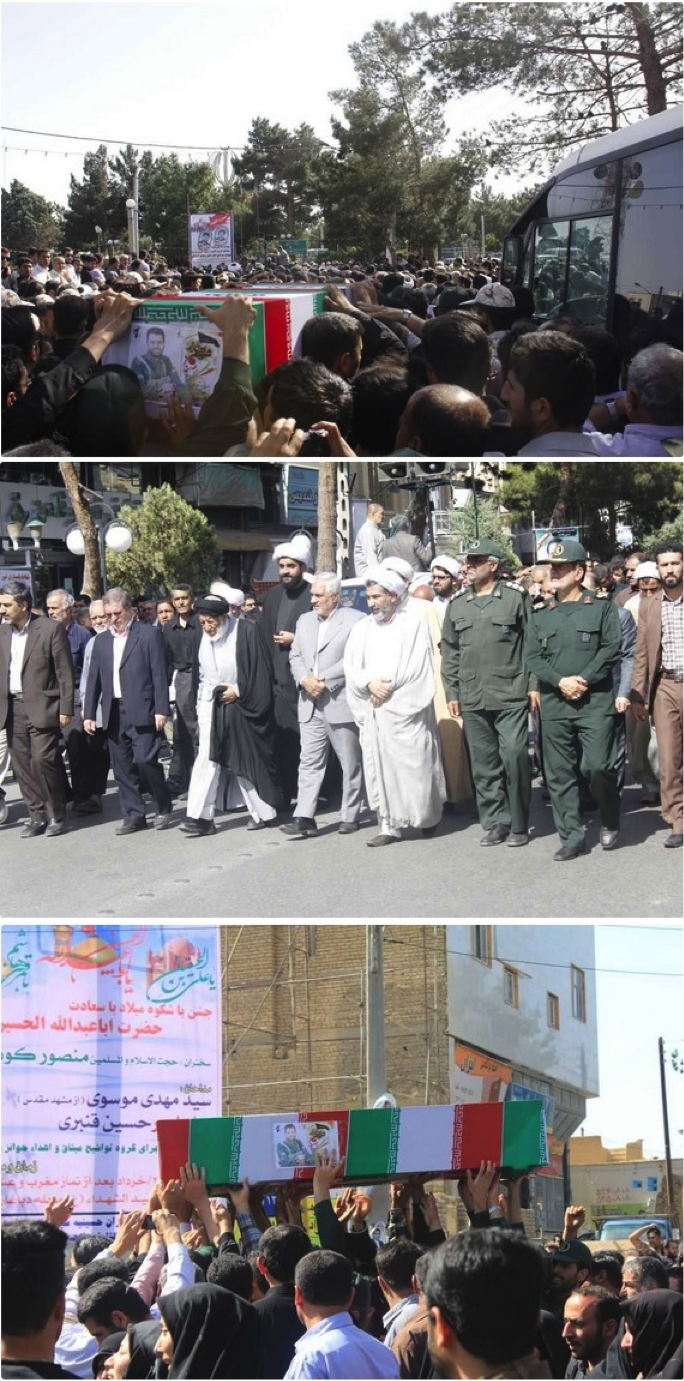 Name: Muhammed Husayn Atareh
Death Announced: June 10, 2013
Notes: Atareh's casket included numerous IRGC symbols. It was also claimed that Atareh was killed in fighting around the Saydah Zaynab Shrine.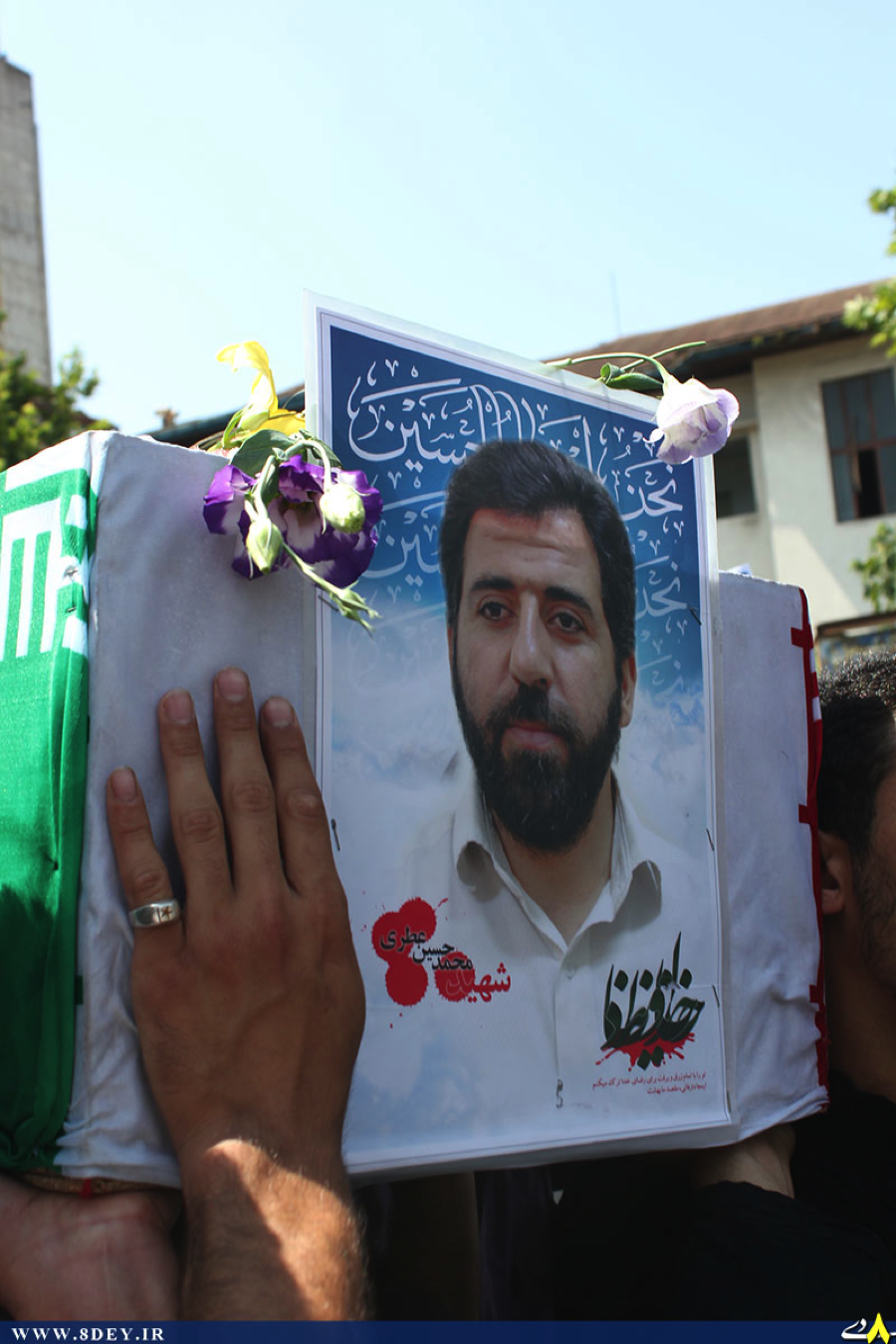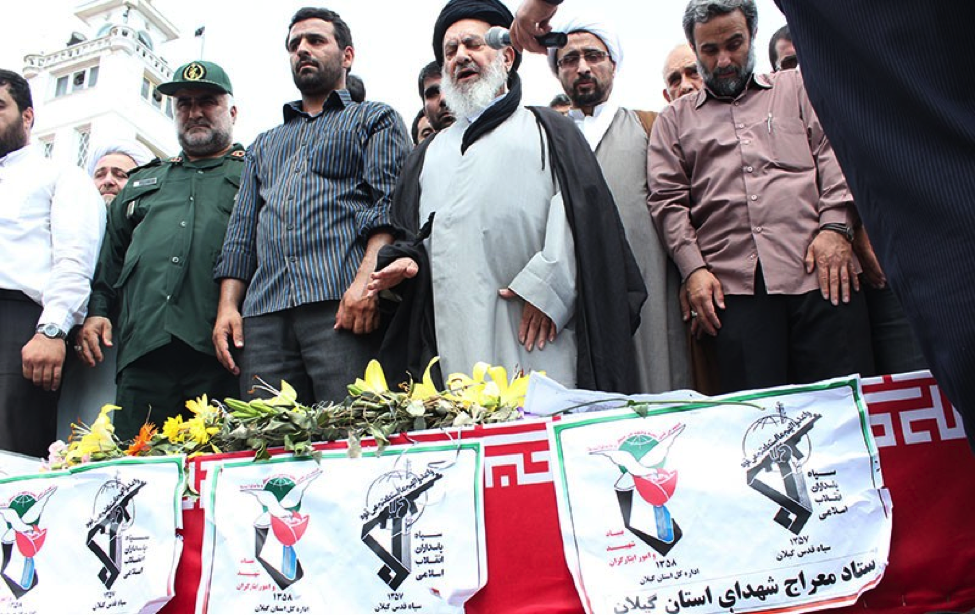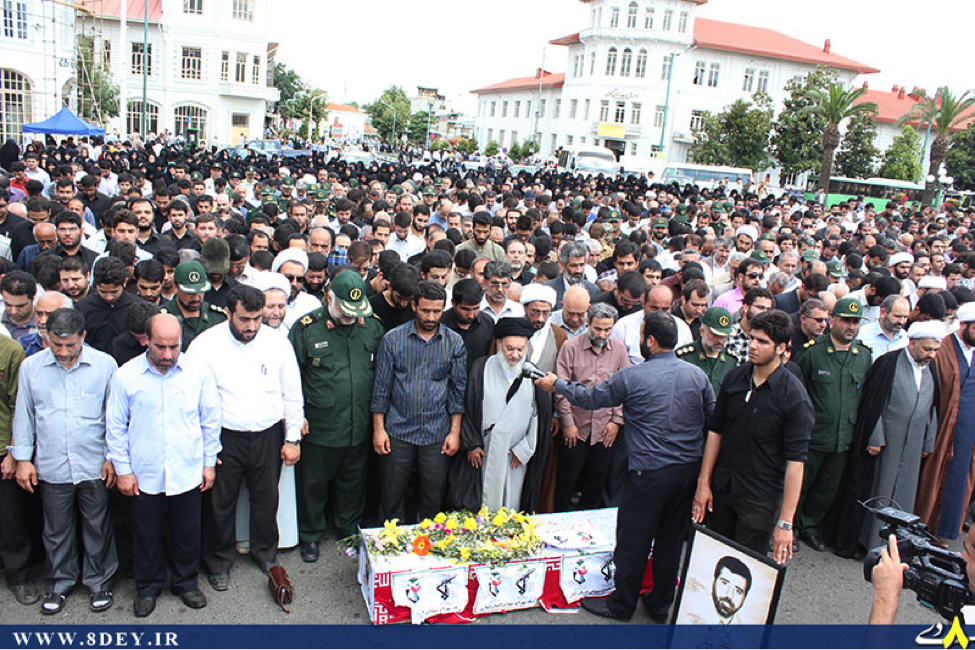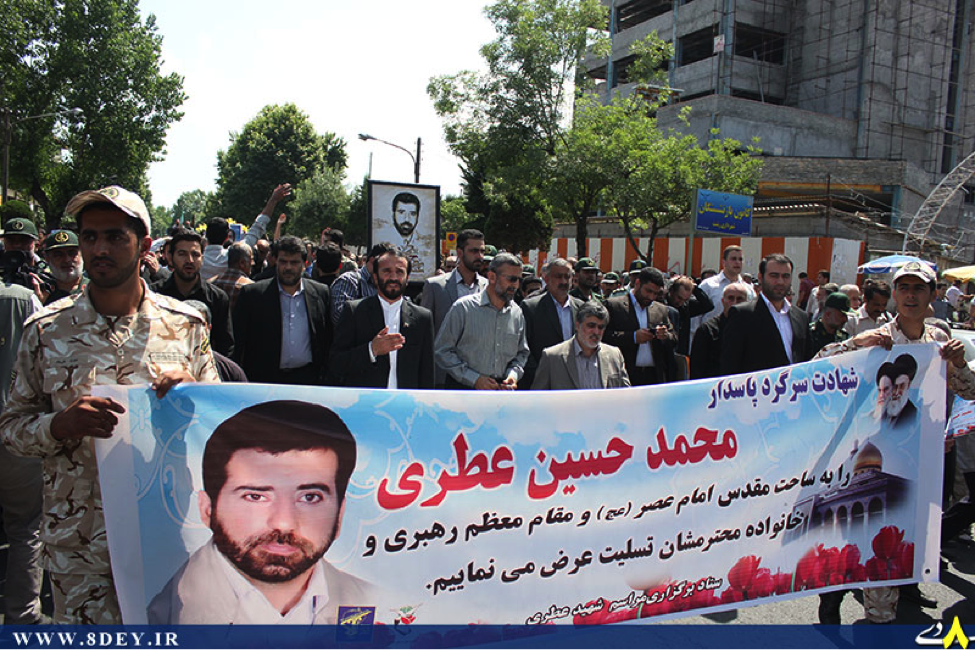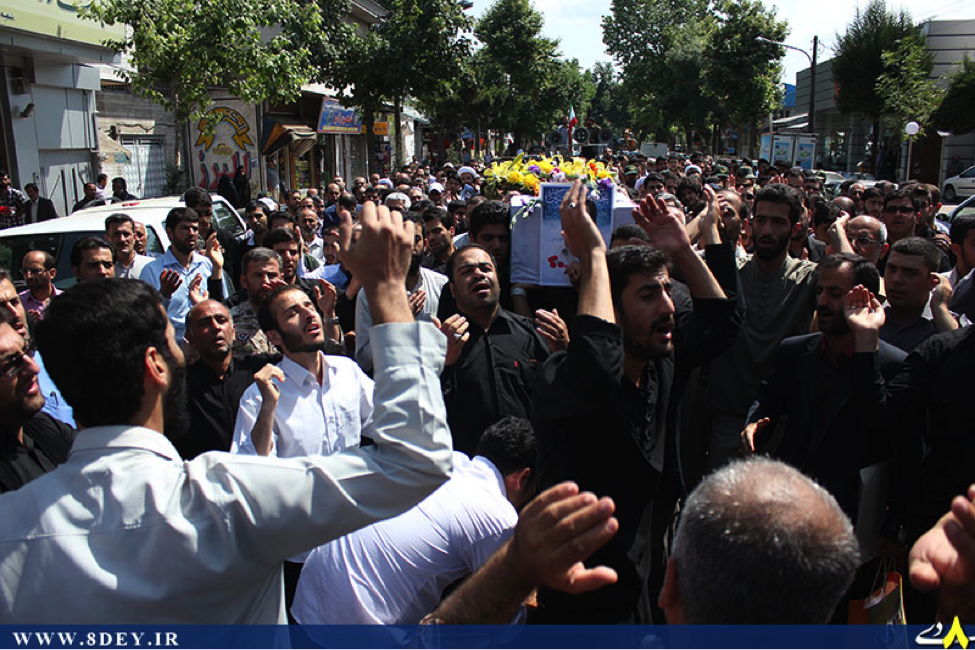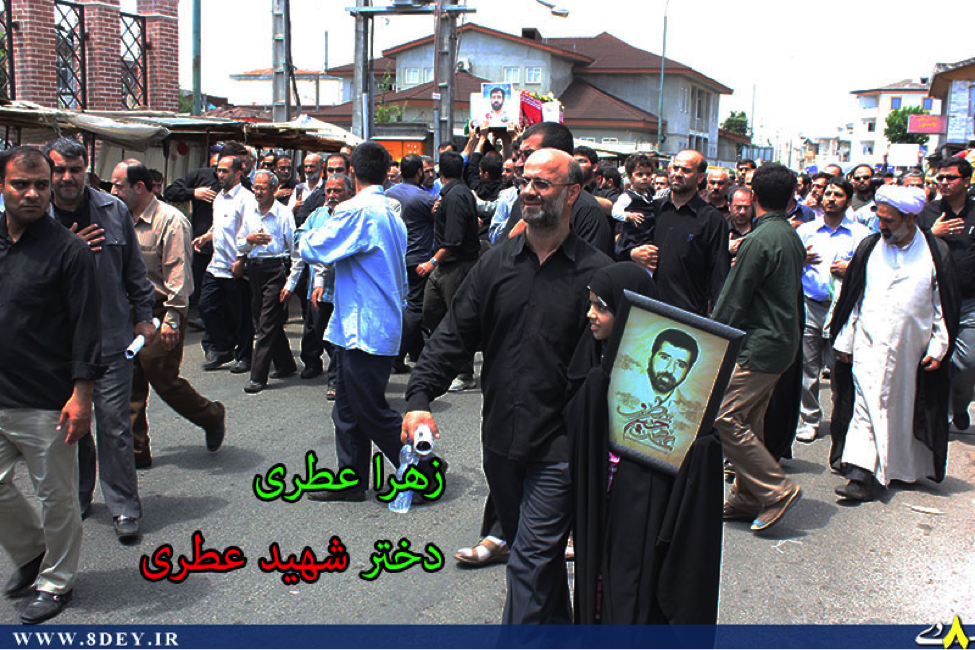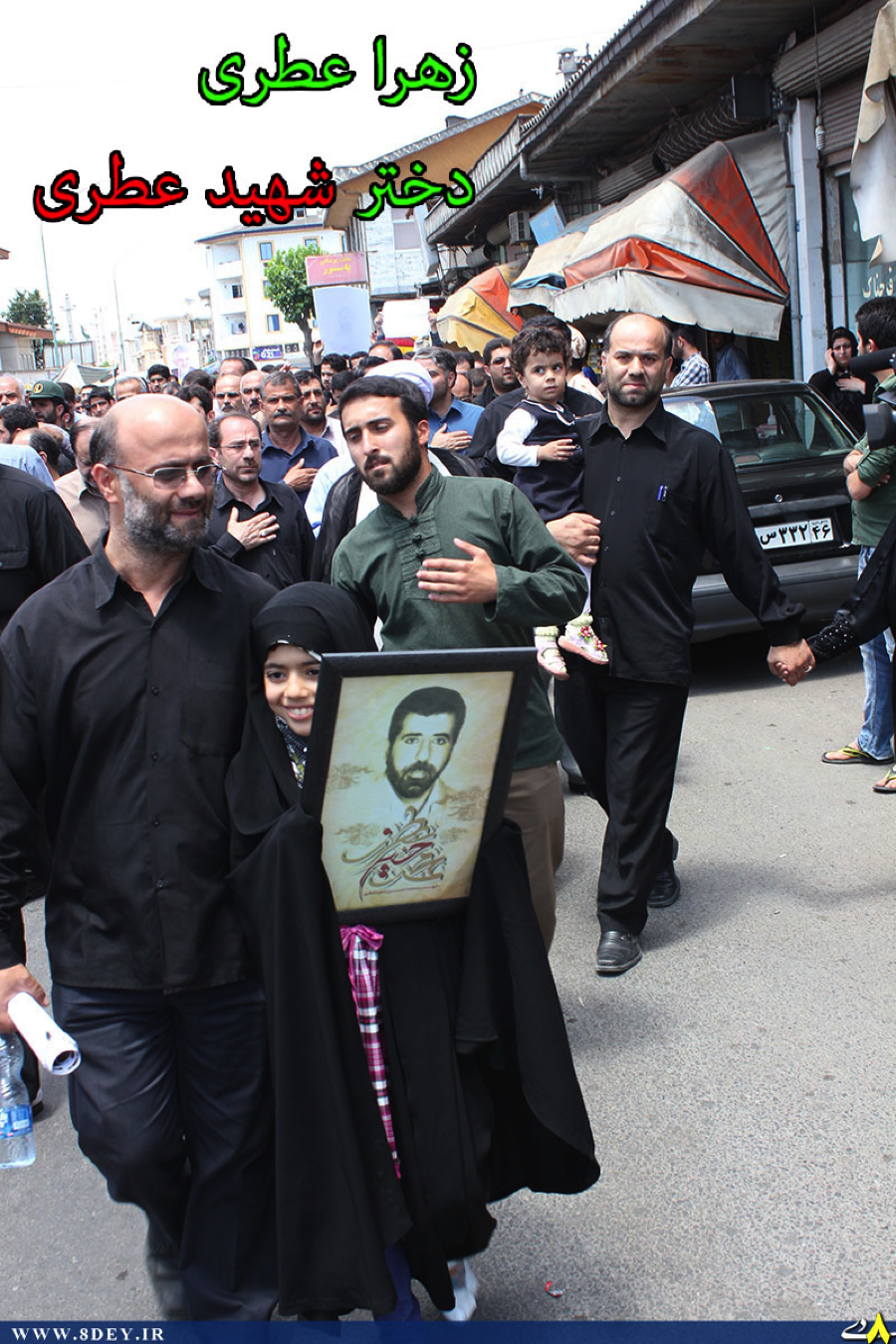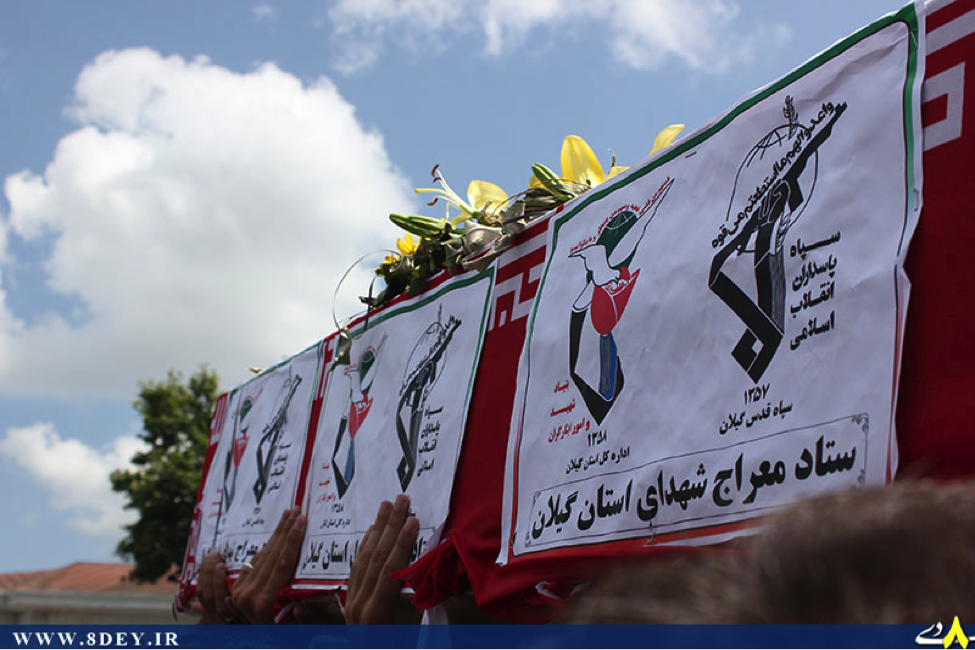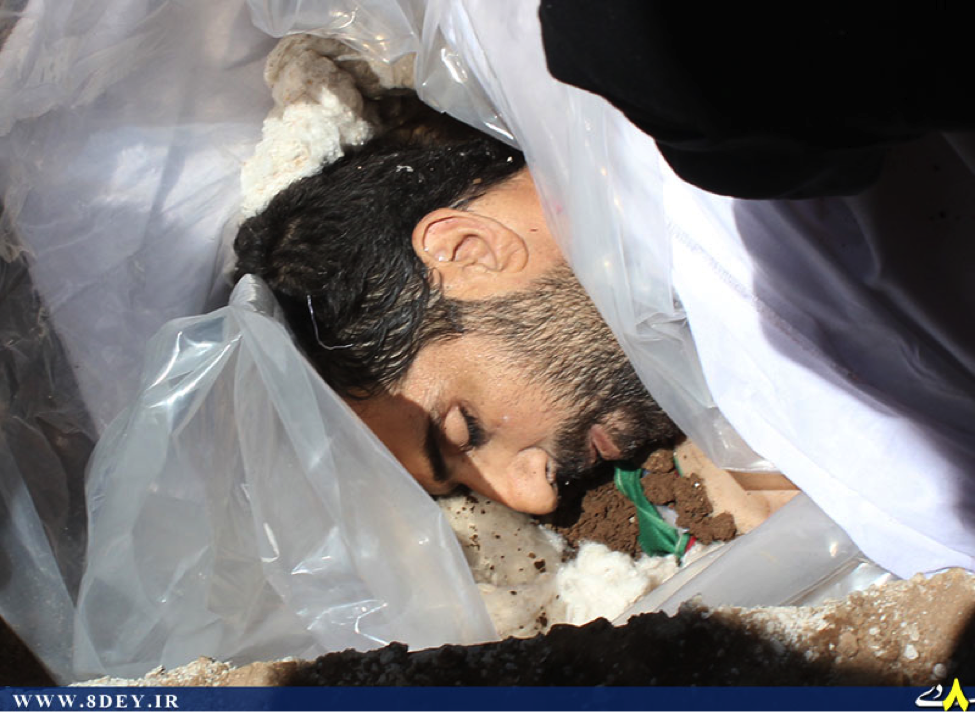 Name: Amir Kazem Zaydeh
Death Announced: June 9, 2013
Notes: Iran's Mashregh News claimed Zaydeh was killed by a bomb during "Clashes with terrorists".[13]