NOTE: As with all guest posts, the opinions expressed below are those of the guest author and they do not necessarily represent the views of this blogs administrator and does not at all represent his employer at the Washington Institute for Near East Policy.
Jihadology.net aims to not only provide primary sources for researchers and occasional analysis of them, but also to allow other young and upcoming students as well as established academics or policy wonks to contribute original analysis on issues related to jihadism. If you would like to contribute a piece, please email your idea/post to azelin [at] jihadology [dot] net.
Click here to see an archive of all guest posts.
—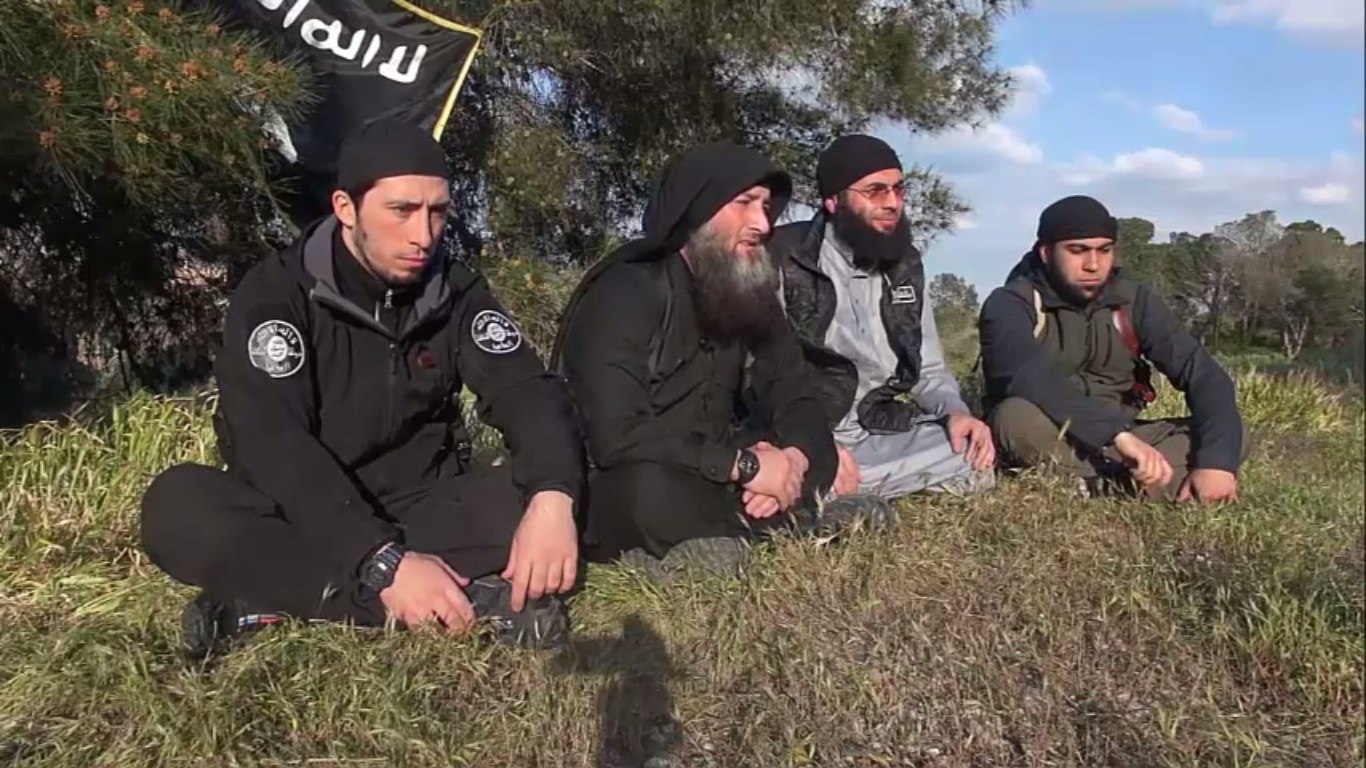 Umar Shishani's Right-Hand Man Calls On North Caucasian Jihadis To Join IS In Dagestan & Chechnya
By Joanna Paraszczuk
In a recent video address, Abu Jihad, a close confidante of Islamic State's commander in Syria Umar Shishani, has called on jihadis in the North Caucasus to join those local groups who have pledged allegiance to IS Emir Abu Bakr al-Baghdadi, and not the Caucasus Emirate (CE)
Abu Jihad is the nom de guerre of Islam Seit-Umarovich Atabiyev, an ethnic Karachay from the North Caucasian republic of Karachay-Cherkessia. While Abu Jihad does not appear to have taken part in any military action on behalf of IS, in 2013 and 2014 he was frequently seen alongside Umar Shishani and has since become a prominent ideologue within IS's North Caucasian contingent. More recently, he has begun reaching out to jihadis in Syria and the Russian Federation via regular Russian-language audio lectures on the Zello platform.
Abu Jihad's latest move is a bold attempt at control and domination of the Islamist insurgency in the North Caucasus as well as of Russian-speaking jihadis in Syria. His video address (made before the April 19 assassination in Dagestan of CE Emir Ali Abu Mukhammad) should be viewed as the latest development in the ongoing and increasingly fierce power struggle between Umar Shishani's North Caucasians in IS and those in the CE and its affiliate in Syria.
That struggle is in part an ideological battle over who is waging "real" jihad in Syria and the North Caucasus, but at its root it is a fight for actual power and a quest to win over the hearts and minds of North Caucasian jihadis and recruit them to Abu Jihad's cause.
As the rift has grown between IS and the CE — both in the North Caucasus and in the CE's self-proclaimed Syrian affiliate Jaish al-Muhajireen wal-Ansar (JMA)  — Abu Jihad has increasingly promoted the ideological supremacy of IS over the CE, often setting himself up in direct opposition to CE Emir Ali Abu Mukhammad and other CE leaders in the North Caucasus, as well as to JMA Emir Salakhuddin Shishani.
Abu Jihad's latest address takes his opposition to the CE a dramatic step further than he has previously dared. Rather than simply calling on North Caucasian jihadis to join IS in Syria, Abu Jihad has now positioned himself in the role of a North Caucasian insurgent leader with the authority to instruct jihadis how to wage jihad in the North Caucasus. His bold move comes amid a growing sense of confidence among IS's North Caucasian faction, sparked by a series of pledges of allegiance to IS by jihadis mostly in Dagestan and who had previously been loyal to the CE.
WAGE JIHAD — BUT AT HOME
Abu Jihad made his announcement in an video titled He Loves Those Who Migrate To Him (in Russian: Он любит тех, которые переселяются к ним), a transcript of which was shared widely on social media and pro-IS websites including the relatively new Vaynah.org site in late March and early April. Abu Jihad appears in the video alongside three Dagestanis: Akhmad Medinsky (a Salafi preacher whose addresses are widely shared on pro-jihad accounts on Russian social media), Abdullakh Abu Mukhammad and Abbas Abu Aisha, all of whom have come to Syria and sworn allegiance to IS Emir Abu Bakr al-Baghdadi.
Abu Jihad starts by addressing those militants in the North Caucasus who had been affiliated with the CE and who defected to IS in December 2014.
"We say salam [greetings] to all our brothers in the Caucasus who swore allegiance to the Caliphate. Our beloved brothers, we welcome you and we do not forget you in our prayers and our struggles and your victories are our victories," Abu Jihad says.
Abu Jihad does not just welcome and praise the IS-affiliated jihadis in the North Caucasus for their decision to pledge allegiance to Baghdadi, however.
Instead, he explicitly links the insurgency in the North Caucasus to IS's struggle in Syria and Iraq, saying that those North Caucasian jihadis who have left the CE and gone over to IS are fighting the "Russian invaders," the implication being that the CE is not doing so (or not effectively) and that it is IS's place to do so.
Abu Jihad then calls on North Caucasians who want to wage jihad to join IS-affiliated groups in the region, and fight the Russians, rather than come to Syria.
"Those who wish to join the caravan of the Mujahideen, the caravan of the Caliphate and the caravan of jihad, I want to encourage those brothers to join those brothers in the Caucasus who gave bay'ah [an oath of allegiance] to the Caliphate, those who are struggling against the Russian invaders and against the apostates," Abu Jihad said.
It is only those who "cannot find brothers there [in the North Caucasus] and join with them" who are permitted to travel to Syria and join IS there, according to Abu Jihad.
"Those who have access to those brothers of the Mujahideen who gave an oath to the caliphate, there must join them and help them in the difficult struggle, because they need your help," Abu Jihad clarified.
UNDERMINING ALI ABU MUKHAMMAD (AND HIS SUCCESSOR…)
Abu Jihad's speech, made in late March, was a personal attack on the then-CE Emir Ali Abu Mukhammad al-Dagestani– the first non-Chechen leader of Islamist insurgents in the North Caucasus. In a videotaped address last year, Ali Abu Mukhammad slammed North Caucasians who joined IS has having "plastic brains" and snubbed Abu Jihad, saying he had never even heard of him.
More than this, however, Abu Jihad is openly attempting to undermine the CE's ability to recruit as well as retain fighters by calling on potential recruits in the North Caucasus to join IS rather than the CE.  He is also usurping the authority of the CE leadership to make decisions where jihad should be waged.
In the past, the CE leadership has made a similar call to North Caucasian militants, urging them to stay at home and wage jihad against Russia rather than travel to Syria. That call was, of course, made out of concerns that CE's existing and potential recruits would abandon the North Caucasus for what appeared to be a more glamorous fight in Syria, either with the CE's Syrian affiliate JMA or with IS.
The attempt by IS's North Caucasian faction to extend control over the Islamist insurgency in the North Caucasus will likely be more effective now that Ali Abu Mukhammad has been been killed. Both Russia's National Antiterrorism Committee (NAK) and CE sources confirmed on April 20 that the CE Emir had died in clashes with Russian security forces in Buinaksk, Dagestan.
It is too soon to know whom the CE will name as a successor to Ali Abu Mukhammad. But it is likely that, with the CE currently leaderless and weakened, IS and IS-sympathizers in the North Caucasus will be able to increase their influence both in the region and possibly also over North Caucasian groups in Syria.
It is possible that the death of Ali Abu Mukhammad could even herald the demise of the CE in its existing structure and result in the umbrella group becoming even more fractured, perhaps with a split between the Dagestani and Chechen Vilayats, or districts, especially if more groups in Dagestan move over to IS. Such a fracturing of the CE would likely see IS gain more traction particularly in Dagestan, where it has already gained a foothold. What is not clear, however, is if such a shift to IS would render the North Caucasian insurgency any more effective, or whether it would be a shift in name only. So far, there has been no evidence that the defection by Dagestani CE groups has led to any practical advantages, and no sign that IS in Syria/Iraq is interested in sending money, fighters or weapons to support its North Caucasus sympathizers.
REAL IDEOLOGICAL DIFFERENCES OR JUST SPIN?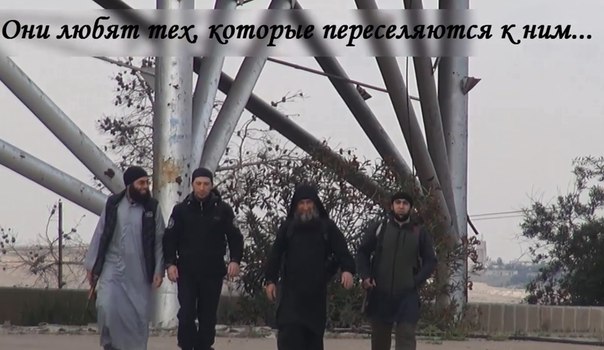 One subtext of Abu Jihad's speech is that the ideology of jihad preached by IS is the correct one, while that of the CE is not only wrong, but irrelevant.
The ideological struggle over which group is waging the "correct jihad" has underpinned the now enormous rift between IS's North Caucasian faction and the Caucasus Emirate and its affiliate in Syria, Jaish al-Muhajireen wal-Ansar (JMA). Caucasus Emirate leader Ali Abu Mukhammad has said that North Caucasians in Syria should have backed Syrian Al Qaeda affiliate Jabhat al-Nusra rather than IS.
There are problems with Abu Jihad's sudden call for North Caucasians to wage jihad at home rather than Syria, however. His call represents a major and contradictory shift in the position taken by IS's North Caucasian faction in its quest for supremacy vis-a-vis the CE.
Abu Jihad has previously said that the only reason he and Umar Shishani had decided to pledge allegiance to IS — and thus break Umar's former oath to the CE — was because IS leader Baghdadi had agreed to help send Chechen fighters home to the North Caucasus.
But that claim appears to have been mere lip service. There is no evidence to suggest that Baghdadi has allowed jihadis to travel home to Chechnya or Dagestan to fight there, or that he has sent material support to the North Caucasus.
Moreover, IS's North Caucasians have derided, and continue to deride, calls for waging jihad in Chechnya or Dagestan.
The dominant argument used by IS has been that, since IS declared a Caliphate in Syria and Iraq, all jihadis should unite and fight there — and certainly not in provincial backwaters like Dagestan, Chechnya or Kabardino-Balkaria.
That argument was effectively, if not particularly eloquently, summed up last year in an audio message from a North Caucasian IS militant, who opined that while IS were "fighting on all fronts" against the infidels in the Caliphate, the CE were effectively sitting at home, stubbornly embroiled in a small-time, even parochial conflict.
The militant offered these instructions to the then-CE Emir Ali Abu Mukhammad:
"Let him sit there in the Caucasus, let him shut his gob, let him eat leaves," the militant said.
North Caucasians in IS have argued that those calling for jihad in Chechnya and Dagestan are guilty of the sins of patriotism, nationalism and even — horror of horrors — democracy, all of which are considered secular and narrow concepts that are incompatible with IS's vision of Islam, where a global Ummah unites and fights under the one flag of the Caliphate on the lands controlled by the Caliph.
This vision of jihad is set out very clearly in a recent document by Russian-speaking IS ideologue Abdullakh Muwahid, who argues that JMA, the CE's affiliate in Syria, has become "impregnated with the 'Al Qaeda-Muslim Brotherhood' viral illness, with their hybrid stench of sympathy for the democrat-Jaish Hurr [Free Syrian Army] sectarians and various national-anarchist brigades."
"With the rise of the Dawn of the Caliphate, every day that you spend outside the forces of the Islamic State is sinful and useless for you!!!" Abdullakh Muwahid writes, addressing North Caucasian jihadis.
Set against Abdullakh Muwahid's call to heed the call to join the Caliphate, which implies that Muslims must make hijra  or immigration to the lands under Caliphate rule, Abu Jihad's passionate words about fighting the "Russian invaders" at home in the North Caucasus seems nothing more than a cynical attempt to provoke and undermine the CE.
It remains to be seen how effective Abu Jihad and IS will be at moving to fill the vacuum that will inevitably be created now that CE Emir Ali Abu Mukhammad has been killed, and whether this will result in any practical advantage beyond points scoring in a power struggle, either for IS in Syria or the North Caucasian insurgency.
Joanna Paraszczuk is a journalist covering Syria, Iraq, and Russian-speaking foreign fighters. She writes the RFE/RL's blog on IS, Under The Black Flag. She also monitors North Caucasian and Russian-speaking jihadis in Syria on her blog: chechensinsyria.com.